Title: Gemini Keeps Capricorn (Signs of Love #3)
Publisher: Anyta Sunday
Release Date (Print & Ebook): December 18, 2017
Book blurb:
Sometimes, one stubborn Capricorn is all it takes…to drive Wesley Hidaka to crazy, flirtatious lengths.
Wesley loves annoying his RA Lloyd Reynolds. He just can't help it. Lloyd is focused, decisive, grounded. He has this amusing ability to follow rules.
Of course Wesley wants Lloyd to break one…or three hundred.
Sometimes, one diabolically grinning Gemini is all it takes…to have Lloyd laying down the law and marching Wesley straight back to his dorm room.
It doesn't stop Wesley teasing again. And again. And again…
But damn. Lloyd doesn't crack easily. He's full of principles. He's unshakable.
He's the perfect friend to have when Wesley needs help. Like with his truant brother and his old high school principal.
Sometimes, one little lie is all it takes… to find Wesley fake-engaged to his off-limits RA.
What can he say? It seemed like a good idea in the moment . . .
* ~* ~* ~*
"Gemini Keeps Capricorn" serves up a double shot of cluelessness, with a side of rock'n'roll and topped with a slow burn HEA. It can be read as a standalone.
Tropes: friends-to-lovers, slow burn, will-they-or-won't-they, fake fiancé
Genre: New Adult, light-hearted contemporary gay romance
Buy Links: http://www.anytasunday.com/#gemini-keeps-capricorn
Teaser :
Wesley swiveled his chair around and scowled at Lloyd, who was blatantly reading his email. "See, this is why we would never work out. Other than RA-student relationships being forbidden and you having an aversion to breaking rules."
"And that I'm seeing someone," Lloyd tossed in.
"I give that another week, tops. We wouldn't work because you're a grumpy, know-it-all Capricorn. We have one of the worst compatibility matches."
A raised brow. "That so?"
"All the sites say we are not relationship material. That our sex would suck."
"It amuses me how thoroughly you've researched this."
"It saddens me I couldn't find a ray of hope." Wesley winked at him. "You're a few rooms down, which greatly appeals to my lazy streak."
"Even if I were single and you weren't my resident, I'd never be one of your flirty flings."
Wesley groaned. "Never say never, Lloyd. I want to prove you wrong—even at the expense of terrible sex."
About Anyta Sunday:
Heart-stopping slow burn.[Saut de retour à la ligne][Saut de retour à la ligne]Anyta Sunday is a big, BIG fan of slow-burn romances. She loves to read and write stories with characters who slowly fall in love.[Saut de retour à la ligne][Saut de retour à la ligne]Some of her favorite tropes to read and write are: Enemies to Lovers, Friends to Lovers, Clueless Guys, Bisexual, Pansexual, Demisexual, Oblivious MCs, Everyone (Else) Can See It, Slow Burn, Love Has No Boundaries.[Saut de retour à la ligne][Saut de retour à la ligne]Anyta writes a variety of stories, Contemporary MM Romances with a good dollop of angst, Contemporary lighthearted MM Romances, and even a splash of fantasy. Her books have been translated into German, Italian and French. [Saut de retour à la ligne][Saut de retour à la ligne]Member of Romance Writers of America.[Saut de retour à la ligne][Saut de retour à la ligne]Connect with Anyta: Website | Twitter | Facebook | To receive a free e-book, sign up for Anyta's newsletter here!
Release Day Blitz Giveaway: win 1 complete set of the Signs of Love series in e-copy: LEO LOVES ARIES, SCORPIO HATES VIRGO, and GEMINI KEEPS CAPRICORN!
Direct link: http://www.rafflecopter.com/rafl/display/88d45f0339/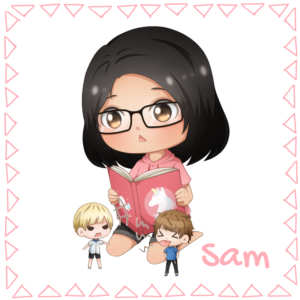 Fan de MM et plus particulièrement des single dads (ça marche aussi avec les oncles, les grands frères etc…) , des MMM et d'Urban Fantasy.