Blog Tour & Giveaway: The Rosavia Royals Series
Welcome to the tiny European country of Rosavia, where roses ramble over alpine slopes and princes fall for the men of their dreams. Every Rosavia Royals book happens simultaneously, so books can be read on their own, or in any order… but keep an eye out for familiar faces around the palace!
Come join the fun on the Royals Facebook Group: https://www.facebook.com/groups/RosaviaRoyals/
Add them out to your TBR on Goodreads!
---
Rosavia Royals, Book 2
A secret prince needs: a lost tourist to save.
Prince Cassander is on vacation from his overdeveloped sense of duty. While hiding out as simply 'Cas' in the Rosavian capital, he rescues a gorgeous, distressed American tourist. Matty has no idea that Cas is second in line to the throne. And with only two weeks together to explore the sparks between them, he doesn't need to ever find out. New Yorker Matty Doyle is a fish out of water, taking care of his niece and mending his broken heart. When Cas rescues him, the handsome stranger coaxes Matty out of his shell and he throws caution to the wind. Nobody knows him here. Would it hurt to live a little for once? But a prince can't stay secret in his own country for long. Cas would give anything to protect Matty from reality, but how can this fantasy together continue when they belong in different worlds?
---
Exclusive from Helen & the Inspirations behind her Prince:

Reign or Shine

How did you become a part of this project/world?

Fun fact! The covers came first! Our incredible designer, AngstyG, did a pre-mades sale, and our princes were the pièce de résistance. Ed and I just happened to be online at the right time, and as soon as I saw them, I started screaming at him over messenger that we HAD TO HAVE THEM lol. We had loved working on Hidden Creek so much, but after 24 books we knew that we'd said goodbye to Texas. Suddenly, a chance to create a brand new shared universe dropped into our laps, and there wasn't even a moment of hesitation. After that, I felt like we were assembling the Avengers! We reached out to a variety of authors and editors, and the stars aligned to give us the incredible line up we have today. We used what we'd learned from Hidden Creek and I know our shared universe is better than ever. We all beta read each other's books as we worked, and I swear to you Rosavia is a real place now that I want to go on holiday!!

Where did your story's inspiration come from?

I am a huge fan of cheesy romantic films – I wish we had the Hallmark channel in the UK!! I feel like I was heavily influenced by films like The Princess Diaries, A Crown For Christmas, The Princess Switch etc… The idea of the American tourist and the secret prince popped immediately into my mind and I knew it would be so fun and fluffy to write! I also knew early on that these guys needed to save each other from their own pasts, and it was obvious that a holiday romance would soon blossom into a tender love before Matty had a chance to get back on that plane to New York! How did you create your Prince? As the covers were already made, we got a sense of who all the princes would be very quickly. The rebel heir, the secret spy, and the bratty baby all came right away, and Throne Together just had to be two princes. So that left Book #2, and I knew that was Cassander and had to be mine. With those explosive personalities all around him, I figured Cas was the long-suffering responsible one, trying to keep the family together. He compares himself to Elizabeth Bennett from Pride and Prejudice at one point, and I think I was channeling a lot of my favourite classic literary heroine into him. But by taking a vacation from his real life at the start of the book, he soon realizes what he craves is to love and be loved, to have something that just his, not for crown or country. That's where Matty came in! I loved the dynamic between these two, and how they end up saving each other. They have a very beautiful, gentle relationship that was a joy to capture.
---
---
A spy prince needs: a man who sees through his disguise.
Prince Benedict is not what he seems. His image as a lazy playboy is carefully constructed to hide the truth. Trained since childhood to become Rosavia's top spy, he spends his life in disguise—and danger—to protect his country. Nobody sees the loneliness in his heart. Felix Wright is a genius with four degrees, no real-world experience, and a top-secret job… and he's never even been kissed. A lifetime of being alienated for his most valuable assets has left him reluctant to trust the charming prince who thrusts him into fieldwork for the very first time. When the Crown Jewels are stolen two weeks before the royal ball, it's their job to save the country's reputation. Benedict helps Felix believe in himself, while Felix slowly coaxes the real prince out of hiding. But can they find the jewels
and
rescue the most priceless treasures of all: each other?
Universal Link Goodreads | BookBub
---
A bratty boy prince needs: a firm but fair Daddy.
Prince Renford is a royal brat. Nineteen and last in line for the throne, Wren hates his made-up job: Commander of Roses. Good thing his long-time valet has a firm hand—if only Wren could tempt him to break all palace protocol and use it. Thom Pierce is sixteen years older. Old enough to know he should ignore his prince's less-than-subtle flirtation. He's been burned by a higher-ranked boy before. His job and reputation are at stake if the palace catches a scandal unfolding under their noses. Wren needs the part of Thom that he's kept locked away for years. If the young prince wants to be taken as seriously as his older brothers, he has to grow up fast. Thom's rules could help Wren become the man Thom knows he can be in time for the Royal Ball… or they could attract the very attention that forces them apart forever.
Universal Link Goodreads | BookBub
---
Come join the fun on the Royals Facebook Group: https://www.facebook.com/groups/RosaviaRoyals/
Add them on Goodreads!
Enter the Giveaway:
To celebrate the release of the Rosavia Royals, we are giving 2 lucky winners a full set of the Rosavia Royals Series. Enter the Rafflecopter giveaway for your chance to win! A Rafflecopter Giveaway
Direct Link: http://www.rafflecopter.com/rafl/display/cc0f2a5716/?
---
About Helen (HJ Welch):
HJ Welch is a contemporary MM romance author living in London with her husband and two balls of fluff that occasionally pretend to be cats. She began writing at an early age, later honing her craft online in the world of fanfiction on sites like Wattpad. Fifteen years and over a million words later, she sought out original MM novels to read. By the end of 2016 she had written her first book of her own, and in 2017 she fulfilled her lifelong dream of becoming a fulltime author.
She also writes contemporary British MM romance as Helen Juliet.
HJ Welch/Helen Juliet Links: Website | Newsletter Instagram | Twitter | Facebook | Facebook Group Amazon Author Page | Goodreads | BookBub
---
About the other Authors:
Stella Starling Links: Website | Newsletter Facebook | Facebook Group Amazon Author Page | Goodreads | BookBub
---
Zoe Dawn Links: Website | Newsletter Amazon Author Page | Goodreads | BookBub
---
Max Rowan (formaly Max Hawthorn) Links: Amazon Author Page | Goodreads | BookBub
---
E. Davies Links: Website | Newsletter Instagram | Twitter | Facebook | Facebook Group Amazon Author Page | Goodreads | BookBub
---
---
03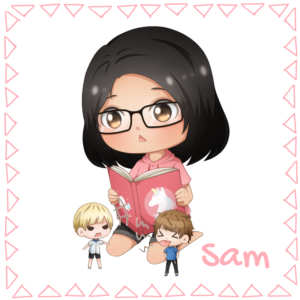 Fan de MM et plus particulièrement des single dads (ça marche aussi avec les oncles, les grands frères etc…) , des MMM et d'Urban Fantasy.