Book Title: Corked
Author: Brigham Vaughn
Publisher: Self Published (Two Peninsulas Press)
Cover Artist: Brigham Vaughn
Genre/s: Gay Romance, m/m, contemporary
Length: 42,042 (novella)
This is a standalone story.
Blurb
Sean Powell is having a terrible day. When he walks into Bistro Argent, ready to unwind over a glass of wine with the sommelier, he's stunned to discover his friend has been replaced by a hot young guy with big ideas. Lucas Spencer is determined to liven up the staid and stodgy wine list, but his brash approach alienates the wine distributor during their first meeting.
There's no avoiding each other though and the more they butt heads, the hotter the tension between them gets. As they work together and their relationship progresses, they have to figure out how to blend their professional frustration and personal attraction without risking their careers.
Lucas is eleven years younger than Sean, and despite their sizzling chemistry and compatibility, Sean can't quite believe the feelings are mutual. A wine tasting trip to Traverse City, Michigan threatens their fledgling relationship. Sean's insecurities rise to the surface as Lucas's fears of losing Sean lead to jealousy.
Does the relationship have legs or will they find out it's corked?
Buy Links
Amazon US
Excerpt
"I disagree. I think customers want to be educated. As a sommelier, it's my job to shape palates not cater to them," Lucas said. "You're not giving them enough credit. They want to learn. They just lack the opportunities."
Sean snorted derisively. "And you give the general public way too much credit."
Lucas rolled his eyes. "I'm not saying it'll be easy, or that we should make these changes all at once, but I think there's a real opportunity here. And look, I think if I add a good description, a tasting note of sorts on the menu, people would be drawn in. Hell, I'm willing to crack open some bottles and offer people samples before their meal. I've seen it done successfully in other restaurants. We can market it as a house wine and offer it by the glass."
Sean sneered at him. "Look, kid, I get you think you know it all, but I've been in this business longer than you and I know the way this works."
"Kid?" Lucas sputtered.
The argument devolved from there. Sean grew progressively less open-minded and Lucas grew more frustrated. When Sean began pacing the room Lucas soon stood too, then tension that had been on a low simmer spilling over into a furious boil.
"Just listen for a goddamn minute," Lucas snarled. He spun and faced Sean and realized they were nearly nose to nose. The tension crackled between them, heating the air. Already worked up over their argument, frustrated by the constant bickering, and wanting Sean so bad he physically ached for it, Lucas finally snapped. He shoved Sean back against the wall, pinning him against it and ravaging his mouth. Sean gripped his shirt and Lucas half-expected him to shove him away, but instead, he surrendered with a needy groan that went straight to Lucas's cock.
"Why the fuck do I want you so much?" Lucas growled, trailing his lips down Sean's neck.
"You think I know?" Sean asked with a gasp, gripping Lucas's shoulders so tight that it seemed like he might leave bruises. "I don't even like you. I don't want to want you."
His words were offset by the way he tilted his head to let Lucas bite and nip at his neck. The needy way he rubbed his hardening cock against Lucas's thigh was a dead giveaway too.
"Just shut the fuck up," Lucas muttered, yanking Sean's head forward for a kiss. It was so much better when they were kissing rather than talking—or arguing in their case.
About the Author
Brigham Vaughn is starting the adventure of a lifetime as a full-time writer. She devours books at an alarming rate and hasn't let her short arms and long torso stop her from doing yoga. She makes a killer key lime pie, hates green peppers, and loves wine tasting tours. A collector of vintage Nancy Drew books and green glassware, she enjoys poking around in antique shops and refinishing thrift store furniture. An avid photographer, she dreams of traveling the world and she can't wait to discover everything else life has to offer her.
Social Media Links
Giveaway
Enter the Rafflecopter Giveaway for a chance to win one of three copies of ebooks from Brigham's backlist.
RELEASE BLITZ SCHEDULE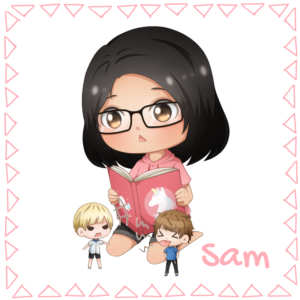 Fan de MM et plus particulièrement des single dads (ça marche aussi avec les oncles, les grands frères etc…) , des MMM et d'Urban Fantasy.