Release Blitz, More Than My Words, Guarding The Gods: Book 3 by Author Ann Lister
EXCLUSIVE TO AMAZON
1-Click Guarding The Gods new release for FREE with KindleUnlimited.
Mason Foxworth has spent the last several months recovering from injuries he received doing personal security while on tour during the horrific fire in Germany. He feels useless and alone, and the worst part of it, the physical scarring left behind from the burns has ruined his self-esteem. Who would want him now, when he is so damaged inside and out and has nothing much to contribute? He doesn't have many friends and his co-workers feel it's safer to keep Mason at a desk in the office pushing paperwork, rather than out in the field working security. Mason wants to change that status before he loses the last thread of his sanity, and the main obstacle in his way is a bum leg that's taking far too long to heal.
Tessler is an enigma in the sci-fi literary world. A young, reclusive author, known for the mystery swirling around him, realizes he's lost any real joy in his life until he suddenly starts to feel the strange emotion pumping through his veins. Barely beyond the age of twenty-five, and he's already made more money than most see in a lifetime, but Tessler feels empty inside. What made him this way must remain the secret it is, or he feels he'll lose the empire he's created. But meeting a man who could possibly bring all his pieces together is challenging his reasons for anonymity, and Tessler suddenly finds himself wanting more from life and for himself.
Mason wants his life back and Tessler is just looking to have a real life. Can two vastly different men find a way to smooth out their hard edges and blend their lives to offer the one ingredient neither has? Personal growth comes in many different shapes and Mason and Tessler have a mountain of it to climb in order to find their HEA, but it's a journey both of them are ready to take.
Add More Than My Words to one or more of your shelves on Goodreads.
M/M Favourite Reads, Guarding The Gods, Erotic Romance, LGBT Series. The possibilities are endless. Have fun and create your own for all your Gay Romance Reads.
GUARDING THE GODS SERIES
Download FREE with KindleUnlimited
Zac's Mulligan Book 1
Honor And Pride Book 2
COMING SOON
GUARDING THE GODS BOOK 4
BOOK BLOGGERS
Sign up to host The Black Key Journal Cover Reveal.
Ann Lister is a native New Englander currently living on the island of Martha's Vineyard with her husband. She has pulled details from her years living in the New England area and uses many local settings and landmarks in her novels.
After graduating art school, marrying, and raising two daughters, she established her own video production company. Her nearly two decades working in video production included work within the music industry and won her a coveted Telly Award. Her 'behind-the-scenes' exposure to the music world and her love of rock music is the inspiration for her erotic rock star romances.
The Rock Gods series gave her Bestselling Author status on Amazon. Beyond The Music, Book 7 in the series, hit #1 in the Gay Erotica genre during the Pre-Order and held that spot for several weeks. This last book in The Rock Gods series launches the spin-off series, Guarding The Gods, which releases in early Summer of 2016.
Fall For Me, Book One in the series was a Finalist in the 2013 Rainbow Award. Each book in this series brings her two favorite elements together: musicians and the love between two men. These stories focus on what it truly means to love; love unconditionally, love without restrictions or labels, love without fear or judgment – to just simply love.
Connect with Ann here:
Stay up-to-date and subscribed to Ann's newsletter
Check out more Published Books M/F & LGBT by Erotic Romance Author Ann Lister
Add Ann's books for your next hot read
Like Ann's Author page
Twitter @AnnListerAuthor
Follow Ann on Twitter
Pin and share with Ann
Follow Ann on Instagram
Follow Ann on AllAuthor
Thank you for touring with Love Has No Gender the brighter side of Jo&Isa♡Books
https://media.giphy.com/media/l0NgRdiLS6HCdGtNK/giphy.gif28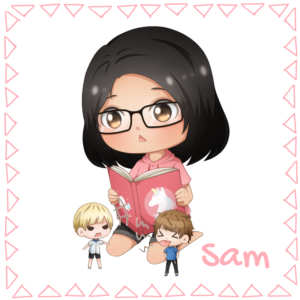 Fan de MM et plus particulièrement des single dads (ça marche aussi avec les oncles, les grands frères etc…) , des MMM et d'Urban Fantasy.