A Crown of Iron & Silver by Hailey Turner
Series (name + # in series): Soulbound III
Publisher: Self-Published
Release Date (Print & Ebook): September 10, 2019
Length (Print & Ebook): 107,043
Subgenre: LGBTQ Urban Fantasy
Warnings: None
Link: https://haileyturner.com/a-crown-of-iron-silver-03/ https://amzn.to/2HLsKt0
Book synopsis:
Never promise a life that isn't yours to give.
New York City is decked out for the holidays, and Special Agent Patrick Collins is looking forward to a reunion with his old team when he gets assigned a new case. A human child is missing, and the changeling left in her place causes a prominent witch family to demand justice from the fae.
Meanwhile, continued harassment from the New York City god pack forces Jonothon de Vere to formally establish his own with Patrick. Doing so will mean a civil war within the werecreature community—a war they risk losing from the start without alliances. Making bargains with the fae is never wise, but Patrick and Jono have nothing to lose when a fae lord comes asking for their help.
The Summer Lady has been kidnapped from the Seelie Court, and if they can find her, Patrick and Jono will cement an alliance with the fae. But the clues to her disappearance are found in Tír na nÓg, and the Otherworld has never been kind to mortals.
Venturing past the veil, Patrick and Jono risk losing territory, time, and their very lives while searching for answers. Because the Queen of Air and Darkness knows they are coming—and the ruler of the Unseelie Court has an offer for them they can't possibly refuse.
A Crown of Iron & Silver is a 107k word m/m urban fantasy with a gay romantic subplot and a HFN ending. It is a direct sequel to All Souls Near & Nigh. Reading the prior books in the series would be helpful in enjoying this one.
Exclusive Excerpts
Patrick turned to face the Wisterias and opened his mouth to speak. "I can call—"
The nursery window shattered as if a bomb had gone off, the home's threshold buckling beneath the blow, but it didn't break. Glass exploded through the room, the lights above going out, and Patrick reacted without thinking. He ripped his shields out of his body, expanding them to engulf the people around him. Arianna screamed and hunched over the baby whose real name Patrick still didn't know.
The explosion allowed cold winter wind and rain to enter the home—but that wasn't the only thing that came inside.
The roar of the wind twisted into screams as a deep cold filled the nursery. Patrick conjured up a mageglobe in his left hand while yanking free his gods-given dagger with the other. His breath puffed in the air from the cold, skin stinging from the supernatural chill.
Gliding into the nursery through the jagged hole in the building came the spirits of the restless dead.
Connect with Hailey Turner:
Newsletter: You can keep up with Hailey's future projects by joining her newsletter, where you can instantly download several free short stories: http://eepurl.com/cAEejL
Facebook Group: https://www.facebook.com/groups/haileyshellions/
Instagram: https://www.instagram.com/haileyturnerwrites/
Facebook Profile: https://www.facebook.com/profile.php?id=100014824811406
Bookbub: https://www.bookbub.com/authors/hailey-turner
Author Page: https://www.facebook.com/AuthorHaileyTurner/
Pinterest: https://www.pinterest.com/haileyturnerwriter/
Goodreads: https://www.goodreads.com/author/show/16473068.Hailey_Turner
Website: www.haileyturner.com
Release Blitz Giveaway: Win one of two back catalog ebooks by Hailey Turner! Open Internationally. Must be 18 to enter.
Link: http://www.rafflecopter.com/rafl/display/88d45f03102/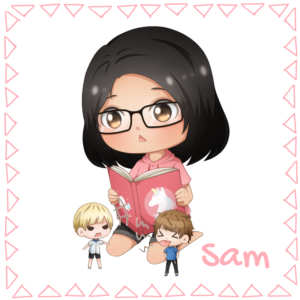 Fan de MM et plus particulièrement des single dads (ça marche aussi avec les oncles, les grands frères etc…) , des MMM et d'Urban Fantasy.