Book Title: Avalon's Last Knight
Author: Jackson C. Garton
Publisher: Pride Publishing
Cover Artist: Louisa Maggio
Release Date: April 28, 2020
Genre/s: Paranormal M/M Romance
Trope/s: Friends to lovers
Themes: Forgiveness, loyalty, enduring love
Heat Rating: 4 flames
Length: 80 000 words/ 291 pages
It is a standalone story.
Buy Links
Pride Publishing/First for Romance
Universal Amazon Link | Amazon US | Amazon UK
Lance has loved Arthur for nearly a thousand years but has never had the courage to act on it—'til now.
Blurb
After being away at college for a year, Lance Lotte returns to Avalon, Kentucky for the summer. Due to self-imposed isolation, he hasn't seen anyone in months, but all that changes when Arthur–his closest friend, and the love of his life–shows up to his new job with a big toothy grin. The last time Lance saw Arthur, the two had not parted on the best of terms–with Arthur's father finding them asleep on his bed, and physically wrenching Lance away from Arthur. The incident put a strain on their relationship, and convinced Lance that they will never be allowed to be together.
But then Arthur sends Lance a text one night, telling him that he's in love with him–a text Lance rereads at least a hundred times, but isn't brave enough to mention when they're alone. Lance has fought his attraction to Arthur for the past five years because as a budding brujo, he believes in magick, destiny, and fate–that everything happens for a reason–that nothing good will come of an Arthur Pendragon-Lance A. Lotte pairing.
With the help of his sister, Gwen Lotte, Arthur, and two twins visiting their uncle for the summer, Mordy and Morgan Lafayette, Lance learns the true meaning of friendship, and just how far he will go to save the people he loves.
Excerpt
Arthur laces up his other boot and says, "I asked if you were seeing anyone at the moment."
The question slithers its way up my neck and squeezes at my throat, cutting off my oxygen. Arthur has a way of doing this to me, and I know by the way he asked the question that it's been on his mind for some time now.
"I don't really have time to do much other than study, you know?" I say, taking a seat on the black futon in the living room. "I'm kind of boring."
Arthur straightens his back and unbuttons his pants, then tucks in his shirt. "Well," he replies, "I don't plan on doing anything this summer other than working, and trying to spend as much time with you as I can. How does that sound?"
My phone buzzes and I pull it out of my pocket. Gwen has finally responded, but instead of an apology, she's texted a picture of two men dressed in black leather, kissing. I roll my eyes and shove the phone back into my pocket. Ass. When I raise my head, I see Arthur staring at me.
"What?" I ask, hoping that he didn't see Gwen's text. "What is it?"
He sits down beside me on the futon and fixes my shirt collar.
"I'm just waitin' for you to ask me if I'm seeing anyone," he says, not meeting my eyes.
Arthur hasn't always been so forward, but in the year that I've been away, he's become a proper man. Working a full-time job, living by himself, driving his own car and paying all of his bills—a truly admirable thing for a man who's not quite nineteen years old. I don't know how he does it.
I swallow and look down at the relatively fresh tattoos on my knuckles. They're not peeling anymore, but they have started itching, and I silently chide myself for not keeping lotion in my bag. The moon on my thumb is the worst offender.
"Are you seeing anyone?" My question is barely audible.
"Nope," he says, buttoning and unbuttoning my collar. "I'm as single as it gets."
"That's not what your Instagram suggests," I say, catching his hands mid-buttoning. Our eyes finally meet. "Looks like you have a different girl every week."
Arthur bites his bottom lip and wags his head. "You know everything posted on the Internet ain't real life. And besides, I wouldn't lie to ya."
Arthur has asked me out twice now, and both times I have turned him down because I'm not ready for a relationship. Or rather, I'm not ready to have my heart broken by this man. It's one of the reasons why I didn't come home this past year.
Actually, he's the main reason, if I'm being completely honest with myself.
The moment I first laid eyes on Arthur, I knew he would be my undoing. I can't resist a man with blond hair and brown eyes—they make for a deadly concoction when combined.
About the Author
Equal parts dandy and disaster, Jackson C. Garton is a writer and LGBTQ activist hailing from the hills of Appalachia. He currently resides in Central Kentucky with his husband, child, and four cats. When Jackson isn't reading or writing, you can find him examining people's natal charts, researching queer history, planning his next ghost hunt, or milling about the supernatural section of his local bookstore.
Social Media Links
Blog/Website | Facebook | Twitter @jacksoncgarton | Instagram
Giveaway
Enter the Rafflecopter Giveaway for a chance to win a
"Y'All Means All" Pride sticker and an Avalon's Last Knight bookmark
Follow the tour and check out the other blog posts and reviews here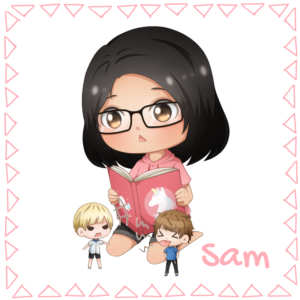 Fan de MM et plus particulièrement des single dads (ça marche aussi avec les oncles, les grands frères etc…) , des MMM et d'Urban Fantasy.