Happy Halloween! Come check out The Worlds Of Morgan Brice
Get ready for the Spooky season
with a book by Morgan Brice
With ghosts, witches, demons, magic and mayhem, there's something for everyone in the world of Morgan Brice…
Welcome to the World Of Morgan Brice https://getbook.at/MorganBrice
A series starter for everyone…
Badlands: A MM Psychic Detective Romance Adventure
Witchbane: A supernatural, second chances, thrill ride
Treasure Trail: A suspenseful MM paranormal romance mystery-adventure
https://getbook.at/Treasure_Trail
Kings Of The Mountain: Fast cars. Outlaw country boys. Snarky werewolves, vengeful ghosts, and menacing monsters.
https://getbook.at/KingsOfTheMountain
Huntsman: Full of sexy shifters, hurt/comfort, sincere psychics, hot first responders, found family and fated mates.
Imaginary Lover: Beyond the Realm: Remember Book 8
https://getbook.at/ImaginaryLover
---
Witchbane
MM Supernatural Romance Adventure

Seth is used to risking his neck. He never intended to risk his heart.
Seth Tanner swore to avenge his brother's death. But when his quest for vengeance brings him to Richmond to stop a dark coven's next ritual murder, he's hell-bent on keeping Jackson Evan Malone from becoming the warlocks' next victim. He just didn't expect to fall in love with the man he's sworn to protect.
Evan thinks Seth is crazy. Maybe that's true—but Seth could still be right about the danger. Evan doesn't believe in witches, and he's still healing from past betrayals. He might trust Seth with his life—but what happens when he starts to fall for his handsome, dangerous protector?
Witchbane is a supernatural, second chance at love thrill ride packed with hurt/comfort, deadly magic, immortal witches, determined hunters, spells and curses, true love, impressive explosions, spooky chills and sexy thrills!
---
Badlands
A MM Psychic Detective Romance Adventure
A psychic and a skeptical homicide cop team up to hunt a supernatural killer in Myrtle Beach. Medium and clairvoyant Simon Kincaide owns a Myrtle Beach boardwalk shop where he runs ghost tours, holds séances, and offers private psychic readings, making a fresh start after his abilities cost him his lover and his job. Jaded cop Vic D'Amato saw something supernatural during a shootout and reporting it nearly cost him his badge. He's still skeptical about the paranormal. But when the search for a serial killer hits a dead end, Vic battles his skepticism to ask Simon for help.
As the body count rises, Simon's involvement makes him a target, and a suspect. But Simon can't say no, even if it costs him his life and heart.
Badlands is a thrill-packed urban fantasy MM paranormal romance with plenty of supernatural suspense, hurt/comfort, found family, ghosts, magic, a second chance at true love, spooky chills and sexy thrills!
Badlands Book One. Intended for readers age 18 and over.
---
Treasure Trail
MM Supernatural Suspense
A web of lies, danger, and deception might make Erik and Ben Cape May's newest ghosts!
Erik Mitchell traveled the world uncovering art fraud, which pitted him against spoiled billionaires, unscrupulous collectors, mobsters, and cartels. When a sting goes wrong, Erik is injured, and his relationship falls apart. He decides to stop globetrotting and buy an antique shop in scenic Cape May, NJ, rebuild his life, and nurse his broken heart.
Undercover Newark cop Ben Nolan went down in a hail of bullets when a bust went sideways after a tip-off from a traitor inside the department. When his aunt offers him the chance to take over her rental real estate business in Cape May, it seems too good to be true. Now, if he could just believe he could ever be lucky again in love.
Sparks fly when Erik and Ben meet. But a cursed hotel's long-ago scandals resurface, setting off a dangerous chain of events that will test their bond—and might make them Cape May's newest ghosts!
Treasure Trail is a suspenseful MM paranormal romance mystery-adventure filled with second chance love, hurt/comfort, soulmates, awesome tattoos, dangerous secrets, restless ghosts, psychic visions, helpful witches, angry mobsters, and a haunted hotel.
Book One in the Treasure Trail series.
---
Imaginary Lover
Beyond the Realm: Remember Book 8

"There's no time. Remember your imaginary lover…." Cory Caldwell woke up by the side of the road with no memory of how he got there. He pieces together who he is but has no idea what happened to him. Dark visions haunt him—flashes of blood, magic, and a brutal fight. Scorching dreams of a faceless lover offer no clues.
His gut warns that something urgent is eluding him, and that time is running out. Worse is the sense of bone-deep grief, as if Cory is missing part of his soul.
Desperate for answers, he hops a bus for Fox Hollow, a town famous for psychics, mediums, and those with supernatural abilities. Then a stranger calls Cory by name and casts a furtive glance around him. "There's no time," the man says. "I need your help. Remember…"
Can Cory unlock his missing memories and rescue the stranger before it's too late? Imaginary Lover is full of dangerous magic, hurt/comfort, brave monster hunters, dark curses, sincere psychics, found family, and forever love.
Imaginary Lover is the eighth book in the multi-author series, Beyond the Realm: Remember. Each book is set in its own world and can be read as a standalone novel. Join eight authors on eight very different, romantic, and magical stories as each one writes their own take on the same concept.
Imaginary Lover is set in the town Fox Hollow and includes characters from the other books in that town, but can be read as a stand-alone.
---
Huntsman
Fox Hollow Zodiac Novel 1

A grieving wolf. A hunted fox. Fated mates, thrown together by chance, and the looming threat of a fabled Huntsman who might tear them apart forever.
Fox shifter Liam Reynard is running from a killer. He uproots his life to find sanctuary in Fox Hollow, deep in the Adirondack Forest in New York.
When his car breaks down, sexy wolf shifter Russ Lowe comes to the rescue, and one touch makes it clear they're fated mates. Neither man was looking for love, and both are still mending from past heartbreak. When mysterious fires and disappearances threaten Fox Hollow, Liam fears the killer is hot on his trail. Can he protect the town and his fated mate from the evil hunting him, or will an ex-lover's betrayal cost Liam everything he loves?
Huntsman is full of sexy shifters, hurt/comfort, second chance love, sincere psychics, hot first responders, found family and fated mates.
Book One in the Fox Hollow: Zodiac series
---
Kings of the Mountain
Fast cars. Outlaw country boys. Snarky werewolves, vengeful ghosts, and menacing monsters.
Dawson King's family has been hunting things that go bump in the night in Transylvania County, North Carolina, since before the Revolutionary War.
Dawson was never happier than when he was racing his souped-up Mustang along winding mountain roads and hunting monsters with his best friend, Grady. Then Grady fell in love with him, which should have been perfect since Dawson had already fallen hard for Grady.
But Grady was only seventeen, and Dawson feared that sooner or later, Grady would realize his feelings were just a first crush, and then he'd be gone, leaving Dawson devastated. They both needed space to figure things out. So Dawson joined the army, while Grady stayed on the mountain.
Four years later, Dawson is coming home. He's more sure than ever Grady is his forever love, and they've both agreed to begin this new aspect of their relationship as soon as Dawson gets back.
Then Grady's father is killed in a werewolf hunt gone wrong. Grady is devastated, and he's throwing mixed signals about moving forward. Dawson knows he needs to hold off on this new thing between them until Grady has time to grieve. But monsters never sleep, and one hunt after another throws Dawson and Grady into constant danger, while tension and unresolved feelings ripple between them.
Making it even harder, Dawson's got a secret. He's dreamed of death omens—which point to something stalking Grady. Can Dawson figure out who's trying to kill Grady, save his life, and win back his heart?
Plenty of mutual pining, hurt/comfort, spooky chills, sexy thrills, and a very happy ending. The Kings of the Mountain is the first novel in the series. It is a MM romance intended for readers 18 years of age and older.
---
About the Author:
Morgan Brice is the romance pen name of bestselling author Gail Z. Martin. Morgan writes urban fantasy male/male paranormal romance, with plenty of action, adventure and supernatural thrills to go with the happily ever after. Gail writes epic fantasy and urban fantasy, and together with co-author hubby Larry N. Martin, steampunk and comedic horror, all of which have less romance, more explosions. Characters from her Gail books make frequent appearances in secondary roles in her Morgan books, and vice versa.
On the rare occasions Morgan isn't writing, she's either reading, cooking, or spoiling two very pampered dogs.
Series include Witchbane, Badlands, Treasure Trail, Kings of the Mountain and Fox Hollow. Watch for more in these series, plus new series coming soon!
Author Links
Facebook Group | Pinterest (for Morgan and Gail) | Twitter: @MorganBriceBook
Sign up for my newsletter and never miss a new release
Read a copy of my Badlands short story Restless Nights here for free
Follow me on BookBub | Instagram
---
---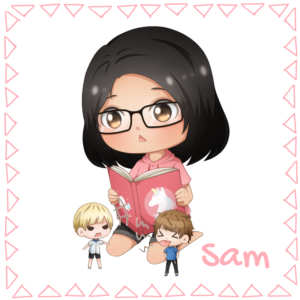 Fan de MM et plus particulièrement des single dads (ça marche aussi avec les oncles, les grands frères etc…) , des MMM et d'Urban Fantasy.