Release Blitz for:
On the Wings of War by Hailey Turner
Series: Soulbound V
Publisher: Self-Published
Release Date: Print & ebook – September 2, 2020
Length: 109,151 words
Subgenre: LGBTQ Urban Fantasy
Warnings: None
Get it now:
Amazon: https://www.amazon.com/dp/B08CST5MVV
Author Site: https://haileyturner.com/book/on-the-wings-of-war
Book blurb:
Remembering the dead will always give them life.
The coveted Morrígan's staff is up for sale on the black market to the highest bidder, and SOA Special Agent Patrick Collins will do whatever it takes to ensure the Dominion Sect doesn't get their hands on it. Returning the weapon to its rightful owner is another step on the long road toward clearing Patrick's soul debt, but he won't walk it alone. Jonothon de Vere won't let him.
Obeying the gods means Patrick must travel to London. For Jono, it means facing a past he thought he'd left behind forever. His return to England isn't welcome, and neither is their pack, but Jono and Patrick will face the antagonism together. Politics aside, their priority must be the mission, but the bone-chilling secret they uncover in the London god pack will have far-reaching repercussions no one can ignore.
A race against time takes Patrick and Jono from the streets of London to the bright lights of Paris, where hospitality is thin on the ground, the air is filled with whispered prayers for the missing, and the Morrígan's staff will end up in the one place it should never have gone—a graveyard.
For beneath Paris lie the long-forgotten dead, and when they rise to walk again, the living can only hope to die.
On the Wings of War is a 109k word m/m urban fantasy with a gay romantic subplot and a HFN ending. It is a direct sequel to A Vigil in the
Mourning. Reading the first book in the series would be helpful in enjoying this one.
About On the Wings of War by Hailey Turner: This is an exciting sequel that builds on the series plot and makes readers keep wanting more!
Praise for The Soulbound Series:
Hailey Turner never disappoints! The Soulbound series continues in On The Wings of War with Turner's unique and compelling world-building, beloved characters including Wade the ever-snacking cutie pie, and the same kind of page-turning action we've come to expect from a Hailey Turner story. Whenever I read a Soulbound novel, I come out of it feeling smarter and a little bit breathless, like if I looked behind me there might be a tiny bit of magic and dragon smoke wafting in the air. I can't recommend this new Hailey Turner novel enough. Grab it now! – Bestselling author, Lucy Lennox
With every new book in the Soulbound series, I ask myself how Hailey Turner could possibly top this, and in true Patrick style, challenge accepted. Each book in this series is even better than the last, and I'm absolutely in love with these characters. I can't get enough of Patrick, Jono, Wade, and On the Wings of War is an adrenaline-fueled adventure you don't want to miss! – Bestselling author, Charlie Cochet
Hailey Turner is a wonderful writer, and nowhere is this better illustrated than in the Soulbound series. The world of Patrick and Jono is so perfectly realised and populated with rich characters drawn from mythology and folklore. I couldn't put this book down. – Bestselling author, Lily Morton
I have been a fan of the Soulbound series since the very beginning, but somehow it gets better with every new installment, and this one is the best yet. The twists and turns are tighter, the action more explosive, the love between Jono and Patrick deeper, and the bonds with their found family even sweeter, making On the Wings of War one of the most satisfying reads I've had in a long time. This book was a roller coaster ride I never wanted to end. – M/M Author, May Archer
Excerpt #1:
"Want is a meaningless desire. That was one of the first things Ashanti ever told me," Patrick said slowly.
Jono shook his head. "That's a load of bollocks."
"It doesn't matter. Letting my mother's side of the family know I'm alive would be a messy distraction I can't afford right now. We have bigger problems."
"Like what?"
Patrick straightened up enough that he could dig his cell phone out of his pocket. "Like we need to have a meeting with Lucien before we go home. The government needs his help."
Jono made an aggravated sound. "Must we? I had plans. They involved you naked and under me."
Patrick sighed wistfully even as he dialed the latest burner number to reach Carmen. "I'll let you fuck me after we deal with Lucien."
"This is why Sage always says you're terrible at bargains. We should probably have her come with us and do the talking instead of you."
"You think you're funny, but you're not." Patrick pressed the phone to his ear, listening to it ring. "We can have a pack meeting after Lucien pisses me off."
Connect with Hailey Turner:
Newsletter: You can keep up with Hailey's future projects by joining her newsletter, where you can instantly download several free short stories: http://bit.ly/HaileyTurnerNews
Facebook Group: https://www.facebook.com/groups/haileyshellions/
Instagram: https://www.instagram.com/haileyturnerwrites/
Facebook Profile: https://www.facebook.com/profile.php?id=100014824811406
Bookbub: https://www.bookbub.com/authors/hailey-turner
Author Page: https://www.facebook.com/AuthorHaileyTurner/
Pinterest: https://www.pinterest.com/haileyturnerwriter/
Goodreads: https://www.goodreads.com/author/show/16473068.Hailey_Turner
Website: www.haileyturner.com
Giveaway: to celebrate the release of On the Wings of War by Hailey Turner, we are giving away three e-books to kindle email addresses from Hailey Turner's back catalogue. Open internationally, must be 18 to enter and win.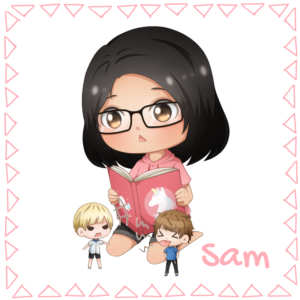 Fan de MM et plus particulièrement des single dads (ça marche aussi avec les oncles, les grands frères etc…) , des MMM et d'Urban Fantasy.