Salute to the Stud by Beth Laycock
Publisher: Rainbow Romance Press
Release Date: February 21, 2019
Subgenre: Contemporary Romance
Order here: Amazon only (Link will be available and sent to you before the start of the tour.)
The novella will be only $0.99 on ebook during release-week and tour, February 21-27!
Synopsis:
Jasper is licking his wounds in paradise after being dumped, according to his ex, for someone more adventurous. The romantic Hawaiian getaway for two he booked hadn't featured his sister as his plus one, but sometimes real life sucks.
For the two weeks he's there his plans include hot dates with a sun lounger and working his way through the local craft beers. Nothing more.
Until he receives a sext from a wrong number. A mystery yoga instructor offering a private session to teach him the plow, and maybe even get plowed. Jasper's never had a hookup with anyone before, but perhaps it's time to prove his ex wrong.
One night with Tamal, no matter how hot it is, isn't enough, yet that doesn't change the fact this thing between them can't last. Because time is running out. Jasper has to leave, has to return to London and real life.
Excerpt :
« Well, now we've cleared all that up, I'd still like to
take you out to dinner tonight. What do you say? »
« Yes. I'd love to. »
The serene smile morphed into a grin. « Excellent. I know just the place. »
« Not at the hotel? »
He glanced over his shoulder at the sprawl of buildings that made up the resort before he looked back at me, his eyes narrowing. « Erm, no. There's this fantastic little place on the beach a mile or so further down. They sell the best seafood – whatever they catch on the day. You like seafood, yeah? »
« I do, and that sounds amazing. »
Pushing his knees up off the sand to come into a squat, he dropped one hand to the sun lounger and then brushed his lips over my cheek. « I have another yoga class, but I'll pick
you up at the main entrance. Seven okay? »
I nodded, and he sauntered off all long strides and fluid moves.
I had a date.
With my stud of a yoga teacher.
Author Bio:
Beth Laycock's books are influenced by her time living overseas as well as the gritty, urban landscape of the north of England where she grew up. She has been reading romance since she was old enough to tell herself that line every book lover does—just one more chapter.
As a teenager, she attempted to write her first novel, and many more since then are still gathering dust on her bookshelf. It wasn't until she discovered the M/M genre that her muse showed up and refused to quit telling her stories about beautiful men finding love together. She hasn't stopped scribbling them down since. Beth's muse usually shows up when she is in the shower, is allergic to cleaning, rarely lets her watch TV, and insists she drinks copious amounts of coffee so she can turn caffeine into words.
When not writing or reading, Beth can be found procrastinating on social media or being dragged around the English countryside by her dog Freddie
Author links:
Instagram: www.instagram.com/bethlaycockwrites
Facebook: www.facebook.com/beth.laycock.writes
https://www.facebook.com/bethlaycockauthor/
https://www.facebook.com/groups/2188017221465443
Goodreads: https://www.goodreads.com/author/show/18580707.Beth_Laycock
Twitter: https://twitter.com/BethLaycock_ Website: https://bethlaycock.com
Newsletter: http://bethlaycock.com/newsletter
Pinterest: www.pinterest.co.uk/BethLaycockAuthor Bookbub: https://www.bookbub.com/profile/beth-laycock
Giveaway:
Win a $10 Amazon gift card + an ebook copy of Miracle On Three Kings' Day by Beth Laycock.
Direct Link: http://www.rafflecopter.com/rafl/display/88d45f0385/?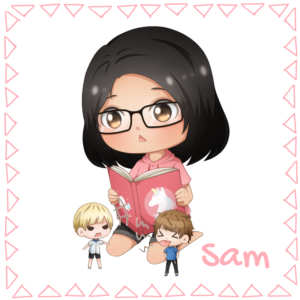 Fan de MM et plus particulièrement des single dads (ça marche aussi avec les oncles, les grands frères etc…) , des MMM et d'Urban Fantasy.