Book Title: Forgotten (Heaven and Hell Club Book 2)
Author: Colette Davison
Publisher: Independently published
Cover Artist: Colette Davison
Release Date: March 25, 2020
Genre/s: Contemporary M/M Romance
Trope/s: Hurt/comfort, disabled MC, small age-gap, one-night stand to lovers
Themes: Being true to yourself, trusting in others
Heat Rating: 3-4 flames
Length: 75 000 words
It is the second book in a series.
It can be read as a standalone, but does work better if read after Broken.
Can he build a future, when he's forgotten his past?
Blurb
Jared has fought hard to achieve something close to 'normal'. Needing to get away from his well-meaning but suffocating family, he follows a message he wrote on a scrap of paper to a new city, hoping to find a missing piece of his past.
When Kyrone, a cocky pole dancer at the Heaven and Hell Club, saunters into the tattoo parlour Jared works in, his life is turned upside down again. A passionate one night stand turns into something unexpected for both men. But life is never simple as they work out if they can have a future beyond what has been forgotten.
Forgotten is an MM romance with hurt/comfort, a small age gap, and two men who need to learn to be true to themselves. It is the second book in the Heaven and Hell Club series and, whilst it can be read as a standalone, works better if read after Broken.
Excerpt
"Adonis?" Jared asked slowly.
"Are you going to rib me about it too? Faye has already given me a hard time."
"Damn right I did," Faye said, bouncing up the stairs to them. "But I always knew you were a cocky shit, Kyrone."
"I love you too, Faye."
She laughed and then pulled up a second stool, so she was close enough to observe what Jared was doing. Her apprentice was still staring at the piece of paper.
"Adonis was a guy from Greek mythology who was beautiful enough to gain the favour of the goddess Aphrodite," Faye said. "So basically, an Adonis is a guy who is sexy and attractive."
"Why thank you." Kyrone beamed.
Faye rolled her eyes. "I did mention he was big-headed, didn't I?"
Jared chuckled. "Yes."
"Moi?" Kyrone asked.
"Yes, you. You're the one branding yourself an Adonis. No one else is calling you one, honey."
"I'm hurt." Kyrone pouted and then looked at Jared. "Do you think I'm an Adonis?"
Jared smiled broadly, his eyes sparkling in amusement. Instead of answering Kyrone's question, he handed him a clipboard with a consent form on it. "Could you fill that in while I trace your design, please?"
Kyrone deepened his pout as he took the clipboard. "You didn't say I wasn't an Adonis," he noted, as he started filling in his details and reading the disclaimer.
Jared chuckled.
Faye tutted. "I told you to behave," she chastised, before watching as Jared traced the lettering.
Kyrone was already familiar with the form, but it never hurt to remind himself of it. As he filled it in, he stole glances at Jared as he bent over the small work desk, tracing the lettering. He really was a lovely looking guy. Although his eyebrows were dark, he had straw-blond hair that was long enough to graze his high cheekbones as it flopped forward. It was parted on the right-hand side and swept over to the left. Although Jared's eyelashes shaded his eyes in that moment, Kyrone had previously noticed that they were a deep shade of brown, and that they seemed to have a gravity that pulled him in, like a pair of black holes. Although Jared was almost painfully skinny, his face had a youthful, feminine roundness to it. He had beautifully full lips and a long, kissable neck. He was wearing a short-sleeved t-shirt, revealing long willowy arms.
"You don't have any ink," Kyrone said. Nothing that was immediately visible any way. Whilst he waited for Jared to correct him, he absently handed the completed form to Faye.
Jared gave him a lop-sided smile. "I wasn't aware it was a requirement for the job?"
About the Author
Colette's personal love story began at university, where she met her future husband. An evening of flirting, in the shadow of Lancaster castle, eventually led to a fairytale wedding. She's enjoying her own 'happy ever after' in the north of England with her husband, two beautiful children and her writing.
Social Media Links
Blog/Website | Facebook Page | Facebook Group: Colette's Cosy Corner
BookBub | Twitter | Goodreads | Instagram: @colettedavison
Mailing List | Newsletter Sign-Up
Giveaway
Enter the Rafflecopter Giveaway for a chance to win a $10 Amazon Gift Card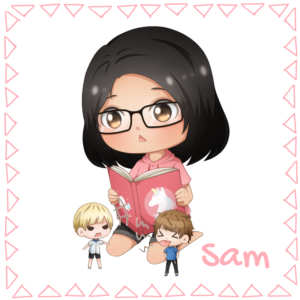 Fan de MM et plus particulièrement des single dads (ça marche aussi avec les oncles, les grands frères etc…) , des MMM et d'Urban Fantasy.