Imperial Stout by Layla Reyne
Series: Trouble Brewing #1
Publisher: Carina Press
Release Date (Print & Ebook): Ebook/Audio – July 23, 2018; Print – July 31, 2019
Length (Print & Ebook): 272 pages
Subgenre: M/M Romantic Suspense
To order: AMZ: https://amzn.to/2qBqID7 UBL: http://books2read.com/u/mBMWMZ Carina: http://bit.ly/2JQWIOF
Book blurb:
Layla Reyne spins off from her pulse-pounding Agents Irish and Whiskey books with Imperial Stout, the first installment in the Trouble Brewing series It's a good thing assistant US attorney Dominic Price co-owns a brewery. He could use a cold one. Nic's star witness has just been kidnapped, his joint operation with the FBI is in jeopardy, his father's shady past is catching up with him and the hot new special agent in San Francisco is the kind of distraction best handled with a stiff drink. Kidnap and rescue expert Cameron Byrne has his own ideas about how to handle Nic, but his skills are currently needed elsewhere. The by-the-book FBI agent goes deep undercover as a member of an infamous heist crew in order to save Nic's witness, break up the crew and close the case before anyone else gets hurt. Nic in particular. Things heat up when Cam falls for Nic, and the witness falls for Cam. As the crew's suspicions grow, Cam must decide how far he's willing to go—and how far into his own dark past he's willing to dive—to get everyone out alive.
Teaser Excerpt 1:
Nic was silent a long minute, the building tension heavy in the small space. "This is why you're not supposed to get involved with colleagues."
Finally, an opening. Cam closed the distance between them, winding his arms around Nic and hugging him from behind. Body warm, despite the cool night, Cam wanted to get even closer to it. They might both get burned, but he was done watching the fire from a distance, holding himself back from the heat.
"Technically, we're not," he said.
"You have an answer for everything, don't you?"
"If it wins the argument with you, yes."
Nic chuckled, hanging his head, and Cam skirted his nose and lips along the nape of his neck. Nic's quiet laughter died on a breathy gasp.
About Layla Reyne:
Author Layla Reyne was raised in North Carolina and now calls San Francisco home. She enjoys weaving her bi-coastal experiences into her stories, along with adrenaline-fueled suspense and heart pounding romance. When she's not writing stories to excite her readers, she downloads too many books, watches too much television, and cooks too much food with her scientist husband, much to the delight of their smushed-face, leftover-loving dogs. Layla is a member of Romance Writers of America and its Kiss of Death and Rainbow Romance Writers chapters. She was a 2016 RWA® Golden Heart® Finalist in Romantic Suspense.
Connect with Layla:
Connect with Layla Reyne: Twitter | Instagram | FB Page | FB Group | Newsletter | Goodreads | Pinterest | Amazon | BookBub
Giveaway:
Win a signed set of paperbacks from Layla Reyne: Imperial Stout and Blended Whiskey!
Winners in the USA will receive paperback copies of the prizes; winners from outside the contiguous USA, will receive Amazon gift card of equivalent value. Enter here:
Direct Link: http://www.rafflecopter.com/rafl/display/88d45f0362/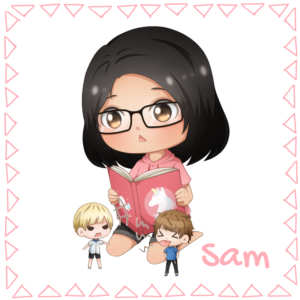 Fan de MM et plus particulièrement des single dads (ça marche aussi avec les oncles, les grands frères etc…) , des MMM et d'Urban Fantasy.