Book Title: My Horrible Gay Dating Life
Author: Dimitrius Jones
Publisher: Self-Published
Genre/s: LGBT romance, non-fiction
Length: 35,677 words/99 pages
Is it a standalone book? Yes
Blurb
Based directly on the author's dating journey, Dimitrius Jones shares tales of his romantic misadventures. Ready to feel better about your love life? Of course, you are.
Navigating the world of dating is hard. Having a gay dating life is even harder. While waiting for his new romantic interest to arrive at a coffee house, Dimitrius decides to dig deep into his past to see where it all went wrong. What follows is a trip down memory lane full of outrageous encounters with cheating boyfriends, family drama, and a grown man who likes to wear diapers.
Realizing nearly every relationship he's been in has ended in catastrophe, Dimitrius devises a plan to properly manage his latest romantic-fling-turned-tragedy. He wants to become a better person and meet better people. The problem is he's only got until the end of his next date to figure out what to do next.
Still think your dating life is bad? Think again.
« The stories in the short book are presented in a humorous and thought-provoking way. » Amazon Reviewer.
Excerpt
Chapter 1: "Mr. Danvers"
I entered a crowded Starbucks doing my best to maintain my now-infamously cool demeanor as the two baristas attempted to greet me from behind the counter. After quickly realizing they were in the presence of an ice queen, they resigned back into their routines of mixing up the shop's signature, hilariously-overpriced drinks. The smell of freshly ground coffee glided into my nostrils, filling my lungs as I searched the interior of the shop for an abandoned corner. Luckily, I had arrived just after the morning rush and was able to find a spot just out of the baristas' field of vision. An introvert's paradise, it was completely devoid of human life and incapable of sustaining social interaction. I quickly crossed the room before taking my seat in an oddly uncomfortable black chair. Placing my brown duffle bag in front of my legs, I felt my phone vibrate in my pocket. Instinct pulled my hand towards the buzzing device before I stopped myself. Now wasn't the time for me to be gazing at a screen. I had managed to royally screw up today in more ways than one, and I needed to gather my thoughts.
My reflection in the window to the right caught my attention. I was slouched over with my head resting on the back of my palms with my elbows planted firmly into the ceramic tabletop. Anyone could see I radiated defeat. It didn't help that my ensemble for the day was black from head to toe. You see, it was a day of reflection. If all went according to plan, I would spend the next thirty to forty-five minutes mourning my dating life. I would look back on the good times, the bad times, and I would fumble it all into a sick reversal of the "well it could be worse" variety. Naturally, the best-laid plans seldom came to fruition. At any moment, my date would arrive, and the dance would begin. Sean seemed nice enough. He returned my texts in a timely manner, gave me my space, was fantastic in bed, and wasn't clingy. Anyone would be happy to scoop him up, leaving the remaining single guys to poke each other with tree branches.
Of course, I'm sure his wife, two kids, and their three dogs loved him more than I ever could. Perhaps today was the day I'd hear him mention that he was even married. After all, it wasn't until my interview with his wife just thirty minutes ago that everything came to light in the first place. The meeting was going spectacularly until I happened to glance at the family photo sitting at her desk. Normally, I would use a family photo as an opportunity for small talk until I saw who was in the picture with her. With that realization, let's just say keeping my composure was the least of my concerns. I should have known there would be some sort of catch. He was simply too perfect, but don't we all deserve a little perfection every now and then? So maybe mourning my dating life wasn't the original plan. Maybe I tend to be dramatic. It's not like I needed to make my dating adventures any more exciting than they already were by pretending I was in some sappy romantic comedy flick. Or maybe that was how I managed to get through these kinds of situations.
I finally succumbed to temptation and checked my phone. I had received an email from the office where his wife worked as the recruiting manager.
"Thank you for taking the time to interview with us. While we were impressed with your credentials, we have decided to move forward with other candidates at this time."
Now completely crestfallen, I decided maybe it was a good idea to switch gears on the mourning bit. As I squirmed to get comfortable in my chair, small bits and pieces of my time with Sean began to make more sense. We saw each other often enough, but it was always on odd occasions. We hardly ever went out at night because he "wasn't a night person." He was also very fond of meeting me on my side of town despite me living in the most boring part of the city. At first, it confused me; now, I knew better.
There was something I needed to understand about myself today, and I had the rest of the morning to figure it out. Sean would be the latest entry in a line of disastrous dating scenarios I often found myself in.
I glanced at the counter just as one of the baristas averted his eyes to continue pretending to busy himself with a jar full of straws. I could learn a thing or two from him, I suppose. Was it possible to fake it till you made it in a normal, stable relationship? I received a text from Sean; he was running late and was about ten minutes away. Realizing my haze of disappointing news was reaching its end, I decided to send the one text capable of turning the purest of hearts catatonic.
"We need to talk when you get here."
"Okay sure. Everything okay?"
"No."
Annoyingly cheery bell noises erupted from the tiny speakers as the first call reached my phone. I glanced down at his name for a split second before moving from my seat to stand in line. I decided I was up for trying one of the shop's many overpriced iced teas as I watched the beginning of Sean's breakdown. As a rather cold-hearted, calculating Virgo, I could already pinpoint every stage of his eventual demise. By the time I had finally stopped stamping my foot long enough to decide on my order, he had already called three times; each call had been ignored. The next step was to receive another text. Before I could reach the counter, my phone vibrated again.
"Why aren't you answering your phone? What's going on?"
"I'm in line ordering. I'll see you when you get here."
"Just tell me what's going on with you. You're acting really weird right now."
The cute barista complimented me on my outfit. Like the asocial ice demon I had slowly become over time, I nodded curtly before snatching up my drink order and gliding away freezing everything in my immediate vicinity. Sean called again just as I took my seat to finish brooding; he was clearly in full-on panic mode. What would I even say to him? Would cursing him out in the middle of this coffee shop really prove anything? Would he suddenly realize the error of his ways and vow to never cheat on his wife again?
I decided it was the perfect opportunity to do some soul searching. Before His Unfaithfulness walked through the door, I was going to figure out exactly where my dating life went wrong. As with any caffeine-induced daydream, things could spiral out of control rather quickly. Luckily, my brunch date had a bad habit of being late to nearly everything. Even a little passive-aggressive text warning wouldn't get him to speed down the highway.
With that knowledge in mind, I realized it wouldn't hurt to start from the beginning.
Buy Links
About the Author
"No matter if it's destroyed, a heart grows back, and we can only attribute it to being a miracle. Yes, it's an awesome, unfortunate miracle."
Dimitrius Jones is a freelance writer who has personally interviewed celebrities such as Rasheeda from Love & Hip Hop Atlanta and Claudette Ortiz from R&B Divas. He also enjoys working with children and currently works to help foster children prepare to adjust to the pressures of navigating the foster system.
Of course, his free time isn't nearly as exciting as most people think. Truthfully, he spends most of his time watching anime, daydreaming, and hoping that some rugged gentleman will sweep him off his feet while he's standing in the grocery store checkout line.
Social Media Links
BOOK BLAST SCHEDULE
February 5
Valerie Ullmer | Romance Author
Blazing Zane Book Blog REVIEW
Mirrigold: Mutterings & Musings
February 6
Love Unchained Book Reviews REVIEW
Sur l'étagère, derrière la sirène en plastique REVIEW
February 7
Momma Says: To Read or Not to Read REVIEW
Scattered Thoughts and Rogue Words
~
Hosted by Gay Book Promotions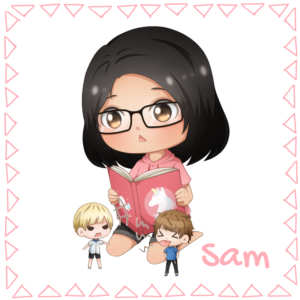 Fan de MM et plus particulièrement des single dads (ça marche aussi avec les oncles, les grands frères etc…) , des MMM et d'Urban Fantasy.