Re-Release Blitz, Excerpt & Giveaway:
Elias by Amy Aislin
Book Blurb:
Do something new today.
Why he looks at his horoscope every day, Elias Hood doesn't know. It's all garbage, and no nickel fortune ever helped him climb all the way up the corporate ladder. He's about to make Vice President. Rocking the boat with "something new" is the last thing on his mind.
But there's this guy.
Ty Green can make friends with a tree and Elias can't help falling for his easy-going vibe and his perfect smile. He's a fellow Capricorn, like Elias, but that's as far as their similarities go. Ty works to live—he doesn't live to work. When Elias takes his horoscope's advice and asks Ty out, both men are in for a shock. But as Elias's walls start to come down, they might just realize that they have more in common than they think. In fact, they might even want the exact same thing.
Who knows? Maybe horoscopes aren't just trash after all.
Elias was originally released in 2017 as Picture Winter.
This edition has a brand new cover, but no new content.
---
Excerpt:
Elias went silent again, so Ty went with one of his favourite getting-to-know-you questions.
« Do you have any pets? »
« No. »
Huh. That question usually elicited a longer response.
« I had a hamster when I was a kid, » Elias finally elaborated after taking a sip of his coffee. « Does that count? »
Ty couldn't stop his charmed smile. « Sure. What was his name? »
« Booger. »
Ty snorted his drink. Fuck, it hurt! Holy mother, who knew getting hot chocolate up the nose would burn so badly? His eyes watered on top of everything, and it probably looked like he was either crying or laughing himself to death.
He needed to blow his nose, and the tiny one-ply café napkins would never do and—
« Here. » Elias thrust a travel pack of tissues in his face. Oh, thank Christ. Ty had left his own travel pack in the console of his waste-removal truck—which was in the parking lot around the corner.
Once he'd blown his nose, he glanced at Elias—who looked like he was biting his cheek to hide his smile—crumpled up the tissue in his hand, and said, « Speaking of booger… »
Elias's laugh was soft, like he was having trouble believing the conservation was actually happening.
---
---
Enter the Giveaway:
To celebrate the re-release of Elias, Amy is giving away 2 signed copies of Elias!
Enter the Rafflecopter giveaway for your chance to win!
Direct Link: http://www.rafflecopter.com/rafl/display/c8c1c64112/
---
About Amy:
Amy's lived with her head in the clouds since she first picked up a book as a child, and being fluent in two languages means she's read a lot of books! She first picked up a pen on a rainy day in fourth grade when her class had to stay inside for recess. Tales of treasure hunts with her classmates eventually morphed into love stories between men, and she's been writing ever since. She writes evenings and weekends—or whenever she isn't at her full-time day job saving the planet at Canada's largest environmental non-profit.
An unapologetic introvert, Amy reads too much and socializes too little, with no regrets. She loves connecting with readers. Join her Facebook Group, Amy Aislin's Readers, to stay up-to-date on upcoming releases and for access to early teasers, find her on Instagram and Twitter, or sign up for her newsletter.
Connect with Amy:
Facebook | Amy Aislin's Readers Facebook Group
Amazon Page | Goodreads | BookBub
---
---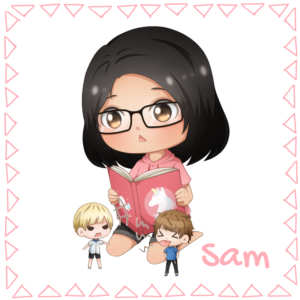 Fan de MM et plus particulièrement des single dads (ça marche aussi avec les oncles, les grands frères etc…) , des MMM et d'Urban Fantasy.