RELEASE BLITZ
Book Title: Gamer's Choice
Author: Valerie Ullmer
Publisher and Cover Artist: Valerie Ullmer
Release Date: March 25, 2021
Genre: Contemporary M/M Romance
Trope/s: Friends-to-lovers, Age Gap, Bisexual Awakening, Gay/Bisexual Romance, Instant Connection
Themes: Accepting oneself, moving past partner abuse
Heat Rating: 5 flames
Length: 51 000 words
It is a standalone story.
Buy Links – Available in Kindle Unlimited
Blurb
Neko-Ren Ellison
Love wasn't in the cards for me.
My first relationship ended with a dramatic event, and police involvement. Needless to say, I wasn't keen starting a new one. But a knock on the door one random night changed everything. After exchanging some witty banter through my closed oak door, safety first, I threw it open to find an exquisite bearded man, hair tied back, muscles on display… all-in-all, my fantasy come to life. I wove elaborate dreams around the two of us within minutes, yet my illusion shattered when I learned he was straight. But the protective and intense man became a fixture in my life, and no matter how many times I tell myself he's not available, I stubbornly hold out hope.
Graham Norris
I'm screwed. I can't figure out what shocked me more. The realization I'm not only attracted to a man, but to my dazzling, openly gay, younger next-door neighbor who makes every protective instinct in me flare. Or at the ripe old age of thirty-four, I'm stupidly fighting against my one chance at happiness. Despite my grumpy and staid personality, the brilliant and funny man introduced me to his world, his family, and worked his way into my heart. The more I'm immersed in everything Neko, my desire for him only grows. Yep, completely screwed.
Gamer's Choice features an age gap, bisexual awakening romance between a professional let's player and his new neighbor. It's a standalone gay/bisexual romance with an instant connection and a ten-year age difference.
~Descriptions of domestic violence and stalking, includes abuse from an ex-partner, descriptions of an attempted assault with a weapon. Please avoid if the subject matter is triggering.~
Excerpt
I don't know why I did this to myself. The situation was not tenable. I hunched my shoulders close to my ears, spine frozen in place and arched away from the back of my ergonomic chair, and if I tensed any more, I'm sure I would sprain something. My gaze darted around the darkened room and I listened out for any signs of the upcoming attack, and I realized I hadn't spoken in several minutes. I found a locker for a momentary reprieve and slipped inside. But as I opened my mouth, hoping whatever words I spewed forth came across as witty and brilliant, the ghost girl who'd stalked me for two hours popped up in front of my hiding space with no warning, baring her teeth with a growl. To add to my humiliation, she surged toward me with a screech. An embarrassing scream punched up from my chest and past my throat as I wretched the headphones from my ears and covered my eyes with my hands. I listened to my heart thumping hard in my chest, worrying me for a long minute, until the rhythm decreased and my fear dissipated. It's not real. So not real. By the time I opened my eyes, I caught sight of the screen as the fake blood dripped down from the top of the monitor and the words 'Game Over' flashed at me. My eyes tracked up toward the camera and I said, "Well, that's all I have time for today. Yes, I am going to pass the last few minutes off as though they never happened. I hope you enjoyed that as much as Echo will, and I'll catch you next time. Later." I held up two fingers, flashing the peace sign, my signature, I stopped the recording before reaching for the stainless steel bottle I kept handy. With the last remnants of the ice-cold water swirling around, enough to sustain me and sooth my sore throat until I dragged myself downstairs for a refill and cooked myself dinner, I tilted the bottle back and swallowed. My best friend, who was the greatest editor I've ever known, was waiting for my text. She'd handle everything for the upload.
It's ready for you. Don't laugh too hard.
Got it. I'll laugh the right amount, thank you very much.
I shook my head and stood. Like me, Echo started her career because of an interest in something she loved. She cut her own movie trailers, which she somehow included proper voice overs, and they were so much better than what a normal Hollywood production churned out. When I started gaming online, she offered to edit my videos, which involved me rambling through whatever game I was playing, hoping whoever watched paid more attention to the game than my acne covered face and squeaky voice. My excuse for the awkwardness… I was sixteen. Since then, I've developed into a lanky, long-limbed, acne-free, deep-voiced man who enjoys speaking to others through the internet and connecting them to a community they are proud of. I thank the deities above I moved past puberty without causing harm to myself or others. But Echo followed my channel and realized before I did that I'd gained subscribers at a steady rate. She promoted herself to my full-time editor when we were nineteen. Although she has her own successful channel, a fashion and beauty one, I keep her busy with my upload schedule. My stomach growled, and I shot a glance at the clock. Two hours past my normal recording time. I stretched my arms over my head, hearing the usual popping sounds in my joints from whenever I sat too long at my desk. Done for the day, I tucked in my chair and reached over to shut off the three monitors, but as I turned to exit, I noticed my opened office door. "Well… fuck." Although my house was on the corner of a cul-de-sac with a gigantic yard surrounding it, I attempted to keep my profession from bothering my neighbors. So I closed the door whenever I recorded because I'm not quiet. And when I remodeled the house a few years before, I added soundproofing to the entire top floor. I'd chosen to buy the house because the bedrooms were on the second floor. The rooms were spacious enough my setup was away from the windows, and the bonus had been the rest of the place. Curved doorways, wooden floors throughout, the modern kitchen that included a farmhouse sink along with the dual oven gas range, and the sunroom that faced the backyard. The three-bedroom house was enormous for only me. But my family lived close by and on the weekends, and sometimes during the week when mom and dad hounded them about homework and the possibility of their interest in either boys or girls, my parents weren't picky, my twin sisters stayed over with me. It wasn't as if I had a social life they could interrupt. I'd tried years before, and it turned out to be a disaster, so I'd given up. Instead, I concentrated on my career. And when I wasn't working, I divided my time between Echo or my family. Tired of my depressing thoughts of being alone with no man in my bed, I headed out of the room and downstairs, wondering what I might make for dinner. After, I would indulge in a true crime YouTube marathon. The moment I hit the last step, a knock from the front door stopped me in my tracks. At close to nine on a school night ruled out my sisters dropping in for a visit, and Echo was busy editing. Curious, I padded over to the front door. Thinking myself stealthy in my woolen-clad feet, I stopped about a half a foot in front of solid oak and placed my hands on the smooth wood before inching forward. Through the peephole, my eye focused on a solid figure facing away from me. He was tall, so my tired brain played out a fantasy where a gorgeous man realized he could no longer live without me and was waiting outside to declare his feelings. But what's the likelihood of that? Still freaked out from being immersed in a horror game and catching the damp chill of the night air from the thunderstorm earlier, I opened my mouth and forced words through my tight throat. "You are unfamiliar to me, so before I open this door I have to ask, are you a serial killer?" Yeah, my conversation skills rock. The man turned toward the door, but his height prevented me from seeing any defining features. The deeper voice on the other side answered, "Um, that's a new one. I'm not, but I don't know if you're going to take my word for it." "Shit! You make a good point. Well, let me ask you this? Are you here to use my phone because your car broke down and your mobile 'died'?" My dumb ass used air quotes as if he could see me. To be honest, I'm surprised I'm still alive. The stranger huffed out a snicker. The sound
did not
send flutters of pleasure through me. "Are you always this suspicious?" My head nodded up and down before I slapped my forehead and replied, "I think that's what an untrustworthy, immoral man would say, using reverse psychology to make me feel guilty for being unhelpful, which would make me lower my inhibitions and let you inside." The man had the nerve to laugh, a deep, throaty, sexy sound. He asked, "You read that in a book, right?" "Well, I didn't read it, per se, I heard it in an audiobook from a retired FBI agent about how following your instincts could save your life and the only reason I listened to it because both of my sisters refused. I admit, it scared the poop out of me, but if I can keep them safe, I would do it again." "That's fair, I suppose. But no, I'm not here to harm you and I'm not a criminal. I heard a scream and thought it was a woman in distress, so I thought I would check." My hesitation forgotten in that moment, I jerked open the door and glared at the chest in front of me. Sometimes I hated being short. I gulped as my eyes traveled upward until I met amused gray eyes, one eyebrow arched in question. "I knew that would do it?" The tall man who I would love to climb said. "Shit, did I say that aloud?" Another chuckle and I forced my eyes up again.
About the Author
Valerie resides in Denver, Colorado with her husband. While she had been interested in writing a romance novel for years, it wasn't until she wrote her first book that she really became hooked, and now she can't stop. She has notebooks full of ideas, and she plans to write most of them in the years to come.
When she's not writing or learning about the craft of writing, she can be found surfing the internet way too much, watching Investigation Discovery and thinking that her neighbors are up to no good, and finding new ways to get her husband to laugh.
Social Media Links
Blog/Website | Facebook | Twitter | Instagram
Newsletter Sign-up | Pinterest | BookBub | Goodreads
Giveaway
Enter the Rafflecopter Giveaway for a chance to win
a $25 Amazon Gift Card
Follow the tour and check out the other blog posts and reviews here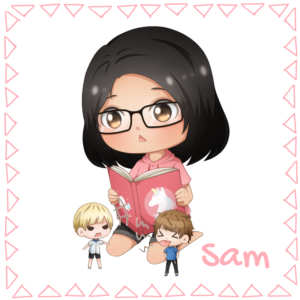 Fan de MM et plus particulièrement des single dads (ça marche aussi avec les oncles, les grands frères etc…) , des MMM et d'Urban Fantasy.