Book Title: Love In Slow Motion
Author: E.M. Lindsey
Publisher: E.M. Lindsey
Cover Artist: Amai Designs
Release Date: November 16, 2020
Genre/s: Contemporary M/M Romance
Trope/s: Age gap, dad's best friend
Themes: Bisexual awakening
Heat Rating: 4 flames
Length: 95 000 words
Buy Links – Available on Kindle Unlimited
Universal Link | Amazon US | Amazon UK
Maybe it didn't end there. Maybe it started with a kiss…
Blurb
The only thing Ilan Nadav knows about relationships and marriage is that they ruin people. He's committed himself to the bachelor life, and he's never been happier—until his best friend had to go and fall in the sort of toe-curling, sonnet-writing kind of love. Witnessing that created a hunger in Ilan, and now all he can see is the people standing near him who deserved better than they got. And one of those people makes his heart beat a little bit harder and a little bit faster—but he's the last man in the world Ilan is allowed to want.
After all, Fredric Pedalino is his best friend's dad.
When Fredric comes to him for advice about dating men, Ilan is forced to re-write his own reality—and maybe his stance on love, because Fredric is the sort of man with the ability to sweep him off his feet. Even when he isn't trying.
Ilan wants Fredric more than he's ever wanted anyone before, but he's not sure he's willing to take the risk. After all, loving that man might cost him everything.
Excerpt
"I was on a date when you called me. My first real date maybe ever. You know, the kind that didn't mean a quick hook-up on my couch before I sent him packing." Ilan let out a huffing breath, and his fingers stroked absently over Fredric's knuckles, sending sparks shooting up his arm. "I saw your name and I knew if I answered that call, that would be it. It would be over."
"And you did answer," Fredric said softly.
"Yes," Ilan breathed out, "I did. I did, knowing what I was getting into—but I also did it thinking it was safe because there was no way you wanted… me."
Fredric's stomach twisted and his heart thrashed. He hated how hard this was, how complicated, how much fear ruled the moments between them. But like Teddy said to him, it would be worth the effort. "Except I do."
"And I don't know how to tell you no," but before Fredric could lean in and close the distance between them, Ilan went on. "And I don't know how to say yes."
Fredric nodded, deflating a little, but not pulling away. "Then have dinner with me. And a little more wine. And that cake you brought."
Ilan was silent a long while. "And then?"
"And then we take Bas for a walk. You can tell me what the winter sky looks like here at night. I've never asked before."
Ilan's fingers twitched, and his voice was thick. "I can do that." He paused again. "And then?"
"And then, we do it again—something else," Fredric said. He shifted closer, until their knees touched, and Ilan pressed back against him. They started to tangle in places, more than their hands, and it felt right. And as much as he was still nervous, he felt safe. "We see movies, and we eat dinner. We take a tango lesson at the community center. We find a wine and paint night and you can help me paint a cactus."
Ilan laughed. "Yeah?"
"Yes," Fredric said. "I just need to know that it starts here."
"Just a chance," Ilan breathed out, like he was making the promise to himself, not Fredric. "And if…if I can't," he said, then stopped. "If whatever inside me has been so wrong for all these years stays wrong, and you need something more…"
He couldn't imagine a world in which that would be possible, but he owed Ilan at least one promise tonight, and he could make it that one. Tugging their joined hands toward him, he pressed the warm knuckles to his lips and let them linger for a long, long moment. "We will never be broken."
Ilan's breath was softer this time, but still trembling—just like his hands. But instead of pulling away, instead of letting whatever he was feeling get the best of him, he didn't let go.
About the Author
E.M. Lindsey is currently living in the United States. They spend their time writing, reading, hiking, and binging Netflix – in that order. Find their work exclusively on Amazon.
Social Media Links
Blog/Website | Facebook | Newsletter Sign-up | BookBub
Follow the tour and check out the other blog posts here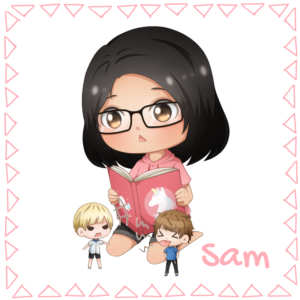 Fan de MM et plus particulièrement des single dads (ça marche aussi avec les oncles, les grands frères etc…) , des MMM et d'Urban Fantasy.