Release Blitz & Giveaway:
Say You'll Be Nine by Lucy Lennox

Cover Designer: Cate Ashwood
One dilapidated cabin in need of renovation.
Two stubborn men pretending to be a couple.
Three summer months to get the job done.
Four tangled legs in only one bed.
Five cameras catching it all for YouTube.
Six hundred thousand Instagram followers.
Seven nosy family members with Opinions.
Eight thousand reasons they should never fall in love.
Nine million reasons why they will.
Say You'll Be Nine is a standalone novel...
---
Excerpt:

Thinking about Cooper though… well, that did something to me. It made me annoyed, mostly, but for some reason that annoyance made itself known through what I'd begun to think of as "angry dick." Yes, thoughts of arguing with Cooper made me hard. And since I was fixing to spend the entire summer sleeping near, fighting with, and pretending to kiss and hug the man, this was going to be a problem.

"Keep it together," I grumbled under my breath. Nacho's ears perked up in the rearview mirror. "Oh, not you, baby. You're fine. Go back to sleep. Daddy's just having a sexuality crisis, no big."

I remembered one time when Cooper was staying over during a spring break, I'd come home late from helping a neighbor fix his tractor shed and run right into Cooper pouring himself a glass of ice water in the darkened kitchen. He'd been standing there in nothing but navy-striped boxer briefs, and I'd stared at him like he was some kind of alien.

"Nine," he'd said slowly. "Didn't know you were out this late."

I'd glanced my fill of his entire body, curious more than anything about what another man outside my family looked like without his clothes on. Since I'd helped my dad on the farm and worked at Walt's, I hadn't played school sports and had the locker room experience like some others had.

I remembered the air getting weird between us and his underwear getting bulgier as we stood there. Had it been possible he was getting hard for me? I'd known he was gay, but this was something else.

"Uh, yeah," I'd croaked. "Was working at the farm next door. Sorry." I'd scooted past him and raced for my room, kicking myself for apologizing for being in my own damned kitchen. After that, every time I'd seen Cooper I hadn't been able to help but look at his fly to see if he was getting hard for me again. It had been this inappropriate addiction I'd had that had pissed me the hell off and started the odd discord between us. Was it ego? Did I really care if some gay guy found me attractive?

So yeah. I was sweating buckets and probably going to puke and faint at the same time the minute I saw him at the renovation cabin. Super-duper.

When I finally pulled off the deserted mountain highway and onto the road where the property was located, I finally pulled over and upchucked into the weeds at the side of the forest. Nothing like christening a new place with a little vomit.

Nacho whimpered and whined from the half-open window, so I waved my hand at him to let him know I was still alive. I used some napkins from the side pocket to wipe my mouth and then swished with water from my water bottle. Finally, I popped in some mint gum from the console and tried to take a deep breath. At least now I wasn't going to puke when I saw Cooper.
---
Enter the Giveaway:
To celebrate Lucy's release, we are giving away 3 eBooks copies of Say You'll Be Nine!
Enter the Rafflecopter giveaway for your chance to win!
---
After enjoying creative writing as a child, Lucy didn't write her first novel until she was over 40 years old. Her debut novel, Borrowing Blue, was published in the autumn of 2016. Lucy has an English Literature degree from Vanderbilt University, but that doesn't hold a candle to the years and years of staying up all night reading tantalizing novels on her own. She has three children, plays tennis, and hates folding laundry. While her husband is no shmoopy romance hero, he is very good at math, cooks a mean lasagne, has gorgeous eyes, looks hot in his business clothes, and makes her laugh every single day.
Lucy hopes you enjoy sexy heroes as much as she does. Happy reading!
---
---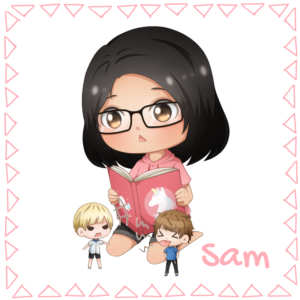 Fan de MM et plus particulièrement des single dads (ça marche aussi avec les oncles, les grands frères etc…) , des MMM et d'Urban Fantasy.