Release Tour, Excerpt & Giveaway:
A Short Story Collection
What happens after the happy ending?
Drawn together for the first time, this is a collection of Lily's short stories about the much-loved men from her Mixed Messages and Finding Home series. Follow them through awkward marriage proposals, birthdays, a fraught babysitting job, and a very drunken Eurovision Song Contest party.
It includes stories previously written for her website and readers' group, along with deleted scenes and four brand new and exclusive short stories – Bad Valentine, Marrying Jude, Babysitting Billy, and House Hunting.
---
Excerpt:

Dylan comes towards me, and before I can duck, he sticks something on my head.

"What the fuck is happening?"

Dylan pulls something over my shoulders, unfolding a flurry of bright fabric before tying it around my neck. He decorates me with a few more things and takes a step back. As if synchronised, he and Jude burst into peals of laughter. I catch a glimpse of myself in the

mirror. I'm wearing a white tabard with a red cross on it and a Union Jack flag that he's tied around my neck like a cape. He's accentuated the outfit with a bright red wig with pigtails.

"What am I supposed to be?"

Dylan blinks in quite a disbelieving way. "You're Saint George, the patron saint of England."

"Was he a lawyer?" I fiddle with my cape. "And a part-time superhero?"

He tuts and reaches out to straighten my cape. "I tried to get you another costume, but it didn't come in time, so I've improvised."

"And where does the wig come in?"

He shrugs. "It was the only one they had left in the shop."

I'd like to point out that they're not wearing wigs, but by now I know the wisdom of not arguing with Dylan when he's got that look. I glance in the mirror again. "Dylan, really? Are you angry with me in some form or another?"

"No, why?"

"Because why else would you do this to me?"

"For fun," he says and nods his head emphatically. There's a somewhat messianic gleam in his eyes which usually only occurs at festivities like Christmas and birthdays.

"Oh, okay. Fun. Is this the Mitchell brand of fun where there's a vague threat of violence if I don't enjoy myself?"

He steps closer, and I inhale the scent of his shampoo. "It's not a vague threat," he whispers and sticks a piece of cardboard in my hand.

"What is this?"

"Eurovision Bingo," Jude says earnestly. "I hope I win. There's a bottle of Advocaat for a prize."

"You were a supermodel. Didn't you save enough money to buy your own?"

"Pfft," he says dismissively. "It's not the same as winning one."

"Or drinking it. Have you actually tasted Advocaat? There's a reason why it's always a prize in a raffle."

"Don't listen to him, Jude," Dylan says briskly, pushing me down into a chair and straddling my lap. "It's easier if you don't take any notice of the words."

"I knew you never listened to me," I say, my hands coming up to cup his hips. "It was blatantly obvious with the amount of errors I had to live with at work."

"You're so funny," he says sweetly. "I wonder how much funnier you'll get before I won't sleep with you tonight." I shut my mouth with an audible snap, and he laughs before kissing me gently. "That's what I thought, lover."
---
Enter the Giveaway:
To celebrate Lily's new release, we are giving you a chance to win your choice of any book from Lily's backlist! Three winners will be chosen!
Direct Link: http://www.rafflecopter.com/rafl/display/cc0f2a5778/?
---
About Lily:
Lily writes contemporary romance novels, and specialises in hot love stories with a good dose of humour.
Lily lives in sunny England with her husband and two children, all of whom claim that they haven't had a proper conversation with her since she bought her first Kindle.
She has spent her life with her head full of daydreams and decided one day to just sit down and start writing about them. In the process she discovered that she actually loved writing, because how else could she get to spend her time with hot, funny men!
She loves chocolate and Baileys and the best of all creations – chocolate Baileys! Her lifetime's ambition is to have a bath in peace without being shouted by one of her family.
Connect with Lily:
Facebook | Lily's Snark Squad Facebook Group
Twitter | Instagram | Pinterest
Amazon Page | Goodreads | BookBub
---
---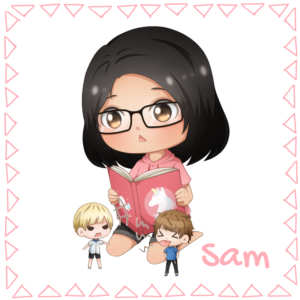 Fan de MM et plus particulièrement des single dads (ça marche aussi avec les oncles, les grands frères etc…) , des MMM et d'Urban Fantasy.