Release Blitz, Excerpt & Giveaway:
The B-Side by B. Harmony
Perspective Series, Book 1
Chance
When I read the roommate wanted ad, I thought my sister was encouraging me to live with an insane person. As it turns out, he isn't insane, he's sexy and one hundred percent my type. Living with him will be the ultimate test of my self control.
When the combination of our love of music and my overwhelming need to take care of him meets jealousy, sparks fly. His heart may be damaged, but nothing is beyond repair.
Now all I have to do is convince him that I'm in this for the long haul, not just this moment.
Tyler
I may look like the happy-go-lucky gay guy with a big smile and more punny tees than one person should probably own. But it's just a shield to protect my heart, the one that has been torn apart by the people who were meant to love me most. The last thing I'm willing to do is risk the tattered shreds on my new – straight- roommate. Sure, he's sexy as sin and has a love of music that rivals my own, but all that is just grounds for a new friendship. Nothing more. Right?
Yet, every moment we spend together tests a little bit more of my self control. When it turns out my roommate is not as straight as I once thought, I have to decide if this is one playlist I should listen to.
Will we have our own love song, or will this just be another broken-hearted ballad?
The B-Side is a low-angst, roommates-to-lovers, MM Romance novel. Featuring punny t-shirts for every occasion, killer playlists, meddling family and friends, and a happily-ever-after.
---
Special Release Excerpt:

"Chance."

My hand is on the door handle, so I turn towards his voice. Only Tyler is standing much closer than I expected. He's in my personal space, with only inches between us, an uncertain but determined look on his face.

I gulp. "Yeah?" That came out softer and raspier than I expected.

Tyler reaches out and grabs my wrist gently, pulling my hand off the door to turn me towards him. Then, he just stares up into my eyes from beneath his lashes, his eyes speaking so loudly it's as if he's screaming at me. He's not saying anything, but my body is responding to his unspoken words the way lyrics intersect and wrap around a melody.

He sways towards me a little more and whispers, "I'm glad you said yes."

Fuck it. This is either going to go up in a ball of flames and burn down to ashes or be one of the best moments of my life. My hand cups the back of Tyler's neck and brings him closer to me and our mouths fuse together.

Tyler's lips are soft and hesitant. Probably from the shock of me initiating the first move. Let's be honest; we're both surprised over that. But after a few seconds of gentle coaxing, Tyler lets out an almost imperceptible whimper and goes from a passive to an active participant.

He parts his mouth, and I dive in to caress his tongue with my own. Tyler releases my wrist and wraps his arms around my shoulders, trying to pull me closer. Our bodies are closely connected, and I can feel every inch of him against me.

Our kiss is fierce but gentle, dancing tongues and slight nips at each other's lips. With my other hand on Tyler's lower back, I push his hips towards mine, aligning our fronts together. I can feel his erection pressing into me through my jeans, and my dick is painfully hard trying to find its own escape.

I pull my head back just slightly to take a breath. Rather than separate from him fully, I press a kiss to the side of his mouth. We're both breathing hard, and I've never been more turned on in my life. I move my lips down his cheek towards his jawline.
---
Enter the Giveaway:
To celebrate B. Harmony's debut release, we are giving a lucky winner the chance to win a $10 Amazon Voucher and an e-copy of The B-Side!
Enter the Rafflecopter giveaway for your chance to win!
Direct Link: http://www.rafflecopter.com/rafl/display/cc0f2a5761/?
---
About the Author:
Harmony is a Texas girl with SoCal roots with a penchant for rock music and happily ever afters. She began her journey as a romance author after spending a year as a book blogger and bookstgrammer in the romance community.
She has been writing on and off for years, but The B-Side is the first novel that has reached completion.
Harmony lives in Texas with her husband, two children, and two fur babies. She spends her free time drinking too much coffee, swearing, and reading & writing while simultaneously watching baseball.
Connect with B. Harmony:
Website: https://www.bharmonyauthor.com
Amazon: https://www.amazon.com/B-Harmony/e/B08DG5LXL6?ref=dbs_a_def_rwt_hsch_vu00_tkin_p1_i0
Goodreads: https://www.goodreads.com/user/show/116993390-b-harmony
Author IG: https://www.instagram.com/bharmonyauthor
Bookstagram: https://www.instagram.com/rock_n_read719
---
---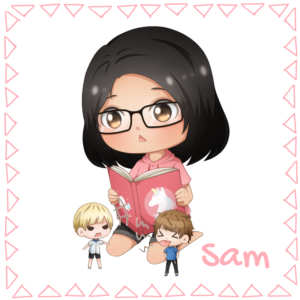 Fan de MM et plus particulièrement des single dads (ça marche aussi avec les oncles, les grands frères etc…) , des MMM et d'Urban Fantasy.