Book Title: Without a Compass
Author: Helen Juliet
Publisher: Self Published
Cover Artist: Natasha Snow
Release Date: August 24 2017
Length: Words: 80K
Genre/s: Contemporary Romance, New Adult,
Fish Out of Water, Gay For You, First Time Gay, Opposites Attract
Blurb
Riley Anderson isn't an outdoorsy guy. He's a desk jockey, office by day and couch by night. So when his family insists on a camping trip for his father's 50th birthday he's hardly thrilled. Things only get worse when Kai shows up, too.
Kai Brandt's more than eager to go camping with his best buddy, but his buddy's little brother Riley is all grown up now, and hotter than hell. Kai's willing to help him pitch more than just a tent… Which is weird, because Kai never swung that way before.
Events conspire to out Riley's secret AND leave him stranded in Kai's care for longer than they'd planned for. Trapped together in the wilderness, they're going to have to face a few hard truths if they're going to make it back to the world.
But even if they manage it, the experience will leave them forever changed.
Without a Compass is a steamy, standalone gay romance novel with a HEA and no cliffhanger.
Excerpt
He'd only just managed to get his boxers on in time when the outer door swung inwards and let in a burst of light. For a moment he couldn't see and he threw his hand up to shield his eyes. "Hello?" he squeaked.
"Oh, hey," a deep voice replied.
Riley froze as the door swung back and he was left looking at a sweat-soaked Kai. His vest and very short shorts clung to his damp, muscular body. The vision it offered up made Riley gulp.
The tattoos on his arms appeared to gleam under the sheen of sweat from whatever workout he'd just completed. Amongst the varied designs, Riley could make out a bear and a skull surrounded by roses. The colours were muted. His artist had used subtle shades to create tone. The overall effect was powerful but not overwhelming.
Plus, it didn't hurt that the arms carrying the decoration were huge and chiselled to perfection. Riley had almost died of happiness the couple of times Kai had casually draped one of them across his shoulders the night before.
He remembered where he was. He needed to do or say something before the moment stretched out any further and became weird.
His natural instinct was to snatch his towel up and cover his body. That would definitely make things awkward though. So Riley used all his self-control to merely pick it up as casually as he could and started drying off his hair. Just like you're at the gym, he told himself.
"Morning," he said brightly. "You go for a run too?"
Kai blinked a couple of times. It was obvious he was looking at Riley's almost totally naked body and Riley tried his best not to shy away in shame. No, he wasn't nearly as ripped as Kai was, but he knew he didn't look too bad. This was probably awkward for Kai too, especially after last night. But if they could just move past it, it would be fine.
As if coming out of a daze, Kai shook his head and walked forward. His towel was slung over his shoulder and he had a simple all-in-one shower-gel-and-shampoo bottle clutched in his hand. "Oh yeah mate," he said cheerfully, answering Riley's question. "It's beautiful around here. It would be rude not to go exploring."
Riley chuckled and thankfully found himself dry enough to pull on his shorts. He felt slightly less vulnerable with that small amount of clothing protecting him.
"I had to sweat out the hangover. How are you feeling?"
He didn't just mean after the alcohol. But he wondered if Kai would pretend nothing out of the ordinary had happened. He wouldn't blame him if he did; in fact, it would probably be best for both of them if that's how they moved forward.
"I'm good," he said, stopping at the sink next to where Riley's products were littered. "Can I borrow some of that?"
Riley nodded and offered up his toothpaste. Kai pulled a toothbrush from his back pocket and got to scrubbing.
As Kai was unable to talk for the moment, Riley applied his deodorant in increasingly awkward silence. He should think of something to say, something funny! Something that wasn't 'So, do you regret that kiss last night? Because I don't.'
Instead, he chewed at his lips and began picking up his various tubes and tubs to collect them back into his wash kit.
"Whereabouts did you-"
"How did you-"
They both looked at each other, then laughed. Kai spat out his toothpaste and wiped his mouth with the back of his hand. "I was just wondering how you slept."
"Oh, fine thanks, fine." Riley paused as Kai began peeling off his vest. "Uh, you?"
Kai rubbed his face. He seemed a bit sheepish for some reason. Riley hardly noticed though as he was focusing extremely hard on not staring at his pectorals.
"Yeah, fine," he grunted. But he offered up a smile that cancelled out whatever had bothered him.
Buy Links
https://www.amazon.co.uk/dp/B0752Y7N64 (UK)
https://www.amazon.com/dp/B0752Y7N64 (US)
Amazon Author Page
Meet the Author
Helen Juliet is an M/M author currently living and working in London. She's been writing stories since she was young, and got her start publishing fanfiction of sites like Wattpad. Fifteen years and over a million words later, she discovered the world of M/M fiction and found it was just as good as the fanfiction she was reading. She fell head over heels in love with the genre and became determined to try her hand at a book herself. On December 31st, 2016, she rang in the new year by publishing her first original novel, and hasn't looked back since.
Social Media Links:
Facebook Group – Helen Juliet Books
Giveaway
Enter the Rafflecopter Giveaway for a chance to win one of five copies of A Ballad of Confetti, Cake and Catastrophes with swag.
Release Blitz Schedule
August 24
Bookaholic & Kindle, Tangents and Tissues, Drops of Ink, Making it Happen,
Diverse Reader, Louise Lyons, Lily G. Blunt
August 25
Kimmers' Erotic Book Banter, The Way She Reads,
Millsy Loves Books, We Three Queens, My Fiction Nook
August 26
Follow the Reader, Smokin' Hot Reads Book Blog, Bayou Book Junkie,
Sur l'étagère, Gay Book Reviews, We Like It Big Book Blog,
Scattered Thoughts and Rogue Words, Valerie Ullmer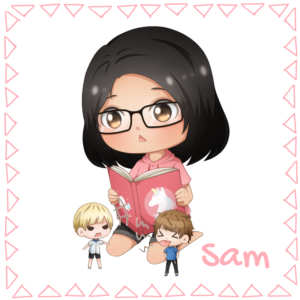 Fan de MM et plus particulièrement des single dads (ça marche aussi avec les oncles, les grands frères etc…) , des MMM et d'Urban Fantasy.