A Tiny Piece of Something Greater by Jude Sierra | Out: May 17, 2018
Contact: judith@anoveltake.com
« A Tiny Piece of Something Greater is a beautiful, sun-soaked summer of a romance and I never wanted it to end. »
—Roan Parrish, author of the Middle of Somewhere series
« A Tiny Piece of Something Greater is a wonderfully beautiful and hopeful book. It's real and raw, but so full of light.
Jude Seirra's writing is dream-like, and so calming. Highly recommended. »
—Anna Zabo, author of Syncopation and Daily Grind
A Tiny Piece of Something Greater
Publisher: Interlude Press
Release Date (Print & Ebook): May 17, 2018
Length (Print & Ebook): 258 Pages
Subgenre: LGBT, Interracial/Multicultural, New
Adult
Editor's Note: Some readers may find some of the
scenes in this book difficult to read. We have
compiled a list of content warnings, which you can
access at interludepress.com/content-warnings
All buy links or pre-order links:
Interlude Press: store.interludepress.com
Amazon: http://amzn.to/2FbYh4V
Smashwords: https://www.smashwords.com/books/view/791892
Apple: https://itunes.apple.com/us/book/a-tiny-piece-of-somethinggreater/id1348808986?mt=11
Kobo: https://www.kobo.com/us/en/ebook/a-tiny-piece-of-something-greater
Indiebound: https://www.indiebound.org/book/9781945053603
Book blurb: Reid Watsford has a lot of secrets and a past he can't quite escape. While staying at
his grandmother's condo in Key Largo, he signs up for introductory dive classes, where he meets
A Tiny Piece of Something Greater by Jude Sierra | Out: May 17, 2018
Contact: judith@anoveltake.com
« A Tiny Piece of Something Greater is a beautiful, sun-soaked summer of a romance and I never wanted it to end. »
—Roan Parrish, author of the Middle of Somewhere series
« A Tiny Piece of Something Greater is a wonderfully beautiful and hopeful book. It's real and raw, but so full of light.
Jude Seirra's writing is dream-like, and so calming. Highly recommended. »
—Anna Zabo, author of Syncopation and Daily Grind
Joaquim Oliveira, a Brazilian dive instructor with wanderlust. Driven by an instant, magnetic pull,
what could have been just a hookup quickly deepens. As their relationship evolves, they must learn
to navigate the challenges of Reid's mental illness—on their own and with each other.
Jude Sierra talks A Tiny Piece of Something Greater: I want readers to walk away with a deeper
appreciation and understanding of what it is like to thrive with mental illness—or strive toward it—
and what it is like for two people to be and fall in love in these situations. I'd love for readers to
come away knowing that love doesn't cure mental illness, nor should it. Reid and Joaquim love
each other as they are.
Teaser Excerpt :
"Reid!" Joaquim stands a few steps down, not wanting to have to go all the way to the
beach only to climb back up.
"Coming!"
By the time Reid's all the way up, he's slightly out of breath but smiling. "I am
ready for my surprise. You didn't install a sex swing in my grandma's condo, did you?
I'd have a hard time explaining that away."
"No, you pervert." Joaquim takes Reid's hand. The sun is setting, leaving a lovely
glow at their backs and a slightly dimmed living room. It lends the perfect ambiance. He
covers Reid's eyes.
"Really?"
Joaquim glances behind himself as he walks backward while leading Reid in.
"Okay, we're going to die like this," he mutters. "Close your eyes." He comes
around Reid, covers his eyes with his palms, and then leads him forward. "Sit," he
whispers once they're in the middle of the living room.
"On a chair?" Reid waves a hand around blindly.
"No, on the floor."
Joaquim kneels and helps Reid onto the floor. Once they're down, he presses
himself against Reid's back and whispers into his ear, "Now."
"J…" Reid says. All around them are small white candles in glass jars. Joaquim
bought out the store with his measly savings. More than a hundred candles are on the
table to their right, on the shelves by the TV, and surrounding the carefully laid, soft
plaid blanket beneath them. Their light butters the hush of sunset through the glass
doors at their backs. Strewn everywhere are rose petals and shells. Joaquim
painstakingly removed the petals from the flowers, trying not to bruise or tear them; his
fingers bear pinpricks from their thorns. At Shell World, he endured Delia's teasing after
exacting a promise not to say anything to Reid about what he was planning. The
stillness of Reid's body, though, speaks of the worth of the time spent.
"I've never…" Joaquim starts.
"No one has ever—" Reid breaks off, his voice is thick and unsteady. He turns his
face to tuck it into Joaquim's neck. "How did you know?"
"That you're a hopeless romantic even though you try to hide it?"
"Yes."
"Because you're terrible at hiding it," Joaquim says. He holds Reid's hand in
tender counterpoint to the light amusement in his voice.
"Fuck. I guess my cover is blown." His eyes, bright with tears, don't shy from
Joaquim's.
"I hope," Joaquim says, and touches Reid's cheek, "that you know you don't
need a cover with me."
Reid smiles, but looks away. Too much? Joaquim isn't pressuring. He's offering.
He's laying something bare.
"I do." Reid kisses him.

About Jude Sierra: Jude Sierra is a Latinx poet, author, academic and mother working toward
her PhD in Writing and Rhetoric, looking at the intersections of Queer, Feminist and Pop
Culture Studies. She also works as an LGBTQAI+ book reviewer for From Top to Bottom
Reviews. Her novels include Hush, What it Takes, and Idlewild, a contemporary LGBT romance
set in Detroit's renaissance, which was named a Best Book of 2016 by Kirkus Reviews.
Connect with Jude: Site | Twitter | Instagram | Goodreads | Facebook | Pinterest
Giveaway Prize of A TINY PIECE OF SOMETHING GREATER by Jude Sierra (5 eBooks + $25
IP Web Store credit Grand Prize):
a Rafflecopter
giveaway

Direct Link:
http://www.rafflecopter.com/rafl/display/fbb786de105/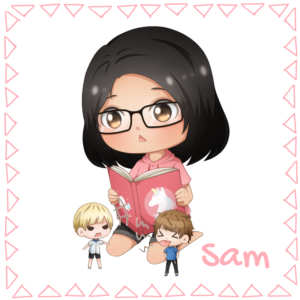 Fan de MM et plus particulièrement des single dads (ça marche aussi avec les oncles, les grands frères etc…) , des MMM et d'Urban Fantasy.