ROUGH TERRAIN by Annabeth Albert
Series: Out of Uniform, #7 *Final book in the series*
Publisher: Carina Press (Harlequin)
Release Date (Print & Ebook):
eBook: Monday January 14, 2019
Print (mmp): Tuesday January 29, 2019
Length (Print & Ebook):
384 Pages
Subgenre:
Contemporary Romance, Male/Male Romance, Military Romance
Warnings (if any):
No content warnings needed. Hot fake relationship shenanigans dominate along with being trapped outdoors, but HEA for everything. No addictions/bdsm/deaths etc.
Links:
* Harlequin (eBook): https://www.harlequin.com/shop/books/9781488081347_rough-terrain.html
* Harlequin (print): https://www.harlequin.com/shop/books/9781335983732_rough-terrain.html
* Harlequin (audio): https://www.harlequin.com/shop/books/9781335983732_rough-terrain.html
* Barnes & Noble: https://www.barnesandnoble.com/w/rough-terrain-annabeth-albert/1129264753?ean=9781335983732
* Amazon: https://www.amazon.com/Rough-Terrain-Uniform-Annabeth-Albert/dp/1335983732/ref=tmm_mmp_title_0?_encoding=UTF8&qid=&sr=
* Shorter: https://amzn.to/2FfZ9ZY
* Kobo: https://www.kobo.com/ca/en/ebook/rough-terrain-2
* iTunes: https://itunes.apple.com/us/book/rough-terrain/id1424224874?mt=11
* Google play: https://play.google.com/store/books/details/Annabeth_Albert_Rough_Terrain?id=nt5rDwAAQBAJ
* Audible: https://www.audible.com/pd/Rough-Terrain-Audiobook/1488205566
Synopsis:
The camping trip from hell may be the first stop on the road to happily-ever-after in Rough Terrain, the final book in Annabeth Albert's critically acclaimed, fan-favorite Out of Uniform series.
Navy SEAL Renzo Bianchi has a soft spot for Canaan Finley, and not only because the man makes a mean smoothie. He's the first guy to get Renzo's motor revving in a long time. But when he agrees to Canaan's insane charade—one all-access fake boyfriend, coming right up—he never expects more than a fling.
Creating a hot Italian SEAL boyfriend to save face seemed like a good idea…until his friends called Canaan's bluff. Now he's setting off into the woods with the very man who inspired his deception, and Canaan is not the outdoorsy type. The sparks are already flying when a flash flood separates them from their group, leaving Renzo and Canaan very much trapped…very much alone in the wilderness.
Working together to come up with a plan for survival is sexier than either of them expects. But back in the real world, being a couple is bringing its own set of hazards…
Teaser :
"Big plans this weekend?" Canaan asked while he made the drink.
"Working out with a friend tomorrow. Gonna film some new moves."
"Please tell me you put those clips online." Thinking fast, Canaan grabbed a blank stamp card and a pen and thrust it at him. "I'll fill a stamp card for you if you give me your handle."
"Well…" Rooster's eyes shifted to his friends, who were deep in conversation. "Navy doesn't exactly approve of me being on social media…"
"Not gonna tell a soul," Canaan promised. "I just like workout videos and fitness pics." And how.
"Yeah?" Rooster gave him an appraising stare, one that had Canaan damn near preening. "That so?"
"Yup." Canaan set the blender going and returned to the counter. He filled a stamp card and waved it at Rooster. "So how about it?"
"Okay, okay." Rooster scribbled something on the other card and pushed it at Canaan. Their fingers brushed as they traded cards, thick callused fingers rubbing against his, and Canaan swore his toes curled from the contact.
"So how about you?" Rooster asked as Canaan poured his drink into a purple plastic Smoothie Palace cup.
"How about me what?" Canaan was still busy celebrating getting his username and felt a little punch-drunk on the contact to boot.
"Big plans?"
Here was the opening Canaan had been waiting months for, and no way was he missing it. "Dunno. I get off at nine. Wanna help me find trouble?"
"You make that offer to all your customers?" Rooster studied him intently, and Canaan straightened his spine, trying to pass whatever test he was giving him.
"Just my favorite ones." The more honest answer would be just you, but Canaan didn't want to seem too desperate, so he kept his voice light and easy. "How 'bout it?"
"Rooster!" Bacon called out before Rooster could answer. "Come on. We've got that meeting in ten."
"Sorry. Gotta head out. Thanks for the card." Rooster gave him a smile but no answer before hurrying over to join his friends.
About Annabeth Albert:
Annabeth Albert grew up sneaking romance novels under the bed covers. Now, she devours all subgenres of romance out in the open—no flashlights required! When she's not adding to her keeper shelf, she's a multi-published Pacific Northwest romance writer. Emotionally complex, sexy, and funny stories are her favorites both to read and to write. Her critically acclaimed and fan-favorite LGBTQ romance series include the #OutOfUniform, #Gaymers, #PortlandHeat, #RainbowCove and #PerfectHarmony series.
To find out what she's working on next and other fun extras, check out her website: annabethalbert.com or connect with Annabeth on Twitter, Facebook, Instagram, and Spotify! Also, be sure to sign up for her newsletter for free ficlets, bonus reads, and contests. The fan group, Annabeth's Angels, on Facebook is also a great place for bonus content and exclusive contests.
Connect with Annabeth Albert:
* Website: http://annabethalbert.com/
* Goodreads: https://www.goodreads.com/author/show/6477494.Annabeth_Albert
* Twitter: https://twitter.com/annabethalbert?lang=en * Facebook: https://www.facebook.com/annabethalbertauthor/
* Instagram: https://www.instagram.com/annabeth_albert/
* Newsletter: http://eepurl.com/Nb9yv
* Fan group: https://www.facebook.com/groups/annabethsangels/
Giveaway information:
Prizes:
1) Paperback copy of any back catalog Out of Uniform series book. Open Internationally.
2) e-copies of any back catalog Out of Uniform series book. Open Internationally.
Code: a Rafflecopter giveaway
Link: http://www.rafflecopter.com/rafl/display/88d45f0379/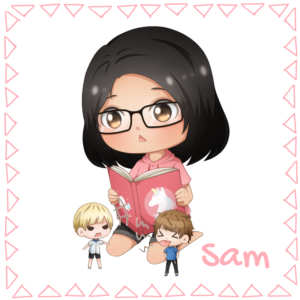 Fan de MM et plus particulièrement des single dads (ça marche aussi avec les oncles, les grands frères etc…) , des MMM et d'Urban Fantasy.