HOSTED BY JO
&
ISALOVEBOOKS BLOG.  
I've spent years hoping someone would finally hear me. It's easier not to try anymore…
Ten years after leaving his small Minnesota hometown in his rearview mirror for what Nolan Grainger was sure would be the last time, life has decided to throw the talented musician a curveball and send him back to the town he lived in but was never really home.
At twenty-eight, Nolan has traveled the world as a successful concert violinist with some of the best symphonies in the country. But success breeds envy, and when Nolan's benefactor and lover decides Nolan has flown high enough, he cruelly clips Nolan's wings. The betrayal and ensuing scandal leaves the violinist's career in shambles and with barely enough money to start fresh somewhere beyond his vindictive ex's powerful reach. But just as he's ready to get his life back on track, Nolan gets the call he's been dreading.
After a stroke leaves his father a partial invalid, duty-bound Nolan returns to Pelican Bay and a life he's spent years trying to forget. When he's forced to use the last of his own money to keep from losing the family home, desperation has him turning to the one man he'd hoped never to see again…
Even if I could speak, there wouldn't be anyone there to listen…
Pelican Bay's golden boy, Dallas Kent, had the quintessential perfect life. Smart, gorgeous, and popular, the baseball phenom was well on his way to a life filled with fame and fortune. But more importantly, he had a one-way ticket out of Pelican Bay and far away from the family who used love as currency and whose high expectations were the law of the land. But a stormy night, sharp highway curve and one bad decision changed everything, leaving Dallas with nothing.
Because the accident that took his parents, his future and his crown as the boy who could do no wrong, also stole his voice.
Despised for the horrific wreck that ended the lives of two of Pelican Bay's most respected residents, Dallas has retreated to a secluded stretch of land where he's found refuge in a menagerie of unwanted animals that don't care that he once had the world at his feet or that he'll never speak again.
But when the quiet, bookish boy he wasn't allowed to notice in school suddenly reappears ten years later at Dallas's wildlife rehab center in desperate need of a job, Dallas is thrust back into a world he's worked hard to escape.
Dallas's silence was supposed to send Nolan scurrying, but what if Nolan ends up being the one person who finally hears him?
Will two men who've been fleeing from the past finally come home to Pelican Bay for good or will the silence drive them apart forever?
ADD TO YOUR GOODREADS TBR
Nolan's gaze returned to me and the smile fell from his pretty mouth as his eyes held mine. My body instantly responded. Nolan swallowed hard and then his tongue was coming out to wet his lips. I groaned and Nolan snapped his head up at the sound. I half expected him to accuse me of lying about not being able to talk or something, he was staring at me so hard.
"Sorry," he said, quickly dropping his eyes. "Google said you can still make certain sounds because you're forcing air out of your body but I…"
His voice dropped off suddenly as he realized what he'd said.
He'd googled my condition?
"Shit, I mean…Oh God, I'm sorry, Dallas. I wasn't trying to pry into your business but I was curious last night and…fuck."
I smiled because there was just no getting over how cute he was when he got all flustered. His skin had flushed a pretty shade of pink and I was half tempted to reach out and touch it just to see how warm it was.
Yeah, I really did need to get him out of here.
Since his eyes were downcast, I tapped his arm and then flashed him the okay sign. He nodded but didn't say anything. I didn't like how dejected he looked. But I ignored the compelling need to touch him again and went to the door to open it, hoping he'd get the message.
I followed him outside and watched as he headed towards his car. It wasn't the same car he'd been driving the night before, so I could only assume that one was in the shop. I watched as Nolan searched his pocket for his keys. He cast me a glance and nodded his head briefly. "Thanks again for last night." He didn't wait for me to respond as he went around to the driver's side of the car. His eyes were downcast as he reached for the door handle, but once he wrapped his fingers around it, he just hung there.
I waited for him to move or, at the very least, say something, but it was like he was locked in place. I was about to tap on the hood of his car to get his attention when I saw his shoulders start to shake. Despair tore through me as I realized what was happening.
And how wholly unequipped I was to handle it.
"Dallas?" Nolan whispered. He didn't look up as he dashed at his eyes.
At the tears I knew were there, but that I couldn't see because he refused to look up at me.
"Can I…can I see the baby raccoon?" Nolan asked, his voice barely there.
Something inside of me twisted painfully at the all too familiar scene of the Nolan Grainger who'd haunted my dreams in school.
As badly as I wanted to send him on his way, I couldn't. It was like I was back in my Jeep watching Nolan wipe those fucking eggs off his body as he softly cried.
But there hadn't been anyone to hear him.
And I'd been a goddamned coward.
ABOUT THE AUTHOR
Although Sloane Kennedy always dreamed of being a writer as a teenager, she didn't take the plunge until March of 2015 when she released her first novel as an independent author. Since then, she has released more than a dozen books including the Amazon best-selling « Barretti Security » series, « Finding » series and « Protectors » series. While she initially began writing M/F romance, she found her true passion writing gay romance and all four of her most recent releases reached the #1 spot on Amazon's Gay Romance bestseller list and Freeing Zane, her final book in the Barretti Security series, made it to Amazon's overall bestseller list. Sloane was born in Germany and grew up in Virginia and Wisconsin. Although she currently lives in Wisconsin, the place where she has always felt most at home is Seattle and many of her books take place in the Emerald city. Although she is unmarried, a menagerie of 2 dogs and 3 cats keeps her busy enough and 3 young nieces take care of the rest of her free time. Sloane loves being able to share her passion for romance with readers and she is truly humbled by all the support she's received from fans and fellow authors alike.
CONNECT WITH SLOANE HERE:
Website
:
Facebook
:
Twitter:
Amazon


Join Sloane's FB Fan Group !!
To my new FB friends, feel free to check out my fan group, Sloane's Secret Sinners. We do lots of giveaways and it's the only place you can sign up for a chance to get an ARC.
YOU MUST BE FRIENDS WITH ME OR FOLLOWING ME TO JOIN
Thank you for touring with Jo
&
Isa
♡
Books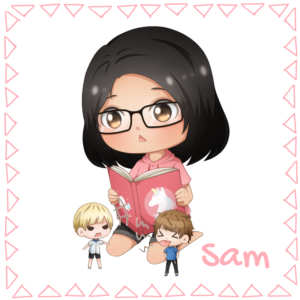 Fan de MM et plus particulièrement des single dads (ça marche aussi avec les oncles, les grands frères etc…) , des MMM et d'Urban Fantasy.