Re-Release Blitz, Excerpt & Giveaway:
The Play Of His Life by Amy Aislin
Book Blurb:
The last person Christian wants to run into on a visit home to spend time with his mom over the holidays is his former best friend-turned-lover-turned-ex. But there Riley is, in all his tall, chiseled, blondness. The same guy who walked out on him six years ago, breaking his heart in the process. Who knew he's still in love with the jerk?
Two years ago, Riley was injured out of the NHL, but he's got his own bakery now and a quiet life selling quiches and cupcakes to his customers. Then Christian unexpectedly walks back into his life, forcing Riley to question his choices. Especially that one choice he made six years ago that walked him out of Christian's life. Now if only he had the courage to tell a boy how he really feels about him…
---
Excerpt:
When Riley screwed up an order because he was busy thinking about trying not to think about Christian, he pretended this day was the same as any other and that Christian was still in Vancouver and went about his business.
Christian's gruff laughter from the back shot that plan to hell.
It was almost an hour later that the line disappeared, though a few people remained at the tables.
"Is it just me, or was that busier than normal?" his other part-timer, Henry, asked. Henry was a seventy-year-old retired army vet who only worked Tuesdays and Fridays because those were the days his wife hosted her knitting club and it was either get the hell out of the house or listen to them talk about the misadventures of their various grandkids.
"Everything's crazier at the holidays," Riley replied, wiping down the drinks counter.
Henry started wiping down the small counter that held the condiments. "Should've seen the fight that broke out over a parking spot at the Toys "R" Us yesterday. Thought I was going to have to use my army general's voice."
Riley had heard Henry's army general voice. It was terrifying.
Speaking of terrifying voices, where was Christian? Not that his voice was terrifying, but his grumpiness had been known to scare a kid or two.
Riley turned and there Christian was, standing in the doorway to the kitchen, hands on his hips. He wore one of Warm Glow's green aprons over jeans and a dark blue T-shirt. Just the sight of him made Riley's heart flip.
Christian had always been a big guy, but Riley had forgotten just how imposing he could be when he scowled that way. And what was with his pouf hairstyle? A pompadour, was it? Riley had seen hairstyles like that on guys before and thought those men should be on the cover of cheesy romance novels. But Christian pulled it off, probably because he could scowl anybody into liking anything.
"Is it my turn to order now?" Christian asked.
It made Riley laugh and the tension drained from his shoulders. "Sure, what do you want?"
"What's good?"
"Seriously? You're asking me that in my own bakery? Everything's good. The salad—"
"What guy likes salad?" Christian interrupted. He said "salad" like "peas"—which Riley knew Christian hated more than any food ever.
"I like salad," Riley said, slightly offended. Warm Glow's salads were good, damn it!
"Me, too," Henry said, coming around the counter to grab a wet cloth. "Know why?"
"Because you're turning over a new leaf?" Christian suggested.
Riley just looked at him.
"What?" Christian said. "That was funny."
"That was as lame as ever."
"I thought it was funny," Henry said.
"Me, too," piped in a customer adding milk to his coffee.
Christian raised an eyebrow at Riley like, see?
"Awww," Riley gushed. "You have fans."
That got Christian scowling again.
---
---
Enter the Giveaway:
To celebrate the re-release of The Play Of His Life, Amy is giving away a $20 Amazon Voucher!
Enter the Rafflecopter giveaway for your chance to win!
Direct Link: http://www.rafflecopter.com/rafl/display/c8c1c64111/?
---
About Amy:
Amy's lived with her head in the clouds since she first picked up a book as a child, and being fluent in two languages means she's read a lot of books! She first picked up a pen on a rainy day in fourth grade when her class had to stay inside for recess. Tales of treasure hunts with her classmates eventually morphed into love stories between men, and she's been writing ever since. She writes evenings and weekends—or whenever she isn't at her full-time day job saving the planet at Canada's largest environmental non-profit.
An unapologetic introvert, Amy reads too much and socializes too little, with no regrets. She loves connecting with readers. Join her Facebook Group, Amy Aislin's Readers, to stay up-to-date on upcoming releases and for access to early teasers, find her on Instagram and Twitter, or sign up for her newsletter.
Connect with Amy:
Facebook | Amy Aislin's Readers Facebook Group
Amazon Page | Goodreads | BookBub
---
---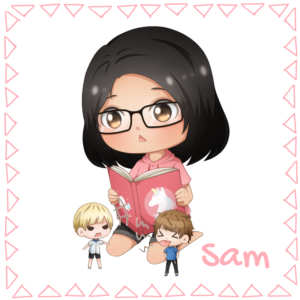 Fan de MM et plus particulièrement des single dads (ça marche aussi avec les oncles, les grands frères etc…) , des MMM et d'Urban Fantasy.