Candy Hearts by Erin McLellan
Series: So Over the Holidays #2
Publisher: Erin McLellan
Release Date (ebook): Feb. 3, 2020
Length: 50k word
Subgenre: contemporary romance, holiday romance, erotic romance
Warnings: explicit sex and language
Order now: https://smarturl.it/candyheartskindle
Book blurb:
Mechanic Benji Holiday is so over Valentine's Day and men who don't get him. A weekend getaway with friends to escape the holiday hubbub is exactly what he needs. But William O'Dare—a stern and silent nightclub owner with "Be My Valentine" practically stamped on his forehead—throws a wrench into Benji's plans. William has spent years focused on his career, and it has cost him friendships and love. Inexperienced in the business of romance, he's on the hunt for the perfect partner, and he's armed with specific criteria to guide him. But William didn't expect a hunky mechanic wrapped in satin and lace to show up on his doorstep. Unable to resist their attraction, Benji and William agree to be secret fake valentines for the weekend, but secrets have a way of getting out. William gets struck by Cupid's arrow, and as the weekend winds down, he doesn't want fake or secret. He wants Benji to be his valentine for real and for keeps.
Candy Hearts is a male/male Valentine's Day novella featuring a house party power outage, meddling friends and siblings, naughty lingerie and naughtier toys, homemade Valentine's Day cards, and a happily ever after.
Praise for Candy Hearts: 
I highlighted the holy heck out of this freaking amazing book. Eloquent, I know, but damn. Erin McLellan's
Candy Hearts
sent me into a sugar high with how much I loved it! My recommendation? Read it. – Michaelene, reviewer *** I loved everything about this story and can't wait to read more of this author's work….although I'm worried nothing will come close to the love I have for Benji and William and all their quirks and kinks. LOVE.  – Kate Olson, reviewer *** Erin McLellan keeps delighting me with these queer holiday romance novellas. Candy Hearts is perfect for those who maybe kind of hate to love Valentine's Day but would absolutely embrace it with their own sexy « fake Valentine ». – B and her books, reviewer
Teaser:
Benji's legs were covered in black filmy stockings, and he was wearing a long silky navy T-shirt with a loose open neck. A nightie, William's brain provided out of nowhere. The getup wasn't that revealing, but William about swallowed his tongue regardless. He couldn't wait to feel the cool silk under his fingertips. To lift the shirt slowly up Benji's body, unveiling him bit by bit. In the dancing candlelight, the silk looked like moving water and Benji's legs looked a mile long and the sex toys scattered next to him looked like … Holy shit, sex toys. So many sex toys.
Mini Q&A with Erin McLellan: 
Book two in Erin McLellan's phenomenal
So Over the Holidays
series is out on February 3 and it will feature a game of sexy Spin the Bottle, secret boyfriends, naughty toys and even naughtier lingerie combined with the magic of Valentine's Day!
Candy Hearts
is already wowing readers and Erin is here to talk about the book to celebrate its release! Take it away, Erin!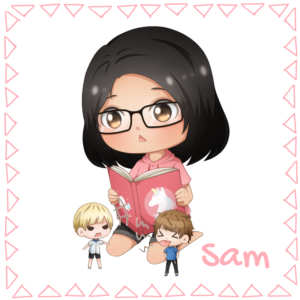 Fan de MM et plus particulièrement des single dads (ça marche aussi avec les oncles, les grands frères etc…) , des MMM et d'Urban Fantasy.