Rough Trade (Woodbury Boys #3) by Sidney Bell
Publisher: Carina Press
Release Date (Print & Ebook):
Ebook: Monday December 3
Print (mmp): Tuesday December 25
Length (Print & Ebook):
Ebook: 496
Print (mmp): 496
Subgenre:
Contemporary Romance, Romantic Suspense, Male/Male Romance
Reader warnings: Childhood sexual abuse, angst
All buy links or pre-order links:
* Carina Press: https://www.carinapress.com/shop/books/9781335777119_rough-trade.html
* Harlequin: https://www.harlequin.com/shop/books/9781335777119_rough-trade.html
* Amazon: https://www.amazon.com/Rough-Trade-Woodbury-Boys-Sidney/dp/1335777113
* Barnes & Noble: https://www.barnesandnoble.com/w/rough-trade-sidney-bell/1128809466
* Google Play: https://play.google.com/store/books/details/Sidney_Bell_Rough_Trade?id=xD9eDwAAQBAJ
* iTunes: https://itunes.apple.com/us/book/rough-trade/id1391032235?mt=11
Synopsis:
Quick-witted hustler Ghost is no stranger to living dangerously; survival has always been the name of the game.
He's just always gone it alone.
Now he's got the wrong people breathing down his neck, and the only way out demands placing his trust in the unlikeliest of heroes: Duncan Rook, a gruff cop whose ethics are as solid as his body.
Cozying up to a criminal is hardly what Duncan's reputation on the force needs—especially when that criminal is temptation personified. Ghost is Duncan's polar opposite, and the last person he expected to fall for.
So then why does every imaginable scenario for taking down their common enemy end with Ghost in his arms?
This book is approximately 122,000 words
One-click with confidence. This title is part of the Carina Press Romance Promise: all the romance you're looking for with an HEA/HFN. It's a promise!
Short Excerpt :
"I'm not going to throw you under a bus, son." Wathers dragged a hand over the loose skin of his jaw. "But I can't help you, not the way you need. I mean, I can, and I will, but I'm not enough. I have a blip or two on my record—small stuff," he interjected defensively, "and these days most cops do, but that's not even the biggest problem. I'm retired and I'm old. Too easy for people to prompt questions about my word. You need someone unimpeachable. You need Duncan."
"Who?" Ghost stared hard at the older man, searching for cues. But if Wathers was lying, he was better at it than anyone else Ghost had ever met.
"Duncan Rook. He's staying outside of Cañon City at the moment. His rep's golden. He'll do right by you."
Still no sign of bullshit. Ghost reached out for the cell phone. Wathers let him take it, which was reassurance of its own sort right there. "Tobias said you don't carry a cell phone. And you used a landline at the restaurant."
"Of course I have a cell phone," Wathers said, looking a little hunted. "I just don't turn it on very much."
"Why not?"
"Because people keep calling me, and part of the reason I retired was so I wouldn't have to talk to them." He hesitated. "Don't tell my daughter I said that."
Ghost sighed. "He's better for this than you? This Rook guy?"
"He is. That's why we're going. No other reason, son."
"The mythical unicorn that is The Good Cop." Ghost looked skyward for help. "Have mercy."
Wathers laughed. "Oh, I don't know that I'd call him a good cop, but he's a good man. Bit of an acquired taste. If the two of you make it past the first few days without killing each other, he might be able to bail your ass out."
"We'll probably fall in love and get married," Ghost said, batting his eyes. "You're basically Cupid.
About Sidney Bell:
Sidney Bell lives in Colorado with her amazingly supportive husband. She received her MFA degree in Creative Writing in 2010, considered aiming for the Great American Novel, and then promptly started writing fanfiction instead. More realistic grown-ups eventually convinced her to try writing something more fiscally responsible, though, which is how we ended up here. When
she's not writing, she's playing violent video games, yelling at the television during hockey games, or supporting her local library by turning books in late.
Connect with Sidney:
* Instagram: @sidneybellbooks https://www.instagram.com/sidneybellbooks/
* Facebook: https://www.facebook.com/Sidney-Bell-234780093548718/
* Twitter: @sidneybellbooks https://twitter.com/sidneybellbooks
* Goodreads: https://www.goodreads.com/author/show/1655174.Sidney_Bell
* Amazon: https://www.amazon.com/default/e/B01JG56JDG?redirectedFromKindleDbs=true
* Website: www.sidneybell.com
* Blog: http://www.sidneybell.com/blog/
Email: SIDNEYBELLBOOKS@GMAIL.COM
Giveaway: Win 1 of 5 Paperback of HARD LINE and LOOSE CANNON (Woodbury Boys series) by Sidney Bell! (North American addresses only)
Direct link: http://www.rafflecopter.com/rafl/display/88d45f0377/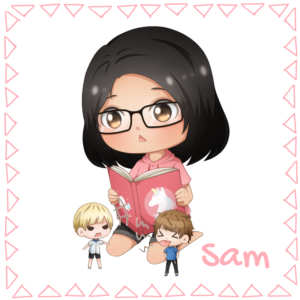 Fan de MM et plus particulièrement des single dads (ça marche aussi avec les oncles, les grands frères etc…) , des MMM et d'Urban Fantasy.