RELEASE BLITZ
Book Title: Rough Contact
Author: Beth Bolden
Publisher: Beth Bolden Books
Cover Artist: Angsty G Book Cover and Media Design
Release Date: October 14, 2020
Genre/s: Gay sports romance, forbidden romance, age gap romance
Heat Rating: 4 flames
Length: 93 000 words
It is a standalone story.
Buy Links – Available on Kindle Unlimited
Universal Link | Amazon US | Amazon UK
Their romance is forbidden. Their love is a secret.
They're the Romeo and Juliet of football.
Blurb
Neal Fisher knows heartbreak. It's the clock ticking down in the Super Bowl. It's missing the most important field goal of his life. It's losing everything:
his thirteen year career as an NFL kicker, his future, and his pride.
Jamie Wright knows love. It's everything on the line as the crowd holds their breath. It's a perfect kick as the ball soars through the goal posts. It's NFL fame and glory laid out before him.
Neal is on his way out, and Jamie–if he can withstand the pressure of tryouts–is on his way in. The one person Jamie should avoid is the veteran kicker, and the last thing Neal wants is to sink Jamie's chances. But a chance meeting and a wild and undeniable chemistry proves to be irresistible.
Neal thought he knew heartbreak. Jamie thought he knew love.
They were both wrong.
Their romance is forbidden. Their love is a secret.
But if they trust each other, maybe their growing relationship won't end in tragedy. It might even be the beginning of football's greatest love story.
Excerpt
It felt surreal to be surrounded by so many people he'd only watched on TV. There was Bran Phillips, the famous center for the Riptide, just over there, a small girl balanced on his shoulders, and they were both laughing. Rashad Green, the best running back in the league, was sitting on a chaise lounge, sipping something fruity and frozen from a plastic margarita glass. And then there was Heath, making sure he got something to eat, and introducing him to everyone who they met. "The new kicker," Heath said several times, even though it was hardly like he'd won the job. But then Heath would know that better than anyone, because he was on the coaching staff and he knew how many kickers they'd brought in to try out. But every single time he said it, Jamie felt like giving an addendum of not quite yet, but maybe, hopefully? If everything works out.
But Jamie didn't, because even though Heath was more relaxed than Jamie had ever seen him, he was still Heath Harris, and he contained so much goddamn confident certainty that after meeting most of the people at the party, it was hard not to think of himself as the Riptide's new kicker.
You're getting ahead of yourself; you still gotta make it happen, he reminded himself. Tomorrow is the day you're gonna have to prove yourself, again. And then
you're gonna have to do it over and over again, and then probably a couple hundred more times, for good measure.
Maybe then Coach R and Coach Toby might be satisfied.
He was sitting on the edge of the pool when suddenly he felt a body drop down next to him. He was half-expecting it to be Heath or maybe even Sam—which was surreal because he'd never imagined he'd be in the kind of position to be sought out by either of those guys—but then when he glanced over, he nearly fell into the pool.
It was Neal Fisher, and he was just in a pair of navy blue trunks, with little green palm trees scattered across the fabric. He was pale, like he'd spent too long inside this summer, but he was still undeniably handsome, his green eyes glowing in his gorgeous face, offset by his dark hair. It fell into his eyes a bit, probably because it needed a trim.
Jamie's hands tightened on the edge of the pool and he prayed he didn't make a fucking fool out of himself. He was just meeting his idol, that was all, and a guy he'd probably spent way too much time fantasizing about over the years.
Do not tell him you've jerked off to him about a thousand times. Do not even think about it.
"Hey," Neal said casually. So casually that Jamie had a feeling that he didn't know who Jamie really was. "You told me to come find you." He smiled then, and though it was only a shadow of his former smile, which Jamie was embarrassed to admit he was intimately familiar enough with to tell the difference, it was still a smile. He poked Jamie in the shoulder. "Found you."
About the Author
A lifelong Oregonian, Beth Bolden has just recently moved to North Carolina with her supportive husband and their sweet kitten, Earl Grey. Beth still believes in Keeping Portland Weird, and intends to be just as weird in Raleigh.
Beth has been writing practically since she learned the alphabet. Unfortunately, her first foray into novel writing, titled Big Bear with Sparkly Earrings, wasn't a bestseller, but hope springs eternal. She's published twenty novels and six novellas.
Author Links
Blog/Website | Facebook | Twitter | BookBub
Giveaway
Enter the Rafflecopter Giveaway for a chance to win
a $25 Amazon gift card
Follow the tour and check out the other blog posts and reviews here21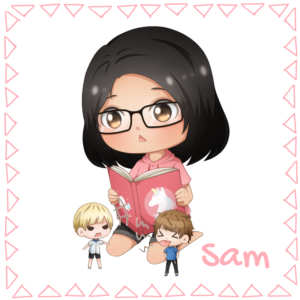 Fan de MM et plus particulièrement des single dads (ça marche aussi avec les oncles, les grands frères etc…) , des MMM et d'Urban Fantasy.