Matchmaking Beyond the Veil by Mara Townsend
Series: Telltale Ghosts #1
Release Date: May 28, 2019
Subgenre: MM Paranormal Romance, Bisexual Romance
Order here: https://www.amazon.com/dp/B07QWJZQSP
Synopsis for Matchmaking Beyond the Veil:
Emery Belmont is a snarky realist who likes his life ordinary. Like any skeptic, he's content using mundane explanations to write off signs of paranormal activity. That's no longer an option when the spirit haunting his house wrecks his new kitchen, forcing Emery to face the supernatural truth. Desperate for a new handyman, he unknowingly hires his hot ex-rival from high school to fix it. Paxton Santos, Emery's former lacrosse team captain, followed in his father's footsteps to take over the family business. Annoyingly, Emery requires his talented hands more than he needs to keep Paxton out of his life. However, getting Paxton to leave after the repairs may prove difficult with the meddlesome ghost taking a shine to him, which Paxton seems to take in his grating, good-natured stride, remaining irritatingly unruffled by numerous weird occurrences.
Emery is bombarded by paranormal hijinks, keeping Paxton at arm's length, and solving an inescapable mystery. There's nothing Emery hates more than an unfinished puzzle. In his determination to solve this one, Emery reluctantly opens himself up to new possibilities all while trying to remain firmly rooted in life the way he prefers it—orderly, logically explainable, and, above all else, ghost-free.
Join Emery and Paxton as they face off with a spirit that has no limits to how far it will go to push them together, enduring locked doors, faulty plumbing, and sharing a bed. Together they are determined to navigate their way out of this mess using any means necessary to send the ghost packing. Will they make it out of the traps awaiting them before their pesky tormenter gets any other ideas to make things worse and further blur the line between them?
Matchmaking Beyond the Veil is a 100k slow burn MM romance tale of rivals to friends to lovers. Featuring a meddling ghost playing at matchmaker, forced proximity, bed sharing, ghost tours that totally aren't dates, and tongue-in-cheek humor. This story ends on a HFN ending with a soft cliffhanger. Emery and Paxton's story will continue in Telltale Ghosts Book 2. This book contains denial, two men experimenting with sex magic, fighting what the heart wants, and steamy explicit sexual scenes and colorful language intended for adults 18 and older.
Excerpt :
"You want me to fake flirt with you as if I'm pulling you for a dirty hook up in the toilets?" Emery asked. Paxton's eyes darkened and his breath hitched. Emery latched on, a switch flipping in him, and he pushed him back until he herded Paxton to the wall. "Oh? Your expression right now tells me you'd like that. Is that why you're all right with doing this, because you've got an exhibitionist streak in you and you don't mind the ghost watching?"
Paxton's lips parted and his eyes dropped to stare at Emery's lips with a laser focus. He leaned his head forward and Emery put his mouth to Paxton's ear, darting his tongue out to swipe at the edge of it. Paxton shuddered and grabbed Emery's hips, squeezing them in a firm grip.
"Emery," Paxton whispered, wrecked and raspy.
Emery moved his hands, skirting around Paxton's pecs and running his fingers over the muscles of his stomach.
"If you were someone I saw across the bar, first I would be hacked off that you were there," Emery said into Paxton's ear. His lips brushed against the heated skin. "You always pissed me off so much at Hardwyck."
"Why?" Paxton's thumbs moved in circles over Emery's hips, teasing beneath the hem of his jumper.
"Shh, this is my fantasy we're talking about now." Emery nudged his nose into Paxton's temple. "Fantasies don't have to make sense, anyway. Roll with it."
"You fantasize about me?" Paxton's mouth quirked up, flirting with smugness before it grew into a joyful grin. He slid his hands under Emery's shirt, learning the shape of Emery's spine.
Author Bio:
Mara Townsend is a bisexual indie author of LGBTQ+ romances. She loves to explore intimate relationship development of the feels-inducing variety to invoke the eternal just kiss plea from the reader, as well as crafting strong platonic friendships with heaps of heart and soul. Her stories showcase diverse representation, love stories with realistic emotions—never mindless fluff, a healthy dose of humor, and a side helping of her favorite tropes.
She hangs out in fan communities online and learned how to write the kind of stories that she's passionate about through experimental character-driven fiction based in her favorite worlds.
When not writing, she can be found soaking up sunshine at the beach, traveling the world to fill in her passport, perpetually collecting plants, and reading as many fake-dating romance books as she can find.
Author links:
Website: www.maratownsendauthor.com
Instagram: http://instagram.com/maratownsendauthor
Newsletter: http://eepurl.com/dPxDVf
GR: https://www.goodreads.com/user/show/90219047-mara-townsend
Pinterest: http://pinterest.com/maratownsendauthor
Twitter: http://twitter.com/authormarat
Giveaway:
Win a physical copy or a e-copy of Matchmaking Behind the Veil:
Direct Link: http://www.rafflecopter.com/rafl/display/88d45f0394/?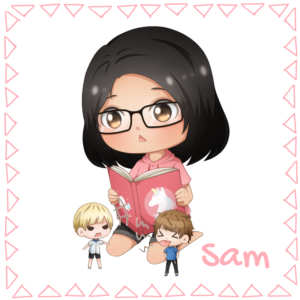 Fan de MM et plus particulièrement des single dads (ça marche aussi avec les oncles, les grands frères etc…) , des MMM et d'Urban Fantasy.