Stunning Cover Reveal & Excerpt:
Back to You by Kiska Gray
Releasing: June 19
I'm in love with Dane Fisher.
Not only is he my best friend, but he's the one to pick up the broken pieces when my life falls apart. We're partners-in-crime. He's the peanut butter to my jelly, and I've loved him for as long as I can remember.
But he can never find out. It would kill me to lose him.
And then I lose him anyway.
Yet, the universe has a way of bringing us together again—and this time, I'm not giving up on us.
It will always come back to him…

---
Special Cover Reveal Excerpt:

I turned to see Dane grinning at me. "What?"

He bobbed his shoulders in a shrug. "Nothing," he replied innocently.

"Bullshit. You're thinking something, I know it." Letting go of my noodle, I sank beneath the surface of the water and propelled myself forwards. I heard him shout when I grabbed him around the waist. I tried my damndest to drag him under too. We wrestled in the water for a few minutes, splashing around.

I came up for air with a gasp. Dane sputtered right beside me before throwing an arm around my neck, to try and get the upper hand. I kicked myself away from him. He barked out a laugh and grabbed the waistband of my trunks. And, since I'd lost some weight, they slipped down my hips too easily.

"Dane!"

It was my turn to yelp. I twisted out of his reach, my face burning as I yanked them back up. I spun in the water to face him, except when I did, it brought us damn near nose to nose. My

breath caught in my throat. His lips were too close for comfort. It would be so easy to kiss him. Fuck, it would be so damn easy…

Our eyes met. Dane froze, his hand stilling on my shoulder. My pulse thudded wildly in the back of my skull, eradicating all thoughts in its wake. I gazed at him and tried to memorize the single threads of green and gold that seemed to weave themselves around his pupils.

For one breathless moment, he leaned in. I thought he might actually kiss me.

Then he grinned and splashed me in the face, and the moment was over, just like that. Damn. "I was thinking you seem happier, and it makes me happy. That's all."

"I am happier," I told him. "Out here, it feels like I can forget about everything but the water and the sun, and the hotdogs and marshmallows we're gonna cook over the fire. It's nice. I'm glad you harassed me into coming."

"Me too. It wouldn't be the same without you, man."
---
About Kiska:
Kiska Gray is a 30-something crazy cat lady living in small-town Indiana. She's a lover of music (hung up on Ed Sheeran at this moment) and coffee (extra sweet!) She shares an apartment with two spoiled cats, one fat and one skinny, and spends her free time writing, reading, aimlessly browsing Facebook, playing Stardew Valley and Pokemon, and staring off into space.
Connect with Kiska:
kiskagray@gmail.com
Insta: @authorkiskagray
facebook.com/groups/443812922688072
---
---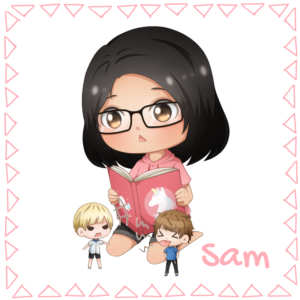 Fan de MM et plus particulièrement des single dads (ça marche aussi avec les oncles, les grands frères etc…) , des MMM et d'Urban Fantasy.