Cover Reveal & Giveaway:
Bennet, Pride Before The Fall
By Anyta Sunday
Love, Austen (Book 3)
"I want someone to want me for who I am. No changing my appearance or philosophies or principles. I need a partner to be proud of me—in public and beyond—and proud of themselves."
"Think you'll find it?"
~ ~ ~
Bennet had always dreamed of love. Of finding his Mr. Right.
Hell, he'd even settle for Mr. Righteous.
Who he won't fall for, not ever? Mr. Downright Pride-less.
~ ~ ~
It's Pride and Prejudice, complete with scumbaggery, anguished declaration of desire, meddling villagers, Karaoke, Scrabble, and Pride.

Enter the Giveaway:
To celebrate the Cover Reveal of Bennet, Pride Before The Fall, we are giving away a 2 e-copies of Bennet, Pride Before The Fall
Enter the Rafflecopter giveaway for your chance to win!
Direct Link: http://www.rafflecopter.com/rafl/display/cc0f2a57222/?
---
About the Author:
I'm a big, BIG fan of slow-burn romances. I love to read and write stories with characters who slowly fall in love.
Some of my favorite tropes to read and write are: Enemies to Lovers, Friends to Lovers, Clueless Guys, Bisexual, Pansexual, Demisexual, Oblivious MCs, Everyone (Else) Can See It, Slow Burn, Love Has No Boundaries.
I write a variety of stories, Contemporary MM Romances with a good dollop of emotion, Contemporary lighthearted MM Romances, and even a splash of fantasy.
My books have been translated into German, Italian, French, Spanish, and Thai.

Contact: http://www.anytasunday.com/about-anyta/
Sign up for Anyta's newsletter and receive a free e-book:
http://www.anytasunday.com/newsletter-free-e-book/
Contact Anyta:
Join my Facebook group to chat all things Slow Burn Romance:
https://www.facebook.com/groups/SlowBurnSundays/
You can also find me here:
 www.anytasunday.com
For information about new releases and freebies, follow me on BookBub:
https://www.bookbub.com/authors/anyta-sunday
---
Cover Illustrator: Lauren Dombrowski
Lauren Dombrowski is a comic artist and illustrator based in the Chicago area. Previous publications of their work include co-written comics in Tabula Idem: A Queer Tarot Comic Anthology published by Fortuna Media, Dates! An Anthology of Queer Historical Fiction (Volume 3) published by Margins Publishing, internal illustrations in Conventionally Yours, published by Sourcebooks Casablanca, and an internal illustration in Say You'll Be Nine by Lucy Lennox.
https://www.instagram.com/l.e.d.light/
https://twitter.com/callmekitto
---
---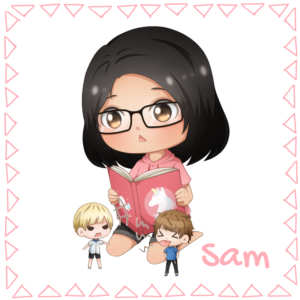 Fan de MM et plus particulièrement des single dads (ça marche aussi avec les oncles, les grands frères etc…) , des MMM et d'Urban Fantasy.