Stunning Cover Reveal & Giveaway: The New Normal by L.J. Hayward
Releasing: May 25
A Gold Coast Collage Novel, Book 1
Brian Stagliano's life should be pretty sweet right now. Two of his closest friends are getting married, and he's taking a new, exciting step in his career as a doctor. Most amazing though, his best mate has been given the all-clear from cancer. But Brian's normal has just been tipped A over T and the friendship he's relied on for years is in danger. All because of five little words.
Andrew Fitzroy should be on top of the world. The cancer that's haunted him is gone. He can finally get on with his life—except he doesn't know what that life is anymore. Is he brave enough to come out as bisexual? Should he pursue architecture or stay in construction? Either way, Andrew knows happiness won't be his until he has what his engaged friends have—love, joy, passion. So, he says those five little words to Brian—I'm in love with you.
Friends since childhood, Brian and Andrew have always been closer than brothers. Best mates. Nothing could ever tear them apart. Except for those five little words. Now, Brian's not sure about so many things—their friendship, his own desires—and the foundation Andrew's built his world on feels like its crumbling. But if they manage not to destroy everything they have together, Andrew and Brian might just find a new normal with each other.

---
Special Cover Reveal Excerpt:
"Do you want to have sex with me?" It was out before Brian even knew he was wondering about it.
"What? No." Andrew spun away and stalked to the far side of the lounge room, then turned back and went into the kitchen. "What the hell, man? Who just asks that?"
Brian gaped at him. "I don't know," he snapped. "A guy whose best friend said he's in love with him, maybe?"
"Jesus." Andrew got another beer and unscrewed the cap but didn't drink.
"I think it's a fair question. I mean, you say you love someone and most of the time that means wanting to have sex with them. Sure, some people don't and they have these asexual romances. I learned about them when we were covering sexuality and gender. They're more prevalent than you think, but mostly people in love have sex with each other. You said you're in love with me, ergo, you want to have sex with me."
Andrew was staring at him wide eyed like he did when Brian got caught up in some fascinating—and usually gooey or gory—medical wonder and rambled. It made Andrew look innocent and a bit lost, and rather inviting. For a moment, Brian thought about kissing him. What would it be like? Would it really be any different from kissing a woman? There was stubble, yeah, but otherwise the pertinent anatomy was the same. Andrew would probably like a tongue in his mouth, and his lips sucked on. Would his earlobes be sensitive? Brian's were, to an embarrassing degree.
He was moving forward without thinking. Right then all he knew was he wanted to know what it would be like to kiss a man. Well, no. He wanted to know what it would be like to kiss Andrew.
His friend, his best friend, watched him advance wide-eyed, mouth slightly open, lips curvy and plump and a healthy pink. In the dim interior light, the bristles of his pale five o'clock shadow were all but invisible but Brian's lips tingled with the mere thought of how they would feel. Soft like the regrowth on his head had been, or prickly?
Oh fuck. He wanted desperately to kiss Andrew, and he was actually going to do it.
---
Enter the Giveaway:
To celebrate L.J.'s new release, we are giving away $10 Amazon GC and an e-copy of your choice of one of L.J. Hayward's back listed books.
Enter the Rafflecopter giveaway for your chance to win!
Direct Link: http://www.rafflecopter.com/rafl/display/cc0f2a576/?
---
About L.J.:
Hi! I'm L.J. Hayward and I'll be your author for this biography.
Official Blurb
L.J. Hayward has been telling stories for most of her life, a good deal of them of the tall variety. She loves reading but doesn't seem to have enough time between wanting to be a more disciplined writer, being the actual erratic writer she is, and working for dollars in a dungeon laboratory. She also lives on the Gold Coast in Queensland, but rarely sees a beach and can't surf, though she thinks living on a houseboat might be fun. At least then she'd have an excuse to get a cat.
Me Just Rambling & Stuff
I've been telling tales (some of them of the tall variety) for most of my life. The first book I ever produced was about Easter, as I recall, and was written in crude pictographs. In my defence, I reckon I was about three. Stapler-binding was the format of choice (way, way before the advent of the e-book). First story with words (and pictures) was about a trip to the moon, in which I included the exhaustive research I did on the matter by saying it took three days to get there. Sadly, the trip was cut short when a puddle of blood (!! – quite gory for its day and age) was discovered on the moon, so the characters had to leave before the murderous aliens found them. Nail bitting stuff!
Beyond that, I don't recall exactly when I began to think seriously about writing. I always enjoyed a creative writing exercise in high school, but hated scientific writing in university. Not enough room for drama or humour or unicorns. But even before I began writing stories down, I was writing them in my head. Serious writing started around the mid-twenties. Good writing started a couple of years later. Even better writing is still in progress.
As a pathology scientist, blood and medicine is a big part of my life and, naturally, have an influence on my writing. My first book, Blood Work, had its origins in how blood behaves in transfusions (vampires drinking blood is basically a transfusion, right? Right.).
Of course, recently I've moved into M/M romantic suspense, with the publication of Where Death Meets the Devil. I'm blaming Manna Francis's Administration series for hooking me into the wonderfully wide and diverse realm of queer fiction. It's a genre pool I plan on wallowing in for good long while. 😉
Connect with L.J.:
Facebook: www.facebook.com/pg/thesaxonjames/
Facebook group: https://www.facebook.com/groups/3357919950947183/
Amazon: https://www.amazon.com/L-J-Hayward/e/B00MT509K0/ref=dp_byline_cont_pop_ebooks_1
Goodreads: https://www.goodreads.com/author/show/3103648.L_J_Hayward
Twitter: https://twitter.com/lj_hayward
Instagram: https://www.instagram.com/lj_hayward/
---
---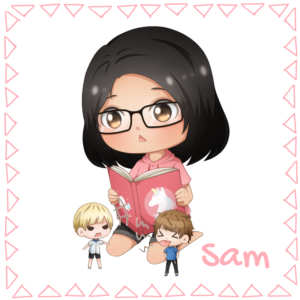 Fan de MM et plus particulièrement des single dads (ça marche aussi avec les oncles, les grands frères etc…) , des MMM et d'Urban Fantasy.