Full of complicated families and in-depth characterizations, Layla Reyne's Craft Brew will wow readers. The book keeps several plots going strong without dropping any pieces and takes the reader through the wringer with non-stop action. Reyne never falls backs on tired tropes, instead providing readers with authentic situations and an ending that is tough to read but all the more genuine for its inclusion. — Nora Sakavic, author of the For the Love of the Game series
Craft Brew takes the pulse-pounding emotional stakes of Imperial Stout and ramps it up to 110%. Clear your calendar, sit down, hold on and have the tissues ready. — LJ Hayward, author of the Death and the Devil series.
Craft Brew (Trouble Brewing #2) by Layla Reyne
Publisher: Carina Press
Release Date: Paperback – October 30, 2018
Genre: M/M Romantic Suspense
Order now:
Carina: http://bit.ly/2luKFZr
AMZ: https://amzn.to/2NVKiUB UBL: https://books2read.com/craftbrew/
Book Synopsis:
Assistant US attorney Dominic Price is staring down the barrel of his father's debts. The bull's-eye on his back makes him a threat to everyone he cares about, so when his lover wants to go public with their relationship, he bolts. Not because he isn't in love—he can't stomach the thought of putting Cam in danger. Kidnap and rescue expert Cameron Byrne is determined to figure out what trouble Nic is running from, but devastating news from home brings him back to Boston and to the cold case that has haunted his family for two decades. Shoving aside his pride, he calls Nic for help. Together they search for answers, navigating the minefield of Cam's past. But when they get too close to the truth, Cam must use every skill in his arsenal to save the man he loves…before it's too late.
Tropes and Themes: Workplace romance, forced proximity, friends-to-lovers, coming out
About Layla Reyne:
Author Layla Reyne was raised in North Carolina and now calls San Francisco home. She enjoys weaving her bi-coastal experiences into her stories, along with adrenaline-fueled suspense and heart pounding romance. When she's not writing stories to excite her readers, she downloads too many books, watches too much television, and cooks too much food with her scientist husband, much to the delight of their smushed-face, leftover-loving dogs. Layla is a member of Romance Writers of America and its Kiss of Death and Rainbow Romance Writers chapters. She was a 2016 RWA® Golden Heart® Finalist in Romantic Suspense.
Author Links:
FB Group: https://www.facebook.com/groups/216903272072959/
BookBub: https://www.bookbub.com/profile/layla-reyne
Amazon: https://amazon.com/author/laylareyne
Newsletter: https://www.laylareyne.com/signup
Twitter: https://www.twitter.com/laylareyne/
Instagram: https://www.instagram.com/laylareyne/
FB: https://www.facebook.com/laylareyne/
Pinterest: https://www.pinterest.com/laylareyne/
Goodreads: https://www.goodreads.com/laylareyne
Whiskey Verse Bromances by Layla Reyne
Craft Brew (Trouble Brewing #2) is my favorite book I've written to date, and while Cam and Nic's romance, Cam's family, and the mystery of his missing sister are a big part of that, so is the found family aspect that really shines this installment. Cam and Nic were already being pulled into the Jamie-Aidan-Mel-Danny family unit in the Agents Irish and Whiskey series, and those bonds only strengthen in Trouble Brewing. Within the Whiskey Verse family, I especially love the bromances on display in Craft Brew, between Aidan and Nic and Cam and Jamie.
Aidan and Nic
They've come a long way, huh? I love how Aidan and Nic's bromance developed from casually dated when Aidan and Jamie were on a break, to highly-effective work colleagues (one an FBI agent, the other the federal prosecutor on his cases), to allies against Nic's boss, to Aidan all but bullying Nic into his "family" because that's what Talleys do. And just as Nic came to Aidan's aide in Barrel Proof, Aidan is there for Nic in Craft Brew as things heat up with the loan shark threatening Nic over his father's debts. The final scene of the book is actually between Nic and Aidan, and I'll be honest, that scene was a surprise to me. But it demanded to be written and it's one of my favorites to-date. The level of trust there between them—Nic willing to put the future well-being of his loved one in Aidan's hands, if need be—felt like the right place between these two men who hold each other in such high regard and who are becoming best friends and family.
Cam and Jamie (and Nic) Cam was introduced as Jamie's best friend in Single Malt, and we've seen glimpses of their bromance in earlier books, but I loved showing it more concretely in Craft Brew. Jamie drops everything to go to Boston with Cam when there's a family emergency, and he stays by Cam's side, as friend, cook, hacker and stunt driver, when Cam delves into the case that tore apart the Byrne family and drove Cam into the FBI. He's also the best friend who calls bullshit—on both Cam and Nic—when it comes to admitting the depth of their feelings for one another. Speaking of, I was also surprised and delighted at
Jamie and Nic's friendship developing and solidifying more firmly in Craft Brew. These two were not always on the best of terms, but with the both of them caring deeply about Cam (and Aidan), they've found common ground. And when their skill sets are combined, watch out. It makes for one hell of a chase and shoot-out scene!
Excerpt:
"Solve it," his mother said, snapping him out of his thoughts.
He didn't have to ask what she was referring to. It was the reason he'd decided to join the FBI. But the unsolved case of Erin's disappearance was cold for a reason. He'd been unsuccessful, like every other detective or investigator who'd touched the file over the past twenty years. "I've tried."
"Need to know," she said, increasingly winded. She set the book in her lap and laid the card over her heart, tapping it. "No time."
He laid his own hand over his mother's, struggling for words. "We don't know that. The doctors—"
"No time." She closed her eyes and a tear slid down her cheek. "Need to know if she'll be there waiting for me."
Cam's head swam as his heart drowned. He had to lay his head on the bed and make himself breathe. His mother's fingers carded through his hair, coaxing and calming. "Please, Cameron."
Dragging in a breath and sucking back his own threatening tears, he righted himself and squeezed his mom's hand. "I've tried. My entire career." She was the last person he ever wanted to disappoint again, but he'd hit a brick wall on Erin's case, time and again.
She flipped the book to the last page and held it out to him. Taking it, he was surprised to find the normally blank couple of pages at the back filled with his mother's meticulous handwriting.
Dates, locations, and details.
He looked back up at his mother. "Are these case notes? When did you start this?"
"The past year, after you left. Kept you both close." She tapped the side of her head. "Kept this going too."
Something else he came by honest.
He stared at the scribbled on pages, running his fingertips over the amateur sleuthing his brilliant mother had been doing.
She covered his hand, stopping its movement. "Need to know."
He couldn't disappoint her. Especially if this turned out to be the last thing she asked of him. Not when he'd failed her before.
"Are there more books with notes?"
"That series." The words were thin, a battle to get out. "Started rereading. By the bed at home."
He clutched the book in one hand, her hand in his other. "I'll try."
She squeezed, a fraction of her normal strength. "Hurry."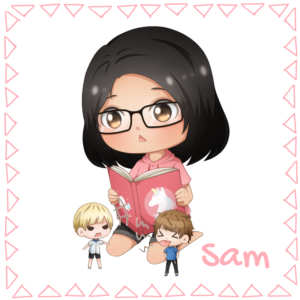 Fan de MM et plus particulièrement des single dads (ça marche aussi avec les oncles, les grands frères etc…) , des MMM et d'Urban Fantasy.