Release Blitz, Excerpt & Giveaway:
Clean Approach by Patricia Logan
A Spy Like Me, Book 2
Damon Thorne, former CIA operative, is now living with Jude Chenoweth, his new boyfriend. The sexy graphic designer is handsome as hell and Damon can't get enough of him. Unfortunately, his life as a "cleaner" always seems to get in the way. At least Jude is at his side these days, helping out on an odd job here or there.
Jude finds his new life with Damon thrilling. If it's not rescuing a teen from child traffickers, it's stealing adult toys from a notorious sex club. While Jude struggles to stay out of the limelight, Damon battles with his own demons, trying to reconcile a heartbreaking past.
A mandatory trip to New York turns into a weekend on the Harlem blues scene and a party with New York high society, ending in near disaster. To top it all off, a deliberate poisoning, a pissed off "force of nature" in stilettos, and a half-blind money launderer confirm there's trouble brewing and only the beginning of their problems.
When an old acquaintance turns up with a tale of betrayal and a warning of imminent danger, Jude and Damon go on the offense. Fortunately for the two men, they unexpectedly have a team of warriors at their backs.
Join Damon and Jude for one thrill ride after another in the sequel to Clean Up on Aisle Mine.
Excerpt:

"You are much more than work! You always were, Jude," Damon insisted, dropping his hands from Jude's arms and deliberately stepping around him to walk over to his coat where it lay on the bed. "I love you. I've told you that but I don't know what I have to do to prove it to you," he said as he straightened and began pulling on the coat. "My past doesn't matter. I've told you that a thousand times. Do I ask you about all the men you've fucked?" He had a point. Jude couldn't very well argue the point when it had more than a little truth in it. Jude hadn't fucked every guy he met but he'd had a revolving door in his bedroom for years before meeting Damon. In fact, he hadn't kept anyone around before. "You're right," Jude said, sighing. "I'm a total asshole." Jude walked over to him and took him by both cheeks as he stared at him. "I'm a total dick tonight. I'm really trying not to make excuses but I think I was more upset about your disappearance than I wanted to admit. Sometimes I think I've missed so much of your life and I can never claim that part of you even though you always tell me that it was your past. Please forgive me. I'm not one to throw stones." "Me either." Damon shrugged and leaned down to kiss Jude. The kiss wasn't full of the usual warmth Jude had come to expect. It ended way too soon but he went with it anyway. When Damon turned away and grabbed his room key off the table before turning back, Jude felt like the whiskey in his stomach was going to come back up. "Come on. We're super late already," Damon said flatly. "Okay," Jude said, resisting the urge to reach up and run his fingers through his hair and pull all the strands out of their tie. Instead, he followed Damon out of the suite and let the door slam behind them, wondering what the hell had just happened.
---
Enter the Giveaway:
To celebrate Patricia's new Release, we are giving away 2 ebooks sets of A Spy Like Me Series (Books 1 & 2)!
Enter the Rafflecopter giveaway for your chance to win!
Direct Link: http://www.rafflecopter.com/rafl/display/cc0f2a5768/?
---
About the Author:
International bestselling author Patricia Logan, resides in Los Angeles, California. The author of several #1 bestselling erotic romances in English, Italian, French, and Spanish lives in a small house with a large family. When she's not writing her next thriller romance, she's watching her grandchildren grow up way too soon, and raising kids who make her proud every day. One of her favorite tasks is coaxing nose kisses from cats who insist on flopping on her keyboard while she tries to type. She counts herself lucky to be surrounded by people who love her and give her stories to tell every day.
Become a fan of Patricia at http://authorpatricialogan.com
Email her at patricialogan.author@yahoo.com. She loves to hear from readers more than anything and will respond to all emails.
Connect with Patricia: Website: http://www.authorpatricialogan.com Facebook: https://www.facebook.com/ploganauthor Twitter: https://twitter.com/PatriciaLogan1 Instagram: https://www.instagram.com/authorpatricialogan/ Email: patricialogan.author@yahoo.com
---
---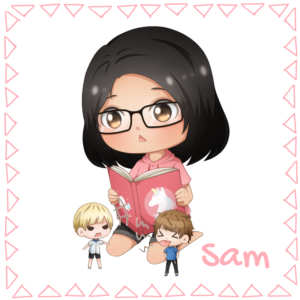 Fan de MM et plus particulièrement des single dads (ça marche aussi avec les oncles, les grands frères etc…) , des MMM et d'Urban Fantasy.