YA
Book Title: In Case You Missed It
Author: S. M. James
Publisher: May Books
Cover Artist: Story Styling Cover Designs
Genre/s: YA LGBT romance
Heat Rating: 1-2 flames
Length: 98 000 words/400 pages
It is a standalone story.
Release Date: February 12, 2019
Buy Links – Available on Kindle Unlimited
Blurb
Brooks is convinced his life is totally, one hundred percent happy.
Until Darien tracks him down.
Darien was supposed to be the guy he kissed once and remembered forever, but now he's back in Brooks's life, with easy smiles and big ideas.
The first of which … show the homeschooled Brooks everything he's missed out on. But as the pair work through a spring of playing catch up on life, it becomes obvious to Darien that Brooks has a secret.
And as things heat up between them, Brooks's secret might just be Darien's worst fear.
Because Darien has always lived in the moment.
But Brooks has always lived for the future he knows is inevitable.
When life is set to tear them apart, will love be enough to keep them together?
All books in the #lovehim series are stand alones. The series number is the recommended reading order.
Excerpt
We cross the front of the school, head past the football field, and into the courtyard. It's eerily quiet, with filtered sunlight and a soft breeze breaching the concrete quad.
Darien heads for a bench that runs along the base of an enormous tree and flops down onto it. I sit next to him and silence settles gently over my shoulders. The courtyard is surrounded by buildings on three sides, and I vaguely remember one of them as the science wing.
"So this is where you'd eat at breaks on a nice day. Cameron and Chels sit there, and some of the others here, and over there." He points to an opposite bench. "We'd sit right here, of course. Since you'd be in all the nerd classes, we'd be inseparable over break." He grips the back of the bench and leans into his hands, grinning over at me.
I swing a leg over the back of the bench so I'm facing him. "And you'd be such a shameless flirt, I'd have to find new friends to save you the embarrassment."
"No point." He shrugs. "I'd just follow you there too."
The thing is, I believe him. I don't know how anyone can be so effortless about how they feel. He doesn't try to hide it, but he doesn't push me either, and the fact he can be so unashamedly into me, makes me want to give him more.
But he'll get over it. And I have to help him.
I lean away from him a little. "So, is there anyone here who's caught your eye?"
"There's this one guy …"
His tone makes me arch my eyebrow. "He wouldn't be me, would he?"
"See? You're too damn smart."
I duck my head as I hold back a laugh. "Seriously though. Nothing is going to happen between us, so it's okay if you find someone else."
"Yeah, we're not doing this."
I frown. "What do you mean?"
"We've been over this, like, a thousand times. Jesus, Brooks, I get it. I just want to spend time with you, as friends, and I don't need you trying to push me onto someone else."
"Darien …" I reach for his arm and he shrugs me away. "I'm sorry."
"Good. Now no more mentioning that shit, okay? My memory is fine, I can make my own damn decisions."
"You're right." But how does he make the right decision when I'm keeping a huge part of myself from him? I take a couple of short breaths, the very real possibility of telling him, looming at the front of my thoughts.
"Here." Darien finally takes off his backpack and unzips it. He's packed a heap of food, some I haven't seen before, and he slides away from me on the bench to set it out between us. "Dig in."
Lunch is delicious, and I try some of everything. Darien talks me through some of the foods his mom made, like zelnik and tulumba, and it's so damn good, I'd hang out with him just for the food. After a week of barely eating I don't hold back, but I didn't bring my enzyme tablets with me, so it's close to pointless.
Darien takes some more photos after lunch as we explore the school. He fills me in on little bits and pieces about his first two weeks, and we wind up under the bleachers. He dives into his bag again and pulls out two cigarettes.
I give him a flat look. "Fuck no."
He smirks. "Goodie two shoes."
"Nope." I shake my head, trying to think of how I can get him to put those freaking things away. "I just don't see the point in sucking on something that can fucking kill you." My words come out way harsher than I mean, but if he starts on one of those things, I'm leaving him here.
His dark eyebrows furrow, and something goes on behind his eyes that I can't quite make out, but he just shrugs and grinds the smokes into the ground. "Thank the lord. Don't think I could have stomached it, even for you."
I relax a little, though I'm not sure I really believe the words.
He steps closer. "You know, there are other things people do under the bleachers …"
It takes me a second to catch up, and my focus automatically drops to his lips. My stomach is a riot as I try not to focus on how good our first kiss was, all those months ago.
Darien smirks and steps back, breaking my runaway thoughts. He pulls a marker from his bag. "We have to mark we were here, otherwise it doesn't count."
"That, I can do." I take the marker from him and uncap it with a click. Reaching above my head, I hesitate a second, trying to figure out what to write. In the end, I go simple.
BL + DM.
"Those letters look good together," Darien says. His voice is low and warm and reminds me of summer. His fingers slide down mine as he takes the marker from me.
He reaches up and his shirt pulls higher on his back, leaving this smooth strip of brown skin exposed. The pull to touch him is so strong. I need to feel his skin under my fingertips. It's a physical battle to hold back, and just as I'm about to fold,
To reach,
To touch,
To give in to him, Darien finishes up, and steps back to survey his work. I blink a few times to try and lessen the fog in my head, then turn my focus up.
He's drawn a heart around our initials.
About the Author
S. M. James writes books for teens about squishy sweet characters.
While not writing, SM is a readaholic and Netflix addict who regularly lives on a sustainable diet of chocolate and coffee.
Unapologetically dishing out HEAs for LGBTQ characters.
Author Links
Giveaway
Enter the Rafflecopter Giveaway for a chance to win one of the following:
$30 Amazon gift card (AU or US only)
2 x paperbacks (That Feeling When or To Be Honest) (International)
3 x eBooks (That Feeling When or To Be Honest) (International)
RELEASE BLITZ SCHEDULE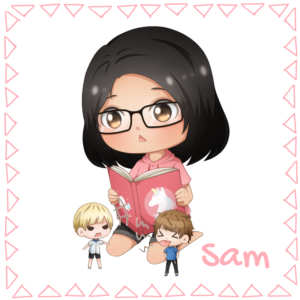 Fan de MM et plus particulièrement des single dads (ça marche aussi avec les oncles, les grands frères etc…) , des MMM et d'Urban Fantasy.