✰ "Real-life romance that keeps you coming back for more." ✰
Title: Kade & Cameron
Series: Something About Him Book 6 – Can be read as standalone
Release Date: June 15th, 2017
Publisher: A.D. Ellis Publishing
Categories: M/M Romance
Goodreads: https://www.goodreads.com/book/show/35076824-kade-cameron
Cameron Lewis is left reeling when his perfect life—two beautiful children, an adoring husband, and a house on the lake—is ripped apart by loss.
Kade Ramsey is living the American dream with a wife, two amazing children, and a comfortable job. But dreams are often only illusions, and Kade discovers his life isn't all he thought it to be.
Kade and Cam have been friends for years. When their lives begin to fall apart, they turn to each other for support. Is friendship all they share? Or will their need for each other drive them down an unexpected path?
Kade & Cameron is a first-time-gay, out-for-you, friends-to-lovers, hurt/comfort story.
**This is a male/male romance meant for ages 18+ due to adult language and situations.**
What inspired me to write Kade & Cameron
Kade & Cameron's story came to me one day while I was driving home from school (I'm a teacher.) Two men in my life were on my mind. One of them had lost his beloved spouse and was working hard to raise his children on his own. The other man was going through a nasty divorce thanks to his spouse cheating on him and basically walking out on him. This man was also trying to keep things going for his young children.
My emotions were all over the place as I thought about these two men. My heart hurt for what they were going through. I was angry at the two very different yet similar situations they were in. I was thinking about how much I wanted them to get through the rough times and find love and happiness again.
Voila! Kade & Cameron's story was born. I love these two men in real life, and I love the fictional versions of them as well. While names and details have been changed and possibly mixed and mashed together to make this story, the inspiration behind it came from a very real place.
Amazon US: https://www.amazon.com/gp/product/B0719756HG
Amazon UK: https://www.amazon.co.uk/gp/product/B0719756HG
Amazon AU: https://www.amazon.com.au/gp/product/B0719756HG
Amazon DE: https://www.amazon.de/gp/product/B0719756HG
The school year came to an end about the time the boys and I had been living at the lake for almost a month. The transition had been mostly smooth, and Cam and I found we worked very well as a team. For the first couple weeks, I treated our living there as if we were guests. But, Cam sat me down for the first of many chats.
"Kade, this isn't a bed and breakfast and you aren't a guest in my home. No more asking if it's okay if the boys take a bath or if they can have a snack. This is our home. I want you and the boys to be comfortable." Cam's words weren't harsh, but I knew he'd meant what he said.
"Okay, I appreciate that. It's hard, I don't want to overstep," I'd begun. When Cam had started to protest, I held up my hand. "Just let me know if I ever cross the line."
"Deal." Cam had agreed.
The boys and I settled in much more after that discussion, and I had to admit our whole arrangement seemed to be going well.
I hadn't heard from Steph or my attorney, although I knew from a visit to the house that she had taken all of her remaining items. I had the locks changed and started preparations to rent the house. What I wished I had prepared for a little more was the reaction of local friends to my new living arrangement.
Either I hadn't been listening or the rumor mill kept itself pretty hush-hush. But, the night of Cam's annual "Welcome to Summer" bonfire, I heard more than I cared to.
After checking on the boys and the local neighborhood kids to make sure they weren't at the water by themselves or they had a trusted adult with them, I grabbed a beer and headed toward the bonfire to shoot the shit with some long-time buddies.
"He found himself a fuck buddy pretty quickly." Craig's words and the resulting laughs echoed in my ears.
"Yeah, husband's barely cold in the ground before he's getting his hands on another dick. Guess he couldn't stand not having a hard one to ride." A man I barely recognized agreed and more laughter abounded.
"Never thought I'd see Kaden Ramsey turnin' gay. Must be why that wife of his left. Needed to find a real man, not a butt-fucker." Craig's words registered and sent hot anger straight through my core. I downed my beer as the next comment was made, but I'd already made up my mind what I was going to do.
"I mean, I ain't gonna judge. If Ramsey wants to pack some fudge, it aint's hurtin' me none," Jared, a man I'd considered a decent friend and golf partner, chimed in. "I'm just sayin', the whole gay thing ain't my thing, man. Why can't they just be friends? And what's it doing to their boys? Don't seem right to me."
"Gentlemen," I spoke from behind them and felt a satisfied spark travel through me when they all turned to face me, their faces pale with fear. "You know what I don't think is right?" I spoke, using Jared's words. "I don't think it's right that a man would lose the love of his life to cancer. I don't think it's right that two young boys would lose their father. I don't think it's right that a woman would cheat on her husband and leave her two sons without so much as a second thought."
I had stepped closer and closer while I spoke. Lowering my voice so as not to call attention to myself, I continued, "I also don't think it's right that local friends and neighbors, those who have offered their support through a rough time, would speak ill of men who are supposedly their buddies." I spit on the ground before running my hand along my jaw as if I was thinking. "In fact, I'd call it downright rude that any man worth his salt would show up for free food and free drinks and sit around a fire spreading more gossip than any quilting bee ever hoped to have."
None of the men spoke, all of them had found something very interesting to study on the ground. I wasn't wasting my time, or the evening's celebrations, on the idiots any longer than I had to.
"I'll leave you boys with one more thought. Any person, man or woman, would be lucky to have Cam in their life. What's more, I consider myself damn lucky that Cam and I are friends and work so well together as a team. We're there for each other and, most importantly, we're there for our sons. If you all can't accept that, maybe you should keep your homophobic asses home."
I shook my head in disgust before walking away. I stopped abruptly when I almost ran over Cam. I glanced at his face to see how much he had heard. Cam's features were guarded, closed off, so I simply nodded and continued on my way.
5 lucky winners can pick any book from A.D. Ellis backlist (not Kade & Cameron and not box sets)
A.D. Ellis spends the majority of her days loving and wrangling two school-aged children and a husband before heading to the inner city of Indiana to teach a challenging group of alternative education students in grades third through sixth. Most days she hits the gym after school in hopes of running and lifting away the stress and headaches of the day before picking up her children and squeezing a whole day's worth of loving and living into the too-short hours before bed. It's no wonder Ms. Ellis lives for the slower, easier days she gets to enjoy on breaks from school.
Growing up in a small farming town in southern Indiana, A.D. is grateful to her mother for passing along the love of reading. With her nose constantly stuck in a book, Ms. Ellis became accustomed to friends and acquaintances snickering and shaking their heads at her love of reading.
A.D. never dreamed of being anything but a teacher, although there are certain times of the year when she laments her career choice. Ms. Ellis had a story idea floating in her head for about a year. After persistent prodding from a friend, A.D. put pen to paper and began writing her first story in October 2013. From that moment on, she was hooked. Taking the people and stories from her head and sharing them with readers is a scary, exhausting, rewarding, and fulfilling experience which A.D. plans to continue until there are no more stories banging around in her mind.
A.D. Ellis' work can be found on both iBooks and Amazon. Please contact her on Facebook, Twitter, or her website.
iBooks bit.ly/ADEllisiBooks
Amazon author.to/ADEllisAmazon
Facebook www.facebook.com/adellisauthor
Twitter www.twitter.com/ADEllisAuthor
Website http://www.adellisauthor.com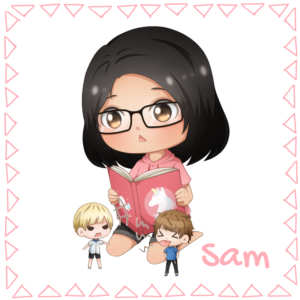 Fan de MM et plus particulièrement des single dads (ça marche aussi avec les oncles, les grands frères etc…) , des MMM et d'Urban Fantasy.