Title: Tight Quarters
Series: Out of Uniform #6
Publisher: Carina Press
Release Date: ebook: July 9, 2018 | print: July 31, 2018
Subgenre: M/M Contemporary Military Romance
Links: Amazon | Barnes and Noble | Kobo
Book Synopsis: Petty Officer Bacon, a navy SEAL and ace sharpshooter, has been on the front lines of more than his fair share of dangerous ops. Yet when a minor injury relegates him to the beta team, he's tasked with what may be his riskiest assignment yet: the silver fox journalist he's babysitting is the hottest, most charismatic man he's ever encountered.
Award-winning journalist Spencer Bryant may have been named one of Pride magazine's most eligible bachelors of the year, but he's not looking to change his relationship status. He's a consummate professional who won't risk his ethics or impeccable reputation by getting involved with a source. Even a sexy-as-hell military man. But while Spencer can resist his physical attraction to Bacon, he has less control over his emotions—especially when the mission goes sideways and the two men are trapped alone.
Getting out of the jungle alive turns out to be easy compared to facing the truth about their feelings for one another back in the real world. And whether or not they can build a future is a different story altogether.
This book is approximately 82,000 words
One-click with confidence. This title is part of the Carina Press Romance Promise: all the romance you're looking for with an HEA/HFN. It's a promise!
Excerpt:
« Meet Spencer the Silverfox Reporter Hero »
As he followed Bacon out of the dining facility, he didn't regret being open about Greg to the team. He'd never really been in the closet, but he'd spent too many years when he was younger watching his words, worrying about what others might think. Screw that. Life was far too short to hide, and besides, it was bound to come up at some point the next few weeks. Better to just get it out in the open now.
But Petty Officer Bacon did not seem to agree, all but glowering as he stomped ahead.
"You okay with walking or should I get a Jeep?" he barked at Spencer. Damn. He'd thought Bacon was the open-minded one of the group, but he was sure as hell acting put out.
"Totally fine with walking. Listen, if you have a problem with me—"
"I don't." A muscle worked in his jaw.
"You don't like me," Spencer said bluntly. Speaking of getting things out in the open, they needed to address this now. If Bacon was to be his handler, it benefited them both to not have an actively hostile relationship.
"I'd like you a lot better on any team other than mine," Bacon shot back as he sped up his walking pace. "And at the risk of inflating what has to be a Super Duty size ego, I'm a fan of your writing stuff. But you're the last thing my team needs."
"You're a fan?" Spencer couldn't help but smile.
"Knew that would be the part you focused on," Bacon grumbled. "You're not a bad writer, okay? But we don't need a reporter—any reporter—potentially fucking up our mission. And if you tell the LT I said that—"
"I won't," Spencer promised before Bacon could finish his threat. "I get your reservations, I do. But just give me a chance, okay? I'm not out to make you or your buddies look bad."
"Why do you want this assignment anyway?" Bacon demanded. They were passing nondescript buildings and carefully manicured grounds, but Bacon didn't slow down and point out the sights to Spencer, instead marching on.
"My book about injured vets sold well. My publisher would like to see more like that from me, and this was an easy freelance pitch to my old paper for the feature piece, so there's that." Spencer tried for light, which only made Bacon glower more. He was going to just leave it at that, let Bacon frown himself into next week, but then some of the truth spilled out. "I saw a number of spec ops guys in my research at Walter Reed. It got me intrigued about how modern warfare operates out in the field. And then one of them died last year. Felt like maybe I owed it to him to pursue this story, jump through all the PR hoops to make it happen."
"He died in the line of duty?" Bacon sounded marginally less combative.
"No. Suicide." The word hurt, almost like it scraped his throat on the way out, and his voice was unnaturally rough. Bacon went pale and slowed his pace.
"Fucking sucks," he said with far more feeling than Spencer would have expected.
"Yeah, it does," Spencer agreed. It did fucking suck, no two ways about it. Even now, his back went slick with sweat, stomach full of guilt and dread, as he remembered that awful phone call from Harry's wife. But nothing would be served by telling Bacon how Harry's death had utterly gutted him, so he kept his voice even. "But he saw things that few people ever do. And those stories, they feel…significant."
Bacon was silent a long time, plodding along, looking down at his feet.
"I get it," he said at last. "But not gonna lie, wish they'd assigned you elsewhere. Rangers, maybe."
About Annabeth Albert: 
Annabeth Albert grew up sneaking romance novels under the bed covers. Now, she devours all subgenres of romance out in the open—no flashlights required! When she's not adding to her keeper shelf, she's a multi-published Pacific Northwest romance writer. The #OutOfUniform series joins her critically acclaimed and fan-favorite LGBTQ romance #Gaymers, #PortlandHeat and #PerfectHarmony series.
To find out what she's working on next and other fun extras, check out her website: www.annabethalbert.com or connect with Annabeth on Twitter, Facebook, Instagram, and Spotify! Also, be sure to sign up for her newsletter for free ficlets, bonus reads, and contests. The fan group, Annabeth's Angels, on Facebook is also a great place for bonus content and exclusive contests.
Emotionally complex, sexy, and funny stories are her favorites both to read and to write. Annabeth loves finding happy endings for a variety of pairings and is a passionate gay rights supporter. In between searching out dark heroes to redeem, she works a rewarding day job and wrangles two active children. Connect with Annabeth: Twitter | Facebook | Facebook Group | Newsletter | Instagram | Website
Rafflecopter prize and code: Reader's Choice of any Out of Uniform book in paper + surprise swag pack!
Direct Link:
http://www.rafflecopter.com/rafl/display/88d45f0360/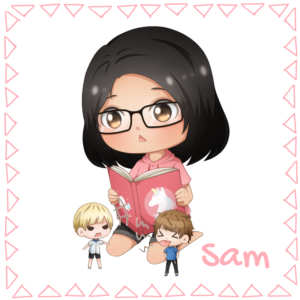 Fan de MM et plus particulièrement des single dads (ça marche aussi avec les oncles, les grands frères etc…) , des MMM et d'Urban Fantasy.