Arctic Sun by Annabeth Albert
Series (name + # in series):
Frozen Hearts, #1
Publisher:
Carina Press (Harlequin)
Release Date (Print & Ebook):
eBook: Monday, April 1, 2019
Print (mmp): Tuesday, April 30, 2019
Length (Print & Ebook):
eBook: approx. 95,000 words
Print: 384 pages
Subgenre:
Contemporary Romance, Military Romance, Male/Male Romance
Warnings:
Publisher's Note: Arctic Sun deals with topics some readers may find difficult, including sobriety
and eating disorders.
All buy links or pre-order links:
Harlequin: https://www.harlequin.com/shop/books/9781488051258_arctic-sun.html
Amazon: https://www.amazon.com/Arctic-Frozen-Hearts-Annabeth-Albert/dp/1335006885/
Barnes & Noble: https://www.barnesandnoble.com/w/arctic-sun-annabeth-albert/1129705419
iTunes: https://itunes.apple.com/us/book/arctic-sun/id1438313132
kobo: https://www.kobo.com/ca/en/ebook/arctic-sun-1
Google Play: https://play.google.com/store/books/details/Annabeth_Albert_Arctic_Sun?id=G55zDwAAQBAJ
Audible: https://www.audible.com/pd/Arctic-Sun-Audiobook/1488206201
Book synopsis:
Everything's bigger in Alaska, especially the HEAs. Annabeth Albert kicks off the brand-new Frozen Hearts series with Arctic Sun, an opposites-attract romance between a rugged outdoorsman and a smoking hot former male model.
He's built a quiet life for himself in Alaska. But it doesn't stand a chance against the unrelenting pull of a man who's everything he shouldn't want.
Ex-military mountain man Griffin Barrett likes his solitude. It keeps him from falling back into old habits. Bad habits. He's fought too hard for his sobriety to lose control now. However, his gig as a wildlife guide presents a new kind of temptation in superhot supermodel River Vale. Nothing the Alaskan wilderness has to offer has ever called to Griffin so badly. And that can only lead to trouble…
River has his own methods for coping. Chasing adventure means always moving forward. Nobody's ever made him want to stand still—until Griffin. The rugged bush pilot is the very best kind of distraction, but the emotions he stirs up in River feel anything but casual, and he's in no position to stay put.
With temptation lurking in close quarters, keeping even a shred of distance is a challenge neither's willing to meet. And the closer Griffin gets to River, the easier it is to ignore every last reason he should run.
One-click with confidence. This title is part of the Carina Press Romance Promise: all the romance you're looking for with an HEA/HFN. It's a promise!
Publisher's Note: Arctic Sun deals with topics some readers may find difficult, including sobriety and eating disorders.

This book is approximately 95,000 words
Author Bio
:
Annabeth Albert grew up sneaking romance novels under the bed covers. Now, she devours all subgenres of romance out in the open—no flashlights required! When she's not adding to her keeper shelf, she's a multi-published Pacific Northwest romance writer. Emotionally complex, sexy, and funny stories are her favorites both to read and to write. Her critically acclaimed and fan-favorite LGBTQ romance series include the #OutOfUniform, #Gaymers, #PortlandHeat, #RainbowCove and #PerfectHarmony series.
To find out what she's working on next and other fun extras, check out her website: annabethalbert.com or connect with Annabeth on Twitter, Facebook, Instagram, and Spotify! Also, be sure to sign up for her newsletter for free ficlets, bonus reads, and contests. The fan group, Annabeth's Angels, on Facebook is also a great place for bonus content and exclusive contests.
Author links (include author site, GR, Twitter, FB, FB Group, Newsletter, Pinterest, Instagram, Tumblr, etc. The ones you are the most active on should be first):
Website: http://annabethalbert.com/
Goodreads: https://www.goodreads.com/author/show/6477494.Annabeth_Albert
Twitter: https://twitter.com/annabethalbert?lang=en
Facebook: https://www.facebook.com/annabethalbertauthor/
Instagram: https://www.instagram.com/annabeth_albert/
Newsletter: http://eepurl.com/Nb9yv
Fan group: https://www.facebook.com/groups/annabethsangels/
They headed back to the van, most of the group more cheerful than they'd been prior to Griffin's big idea, but River's stooped shoulders and heavy sighs said he was sulking. Fine. He'd just have to deal. Griffin had a dual responsibility to show him a good time but also keep him alive. Before he got in the van, River took a long drink from his water bottle, and Griffin didn't look away fast enough, instead finding himself mesmerized by the long line of River's neck. Forget the wildlife. Griffin wanted a picture of that, those full lips wrapped around the bottle's spout, head tipped back, eyes half shut…
Shaking his head, he forced himself to walk around to the driver's side. He could not let himself get caught up in River's spell for so many reasons including that the guy clearly wanted to court disaster. There was no sense in getting wrapped up in wanting someone who was a walking danger sign. Griffin had had enough risk and danger to last a lifetime. Wasn't going there again.
Giveaway: Enter to win 1 of 2 paperback copies of Arctic Sun + a fun-filled swag pack! Must be 18 to enter and win, open internationally.
Direct Link: http://www.rafflecopter.com/rafl/display/88d45f0389/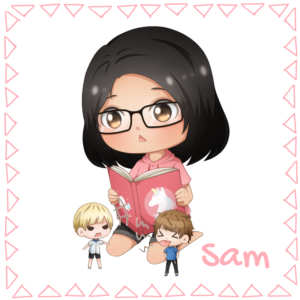 Fan de MM et plus particulièrement des single dads (ça marche aussi avec les oncles, les grands frères etc…) , des MMM et d'Urban Fantasy.