Taboo For You by Anyta Sunday
Series (name + # in series): Love & Family #1
Publisher: Anyta Sunday (self-published)
Original Release Date (Print & Ebook): 2013
Length (Print & Ebook): Ca. 70000 words / 280 pages
Subgenre: Contemporary gay romance, friends-to-lovers, found family
All buy links or pre-order links: https://books2read.com/taboo-for-you
On sale at for 99 cents for a limited time only: April 16 – 20!
Book synopsis:
Sam's freaking out. He's 30 in three weeks. And what has he done in his twenties? It's pretty simple math: nothing exciting at all. But hey, he has three weeks right? Maybe that's just enough time to tick his way through a 20s Must Do List . . .
Luke's freaking screwed. He's come out to his family, and his friends. Except there's a certain someone who doesn't know yet: his neighbor of 7 years. Who also happens to be his best friend. Who Luke needs to tell the truth, but he just . . . can't . . . seem to . . .
Jeremy's freaking over-the-moon. It's the countdown to his 15th birthday, and his goal is simple. No matter what, he's going to spend heaps of time with saucy Suzy. But first he needs to get his over-protective, no-girlfriend-'cause-you'll-get-her-pregnant parents off his back. And what better way than pretending he's gay?
Sam, Luke, and Jeremy. Three guys who have a lot of history together, and a lot of future too—
—well, if they can sort out their issues, that is.
« Taboo For You » is a slow burn, Friends To Lovers story with HEA. This sweet & cozy M/M gay romance set in New Zealand can be read as a standalone.
Reviews
« It is wonderfully put together and it's noticeable how much time, effort and thought is put in every detail. I highly recommend it to every MM romance fan out there, especially those whose guilty pleasures are mm reads with friends-to-lovers/gfy theme. It will put a never-ending smile on your face. » – PurpleBook – Way Too Hot Books (4.5/5 stars)
« The tone of the book is funny and sweet. The list is a presence throughout the book and I liked that. I felt this was well written and flowed well. It isn't an action packed, angst ridden book. It's a slower ride through the countryside. And I absolutely adored the ending. Perfect. » – Lucy – Hearts on Fire Reviews (4.5/5 stars)
« I know it may sound cliché, but this book made me laugh and it made me cry. Just witnessing the devotion Luke has to Sam and Jeremy is something we all hope for in a mate. […] I highly recommend this book… » – Jackie – The Novel Approach (4.5/5 stars)
« Having gone through my own 30th birthday crisis, I could empathize with Sam, yet knew he was in good hands with Luke, and even with the playful, totally teenage Jeremy. Everyone should have neighbors as nice as these three. » – Pat Henshaw – All About Romance (B+)
« Taboo for You offers the very best of a friends-to-lovers story: friends who didn't even realize they had already become a family. » – Michelle – Joyfully Jay (5 stars)
*** Nominated for the Goodreads M/M Romance 2013 Member's Choice Awards in the category « Best Gay/Out For You » *** *** Runner Up for Best Gay Contemporary Romance (William Neale Award), Rainbow Awards 2013 *** Taboo For You is also on the list of « Favorite Books I Read in 2013 » at The Book Vixen, and one of Eli Easton's Favorite M/M Romances Read in 2013 — GFY / Gay Virgin
About Anyta Sunday:
A bit about me: I'm a big, BIG fan of slow-burn romances. I love to read and write stories with characters who slowly fall in love.
Some of my favorite tropes to read and write are: Enemies to Lovers, Friends to Lovers, Clueless Guys, Bisexual, Pansexual, Demisexual, Oblivious MCs, Everyone (Else) Can See It, Slow Burn, Love Has No Boundaries.
I write a variety of stories, Contemporary MM Romances with a good dollop of angst, Contemporary lighthearted MM Romances, and even a splash of fantasy.
My books have been translated into German, Italian, French, Spanish, and Thai.
Connect with Anyta: Author website: http://www.anytasunday.com/ Author newsletter signup: http://www.anytasunday.com/newsletter-free-e-book/ Facebook: https://www.facebook.com/anytasundaybooks Twitter: https://twitter.com/anytasunday Instagram: https://instagram.com/anytasunday BookBub: https://bookbub.com/authors/anyta-sunday
Sale Blitz information: "Taboo For You", will drop to only 99 cents for five short days, April 16th – 20th!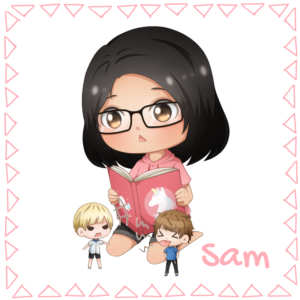 Fan de MM et plus particulièrement des single dads (ça marche aussi avec les oncles, les grands frères etc…) , des MMM et d'Urban Fantasy.