Real-life romance to keep you coming back for more
Braeton Reed left his small-minded hometown and disapproving family long ago and never looked back.
Andrew Hines has nothing against a solid, loving relationship; he just isn't sure he'll ever find one.
Braeton has been told he's a bit of a pa. Andrew has heard he's not flashy enough. Can their differences pull them together? Or will these polar opposites allow society to dictate who they are and who they love?
** This is a male/male romance meant for ages 18+ due to adult language and adult situations.**
Author Name: A.D. Ellis
Book Name: Braeton & Drew
Series: Something About Him
Book: 4
Release Date: November 19, 2016
Publisher: A.D. Ellis Publishing
Genre: M/M Romance
🌟 Book Trailer
---
The series starts with a free short story The Beginning getbook.at/ShortStoryFree
Then continues with Bryan & Jase getbook.at/BryanJaseAmzn
Brody & Nick getbook.at/BrodyNickAmzn
Barrett & Ivan getbook.at/BarrettIvanAmzn
Excerpt
I noticed there was no list of services with prices like at my comfy little barber shop, which meant I would be paying a pretty penny for this posh-ification. But, if it brought me bigger clients, then it was worth it.
An attractive, tall, lithe man sauntered toward the front working his electric blue button-up and stylish jeans like a fashion model. Eyeing me from head to toe, he smiled flirtatiously. "Hi there. What can I do for you today?"
Finding myself mesmerized by his beautiful brown eyes for a moment too long, I stumbled over my words a bit, "Oh, um, hi. I'm supposed to have an appointment with Braeton?"
"Oh, honey, I'm sure you'd love to have an appointment with me, but I can assure you I'd remember putting you on my schedule. And, sadly, you aren't there." He winked. The man was gay, no question about it. I was usually put off by guys who were so much more out there than me, but Braeton was hot and beyond intriguing. I was drawn to him. The last time a guy had made my stomach flutter was in gym class my junior year, but Braeton definitely brought out the butterflies.
"Well, I spoke to Jodie and she specifically said that Braeton, I mean you, could take care of me." I felt like I was begging the man to style me, fix me up, polish me. Leaning forward to eye the computer screen, I added, "Could you just check? Humor me a bit? Name's Andrew Hines."
"Believe me, I'd love to take care of you, but like I said…," Braeton clicked a few times on the keyboard before his mouth opened in disbelief, "how the hell are you on my schedule?"
"Like I said, Jodie took care of it for me." I shrugged apologetically.
"Today just got much better for me. I was expecting someone much less attractive than you, so I'll have to thank Jodie." Braeton winked again.
Buy Links
★ Amazon getbook.at/BraetonDrewAmzn
★ Kobo bit.ly/BraetonDrewKobo
★ Nook bit.ly/BraetonDrewNook
★ All Romance bit.ly/BraetonDrewARe
★ iBooks bit.ly/BraetonDrewiBooks
🌟 Giveaway
Braeton & Drew and box sets not included
---
Meet A.D. Ellis
A.D. Ellis spends the majority of her days loving and wrangling two school-aged children and a husband before heading to the inner city of Indiana to teach a challenging group of alternative education students in grades third through sixth. Most days she hits the gym after school in hopes of running and lifting away the stress and headaches of the day before picking up her children and squeezing a whole day's worth of loving and living into the too-
short hours before bed. It's no wonder Ms. Ellis lives for the slower, easier days she gets to enjoy on breaks from school.
Growing up in a small farming town in southern Indiana, A.D. is grateful to her mother for passing along the love of reading. With her nose constantly stuck in a book, Ms. Ellis became accustomed to friends and acquaintances snickering and shaking their heads at her love of reading.
A.D. never dreamed of being anything but a teacher, although there are certain times of the year when she laments her career choice. Ms. Ellis had a story idea floating in her head for about a year. After persistent prodding from a friend, A.D. put pen to paper and began writing her first story in October 2013. From that moment on, she was hooked. Taking the people and stories from her head and sharing them with readers is a scary, exhausting, rewarding, and fulfilling experience which A.D. plans to continue until there are no more stories banging around in her mind.
A.D. Ellis' work can be found on both iBooks and Amazon. Please contact her on Facebook, Twitter, or her website.
iBooks bit.ly/ADEllisiBooks
Amazon author.to/ADEllisAmazon
Facebook www.facebook.com/adellisauthor
Twitter www.twitter.com/ADEllisAuthor
Website http://www.adellisauthor.com
Tour Schedule
★ November 28
★ November 29
★ November 30
★ December 1
★ December 2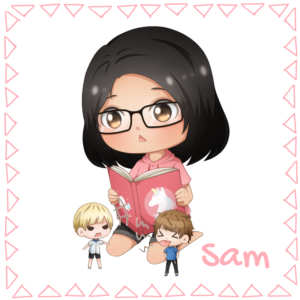 Fan de MM et plus particulièrement des single dads (ça marche aussi avec les oncles, les grands frères etc…) , des MMM et d'Urban Fantasy.