Real-life romance to keep you coming back for more
Braeton Reed left his small-minded hometown and disapproving family long ago and never looked back.
Andrew Hines has nothing against a solid, loving relationship; he just isn't sure he'll ever find one.
Braeton has been told he's a bit of a diva. Andrew has heard he's not flashy enough. Can their differences pull them together? Or will these polar opposites allow society to dictate who they are and who they love?
** This is a male/male romance meant for ages 18+ due to adult language and adult situations.**
Author Name: A.D. Ellis
Book Name: Braeton & Drew
Series: Something About Him
Book: 4
Release Date: November 19, 2016
Publisher: A.D. Ellis Publishing
Genre: M/M Romance
"How about I just be me, and you just be you? Braeton and Drew. We'll go from there."
He smiled, a sparkle in his eyes, as he brought my hand to his mouth for a kiss. "That sounds like a great plan."
Once that was settled, I glanced around at the very rural scenery passing us by. "Um, so just out of curiosity, you're not taking me out to the middle of nowhere to kill me and dispose of my body are you? I've always wanted to make the news for some reason or another, but being a murder victim isn't the way I want to become a household name, ya know?"
Drew threw his head back and laughed, "No, no murder happening tonight. Just you, me,
Braeton & Drew and box sets not included
---
Meet A.D. Ellis

A.D. Ellis spends the majority of her days loving and wrangling two school-aged children and a husband before heading to the inner city of Indiana to teach a challenging group of alternative education students in grades third through sixth. Most days she hits the gym after school in hopes of running and lifting away the stress and headaches of the day before picking up her children and squeezing a whole day's worth of loving and living into the too-short hours before bed. It's no wonder Ms. Ellis lives for the slower, easier days she gets to enjoy on breaks from school.
Growing up in a small farming town in southern Indiana, A.D. is grateful to her mother for passing along the love of reading. With her nose constantly stuck in a book, Ms. Ellis became accustomed to friends and acquaintances snickering and shaking their heads at her love of reading.
A.D. never dreamed of being anything but a teacher, although there are certain times of the year when she laments her career choice. Ms. Ellis had a story idea floating in her head for about a year. After persistent prodding from a friend, A.D. put pen to paper and began writing her first story in October 2013. From that moment on, she was hooked. Taking the people and stories from her head and sharing them with readers is a scary, exhausting, rewarding, and fulfilling experience which A.D. plans to continue until there are no more stories banging around in her mind.
A.D. Ellis' work can be found on both iBooks and Amazon. Please contact her on Facebook, Twitter, or her website.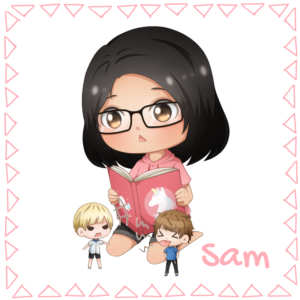 Fan de MM et plus particulièrement des single dads (ça marche aussi avec les oncles, les grands frères etc…) , des MMM et d'Urban Fantasy.