All Souls Near & Nigh by Hailey Turner
Series: Soulbound 2
Publisher: Self-Published
Release Date (Print & Ebook): March 19, 2019
Length (Print & Ebook): 104,100
Subgenre: LGBTQ Urban Fantasy
Reader Warning: This book contains on page sexual assault.
All buy links or pre-order links: https://haileyturner.com/all-souls-near-nigh-02/
Book synopsis:
You can't bargain with death if you've already sold your soul.
Special Agent Patrick Collins has been reassigned by the Supernatural Operations Agency to New York City. Learning to navigate his new relationship with Jonothon de Vere, the werewolf he's now soulbound to, is nothing compared to dealing with territorial disputes between the vampires and werecreatures who call the five boroughs home. But the delicate treaties that have kept the preternatural world in check are fraying at the edges, and the fallout is spilling into the mundane world.
Manhattan's club scene is overrun with the vampire drug known as shine and the subways have become a dumping ground for bodies. When the dead are revealed as missing werecreatures, Patrick and Jono find themselves entangled in pack politics twisted by vampire machinations.
Learning to trust each other comes with problems for both of them, and the gods with a stake in Patrick's soul debt aren't finished with him yet. Bound by promises they can't break, Patrick and Jono must find a way to survive a threat that takes no prisoners and is stalking them relentlessly through the city streets.
Old and new betrayals are coming home to roost but the truth—buried in blood—is more poisonous than the lies being spun. Trying to outrun death is a nightmare—one Patrick may never wake up from.
All Souls Near & Nigh is a 104k word m/m urban fantasy with a gay romantic subplot and a HFN ending. It is a direct sequel to A Ferry of Bones & Gold, and reading the first book in the series would be helpful in enjoying this one. Please see the disclaimer in the Look Inside for content some readers may find triggering.
Author Hailey Turner says All Souls Nigh & Near is: An exciting sequel that builds on the series plot and will keep readers wanting more!
About Hailey Turner:
Hailey Turner is big city girl who spoils her cats rotten and has a demanding day job that she loves, but not as much as she loves writing. She's been writing since she was a young child and enjoys reading almost as much as creating a new story. Hailey loves stories with lots of action, gritty relationships, and an eventual HEA that satisfies the heart.
Newsletter: You can keep up with Hailey's future projects by joining her newsletter, where you can instantly download two free Metahuman Files short stories and the Soulbound short story Down A Twisted Path: http://eepurl.com/cAEejL
Facebook Group: https://www.facebook.com/groups/haileyshellions/
Instagram: https://www.instagram.com/haileyturnerwrites/ Facebook Profile: https://www.facebook.com/profile.php?id=100014824811406
Bookbub: https://www.bookbub.com/authors/hailey-turner
Author Page: https://www.facebook.com/AuthorHaileyTurner/
Pinterest: https://www.pinterest.com/haileyturnerwriter/
Goodreads: https://www.goodreads.com/author/show/16473068.Hailey_Turner
Website: www.haileyturner.com
Exclusive Teaser for Cover Reveal:
Strong arms wrapped around his waist and a chin settled on top of his head. Patrick scowled into his coffee but couldn't help slumping back against Jono.
"You don't got to pay me for this. But you'll need someone who's actually seen the bloke to confirm it's him before I handle any paperwork."
"Hope Sage isn't needed in court today."
"She'd technically need the god pack alphas' approval to help."
"Lucky for us, you fit that bill."
Jono sighed heavily, but didn't protest Patrick's pointed comment. "I'll get dressed. Put the whiskey away and get a nicotine patch. You're stroppy."
"The fuck I'm stroppy," Patrick muttered, taking a sip of his Irish coffee.
He still got the nicotine patch.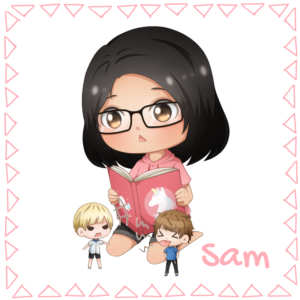 Fan de MM et plus particulièrement des single dads (ça marche aussi avec les oncles, les grands frères etc…) , des MMM et d'Urban Fantasy.