Book Title: Murder
in New York, The Pinkerton Man Series
Author: C.J.
Baty
Cover Artist: SelectO-Grafix,
LLC
Genre/s: M/M
Mystery
Release Date: May 27, 2018
Blurb
Coming back to New York to see her ailing father, Lizzie
Ferguson did not expect to find him healthy and newly married to a much younger woman.
She, also, didn't expect to connect with an old lover and childhood friend or be accused of
killing her father. But, life has a way of knocking you to your knees when you least expect
it.
Stiles Long had always regretted that the killer, from his
first case as a Pinkerton Agent, had got away. Now, in New York it was happening again. The
Hotel Astor Bar was a meeting place for men who enjoyed the company of men. And, some
of them were being brutally murdered. When one of the suspects from the original case
appears at the hotel, Stiles is torn between his desire to stop a killer and kiss the man
senseless.
Two different cases, but some of the faces overlap from
one to the other. Stiles and Lizzie are in a race to discover who the killers are before another
body gets added to the count.
Trailer video

Excerpt
Michael O'Leary's presence at the bar brought Stiles back
to the present. He was dressed in a charcoal suit. His slim body moved with strong
determination. As he approached the left end of the bar, he glanced across the room until
his eyes saw Stiles. The sweet smile that spread across Michael's face did funny things to
Stiles insides. He quivered for a moment then smiled back, the reaction impossible to stop.

There were several younger men at the bar. One with dark
curls framing an oval face. He wore a velvet evening coat the color of the night sky. Stiles
had noticed him earlier but Gershon had distracted him with his departure.
"Michael," the young man called out. "Where have you
been? I haven't seen you in ages. Why did you run out of here the other night?" He
entwined his arm through Michael's and led him to an empty space at the bar. He ordered
them drinks and leaned in close to Michael to speak to him.
Stiles watched as the night wore on. Several men came and
met with another man and left together. One young man stood out to Stiles. He appeared to
be very nervous. His movements were stiff and not at all comfortable. Whenever someone
would speak to him, he would jump and look around watching for something or possibly
someone. A man several years older than Stiles approached the jumpy man and spoke to
him. He noticeably relaxed as he accepted the drink he was offered, and a smile finally
appeared on his face. He was very handsome and very young. Stiles estimated he was in his
early twenties if that old. His face was angular and trim, not a hint of an evening beard
appeared on his chin even at this late time of the day. The two were standing next to
Michael and the man with the dark curls who wouldn't let Michael out of his sight.
"Davis, I'm sorry but I am meeting someone tonight," Stiles
heard Michael say.
"What? I'm hurt Michael," Davis answered. "How can you
throw me aside like that?" He wiped at his eyes, though Stiles could see no tears.
"You'll be just fine," Michael said as he turned away from
Davis. "Look, isn't that Mr. Rupert over there."
Davis looked across the room in the direction of a grayhaired
man in a black suit with an emerald green tie. The pout disappeared from his face
and he left Michael to join the man.
Michael approached Stiles table and bowed
slightly.
"Is this seat taken?"
"No. Please sit." Stiles motioned to the empty chair beside
him.
A steward appeared asking for their drink orders and left as
quickly as he had appeared.
"Davis seems quite a catch," Stiles teased.
Michael looked down at his folded hands. There was a
flush to his cheeks when he faced Stiles.
"We've met a few times. He's not really interested in
anything but having fun."
The statement was leading but the steward arrived with
their drinks and Stiles waited until he departed again to continue.
"What are you interested in?"
Michael circled his glass on the table with his index finger,
making the ice clink. He lifted the glass and drank. Stiles watched as his Adam's apple
bobbed when he swallowed. His cock stiffened while he watched. Suddenly the room felt
very warm.
"I know men like us aren't supposed to want more than a
dalliance to keep our urges at bay," Michael sighed. "But what is wrong with wanting
more."
"More?"
"Why is it that only men who marry women have the right
to a life time of companionship? Someone to celebrate with when things are good or
someone to cling to when the day has been awful, is it really too much to want
that?"
Stiles wasn't sure what Michael was getting at and he
really didn't understand the idea. Was he talking about men being together as in marriage?
That was impossible. Society would never accept an arrangement such as that. There were
laws, even in America that would forbid it.
"I know what you are thinking, it's against the law. But
why? Why is it so wrong to want a permanent relationship? I know what I want—what I
need— is against nature and God, but why is it wrong to want to be loved? Just because it's
a man's body that I crave, a man's touch to start my blood boiling, a man's look of desire…"
He quieted as he looked at Stiles.
Stiles could see it in Michael's eyes. Desire burned there.
Need so strong, his pupils had darkened to a forest green. He'd never seen another man
look at him that way. It was more than lust and Stiles had no name for it.
He'd been half hard since the man had walked into the
room, now his painfully erect cock was straining to break free from his trousers. Stiles didn't
know what Michael was talking about, but he did know that his own lust was going to
overpower him soon.
This evening had not gone as planned. Now, all he could
think of was getting Michael into bed and taking what he needed and what the other man
clearly wanted.
"My room?" Michael choked out quietly.
They rose without taking their eyes off each other. Neither
said a word as they walked from the lounge through the lobby to the elevator. Only their
shoulders touched as they walked. Michael told the operator his floor and they rose slowly.

On the third floor, they walked side by side to a room half
way down the right side of the hall. Michael withdrew a key from his trouser pocket and
Stiles saw the bulge protruding at the front placket when Michael pushed his jacket aside.
Lust raced through Stiles, hot and needy.
Buy Links
Amazon US https://www.amazon.com/dp/B07D9TZPKD
Amazon UK https://www.amazon.co.uk/Murder-New-York-Pinkerton-Man-ebook/dp/B07D9TZPKD
Giveaway
Enter the Rafflecopter Giveaway for a chance to win a $10
Amazon Gift Card and a choice of ebook from C.J. Baty's backlist.
a
Rafflecopter giveaway
https://widgetprime.rafflecopter.com/launch.js
About the Author
CJ Baty lives in southwest Ohio with her very patient
husband and two encouraging children. Her heart however, lives in the mountains of
Tennessee where she hopes to retire some day. The mountains have always provided her
with inspiration and a soothing balm to the stresses of everyday life.
The dream of writing her own stories started in high school
but was left on the back burner of life until her son introduced her to Fan Fiction and
encouraged her to give it a try. She found that her passion for telling a story was still there
and writing them down to share with others was much more thrilling than she had ever
expected.
One thing she has learned from life and she is often heard
to say is, "You are never too old to follow your dream!"
Social Media Links
RELEASE BLITZ
SCHEDULE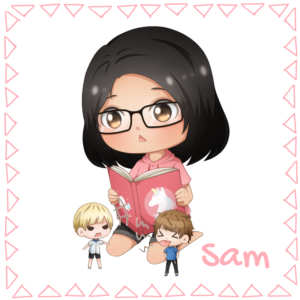 Fan de MM et plus particulièrement des single dads (ça marche aussi avec les oncles, les grands frères etc…) , des MMM et d'Urban Fantasy.