Release Blitz, Excerpt & Giveaway:
Two-Man Team
By Amy Aislin
Stick Side, Book 5
One wrongful arrest ruined Kris Xappa's image—and made his NHL team look bad. Now, with orders to keep his head down, the last thing he needs is to develop feelings for his younger teammate—and best friend's brother. The fact that he can't stop thinking about their one illicit kiss doesn't mean anything.
Rory Stanton is perfectly capable of taking care of himself and doesn't need his brother's best friend keeping an eye on him. Sure, he likes having Kris's attention, but he'd rather have it for entirely different reasons. Too bad that one kiss they shared wasn't enough to convince Kris to take a chance on him.
When an injury lands Rory in Kris's care, will these teammates be able to see past the obstacles to become a two-man team?
---
Excerpt:

At some point while Kris had been occupied—or possibly when he'd been sitting here feeling sorry for himself—Rory had brought a bowl of grapes and blueberries to the table, as well as two sets of cutlery, two tall glasses of water, three different types of jam from the fridge, and two empty mugs. The smell of percolating coffee hit and Kris almost wept.

Rory was surely here because Emery had asked him to come, but Kris didn't give two shits about his motivations. As long as Rory fed him, the man could come by anytime he wanted.

"You look like you need this." Rory set Kris's plate at his elbow. "And about twelve hours of sleep."

"You're not wrong. Thanks for this." Closing the laptop, Kris shoved it aside and brought his food closer.

"Maybe stay away from fast food breakfast sandwiches in the future." Rory wrinkled his nose. "That thing looked like poison."

Kris chuckled and shoved half a toast in his mouth, not bothering with jam.

Rory Stanton was one of those cute as button types. High forehead, small nose, big brown eyes. In Rory's downtime, those big eyes were usually covered with glasses. Today, he wore his contacts, which meant he'd been outdoors. He'd complained, more than once, about the annoyance of changing from prescription glasses to prescription sunglasses and back whenever he went from indoors to outdoors to indoors again. He always seemed to smell like sunshine and grass, and his dark brown hair was constantly in a state of dishevelment.

"You got a bit of a burn on your nose," Kris said, pointing his fork at him.

"Damn." Rory's eyes crossed. "I do? Didn't think I'd need sunscreen for an hour of street hockey this late in September. Ah well." Unconcerned, he dug into his meal.

Kris stood, retrieved the ketchup from the fridge, and proceeded to smother his eggs in it.

Rory stared at him. "God, you're disgusting."

"Ketchup brings me joy."

For some reason, Rory thought that was hysterical and he dissolved into snorted, hiccupy giggles. The same kind that had left Rory a snorting, laughing mess at last year's Christmas party.

The same night he'd kissed Kris.

If Kris had thought about that sloppy, back-of-an-Uber kiss more than once in the intervening months, well . . . it wasn't Kris's fault. Despite tasting like a barroom floor, that kiss had awoken something in him. Not feelings. More of an awareness of Rory as something other than Kris's best friend's little brother. An awareness of Rory as a fully grown man.
---
Enter the Giveaway:
To celebrate the release of Two-Man Team, Amy is giving away 2 signed copies of the release!
Enter the Rafflecopter giveaway for your chance to win!
Direct Link: http://www.rafflecopter.com/rafl/display/c8c1c64120/?
---
About the Author:
Amy's lived with her head in the clouds since she first picked up a book as a child, and being fluent in two languages means she's read a lot of books! She first picked up a pen on a rainy day in fourth grade when her class had to stay inside for recess. Tales of treasure hunts with her classmates eventually morphed into love stories between men, and she's been writing ever since. She writes evenings and weekends—or whenever she isn't at her full-time day job saving the planet at Canada's largest environmental non-profit.
An unapologetic introvert, Amy reads too much and socializes too little, with no regrets. She loves connecting with readers. Join her Facebook Group, Amy Aislin's Readers, to stay up-to-date on upcoming releases and for access to early teasers, find her on Instagram and Twitter, or sign up for her newsletter.
Connect with Amy:
Website: amyaislin.com
Newsletter: https://bit.ly/AmyAislinNewsletter
Instagram: https://www.instagram.com/amyaislin/
Facebook: https://www.facebook.com/amy.aislin
Facebook Group: https://www.facebook.com/groups/amyaislin/
Twitter: https://twitter.com/amy_aislin
Bookbub: https://www.bookbub.com/profile/amy-aislin
Goodreads: https://www.goodreads.com/author/show/16693566.Amy_Aislin
---
---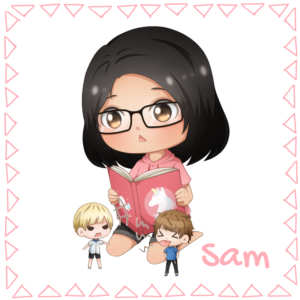 Fan de MM et plus particulièrement des single dads (ça marche aussi avec les oncles, les grands frères etc…) , des MMM et d'Urban Fantasy.