Release Blitz, Excerpt & Giveaway:
A Husband for Hartwell
By JA Rock and Lisa Henry
The Lords of Bucknall, Book 1
He must marry, or risk his fortune.
The whole of London Society has long assumed Lord William Hartwell will marry his childhood best friend, Lady Rebecca Warrington. After two Seasons, Hartwell remains quite content with bachelorhood–his parents do not. When Hartwell learns they intend to cut his purse strings unless he makes a match this Season, he resigns himself to a marriage of convenience with Becca, and yet he can't help but be drawn to her younger brother, Warry.
He must marry, or risk his sister's ruin.
The Viscount « Warry » Warrington is used to being viewed as the tagalong little brother. Now a grown man about to enter his second Season, Warry is desperate to be seen. When Lord Balfour, a handsome older peer, takes Warry under his wing, Warry thinks his dream is finally coming true. Until Balfour reveals his true intent–to make public a letter that will destroy Becca's reputation, unless Warry agrees to marry him.
Time is running out for both of them.
When an injury forces Warry to recover at Hartwell House, the two succumb to a secret flirtation. But Warry's sudden announcement of his engagement to Balfour drives Hartwell near mad with jealousy–and right into Becca's arms. With the clock ticking for Warry to save his sister, will Hartwell discover the truth of Warry's feelings before it's too late?
A Husband for Hartwell is the first book in the Lords of Bucknall Club series, where the Regency meets m/m romance.

---
Special Release Blitz Excerpt:

Hartwell crossed an ankle over his knee. "I have a proposal. An arrangement that may benefit us both."

Warry leaned back against the pillows but still held himself stiff.

"You may stay here until your bruises fade, and in return, you must help me learn to court your sister."

Warry frowned. "You wish to court my sister?"

"Yes," Hartwell said. "There is no need to sound quite so astonished about it. If she and I are to be married, then I must know her as more than simply a friend."

"You're not going to marry her." It was said with a certainty that dug at Hartwell.

"Of course I am. It was all but decided before we were out of leading strings."

Warry wrinkled his nose. "She doesn't want to marry you."

"She said she did yesterday."

"She doesn't want to marry anyone."

"Well, she must. As must I. And so, we will marry each other. That is decided, Warry. That is not what this conversation is about."

"It is now."

This was the Warry Hartwell remembered—an obnoxious little pup, answering back over everything. Hartwell would have carried him outside and dunked him in a pond if he hadn't looked so bruised and pathetic.

"I know nothing of her romantic tastes. We've always avoided talking of such since neither of us…" He shook his head. "Well, we have both, of late, been reminded of our duty, and we have come to an arrangement, but there is no need for that duty to be unpleasant, is there?"

The furrows in Warry's brow seemed in danger of becoming permanent. "You believe I spend my days thinking on how to court my sister?"

Hartwell sighed impatiently. "No, but I know your sister has had admirers, and I'm certain you've seen her reaction to certain types of flowers or…or chocolates or sweet sayings in cards. I want you to teach me what she likes so we might present as a convincing match to Society. And more importantly, to my parents."

He marvelled at just how simple a solution it was. It was as Becca had said: they would feign courtship in front of their parents. They would marry as friends and live their own lives. She would never hold him back from anything he wanted nor he her. He only wished he hadn't been too pig-headed to see it that way in the first place.

"If you're just putting on appearances," Warry said, "surely she can pretend to like any flower."

Hartwell struggled to keep the frustration from his voice. "Well, it's not just pretend now, is it? I love your sister dearly. I wish her to feel I can be a husband to her as well as a friend."

Warry's scowl twitched into a near smile before re-etching itself firmly onto his face. "She's going to laugh at you."

Hartwell couldn't hold back a snort of amusement. "Brat." He stood, stretching, and then winced at the pop of his joints. He noted with some surprise that Warry's gaze dropped to where the tie of Hartwell's dressing gown had loosened. "Of course she will. But when she sees the lengths I have gone to in order to make myself a satisfactory suitor, she will be properly awed."

Now Warry outright snickered, and Hartwell suddenly felt he could sit there all day, trying to make little Joseph Warrington laugh. He reached out to tousle the sandy hair as he had done many times before and halted as Warry flinched away. Hartwell studied the bruises again. Perhaps that was all—Warry flinched because he ached and did not want Hartwell making him ache further.

But a niggling voice in his mind said that perhaps he and Warry had never really been chums. That his only friend was Rebecca, that she was his sole safeguard against a lifetime of loneliness, and that he must now learn to love her as a wife, even though, in all his unformed daydreams, if he had ever imagined himself with someone by his side at all, it had been a man and not a woman.

"Do not laugh at me, Warry," he said with feigned severity, which only made Warry laugh harder. Hartwell felt a rush of warmth rise up in him, both tender and acute, and for a moment he wished…

But no.

Where on earth had that thought come from?

Even if he had ever thought of Warry as anything but Becca's younger brother, which he most certainly had not, he was an only son. And Warry was an oldest son, and wishes were for children, not for men who had a duty to their families.
---
Enter the Giveaway:
To celebrate the release of A Husband for Hartwell, JA & Lisa are giving away a $20 Amazon Gift Card!
Enter the Rafflecopter giveaway for your chance to win!
Direct Link: http://www.rafflecopter.com/rafl/display/cc0f2a57204/?
---
About the Authors:
About JA Rock:
Sarah lives in Western Australia with her partner, two cats, two dogs and a TARDIS.
A teacher once told her life's not a joke.
She begs to differ.
Her proudest achievements include having kids who will still be seen with her in public, and knowing all the words to Bohemian Rhapsody.
You can connect with Sarah on Facebook, or send her an email at sarahhoneywriting@gmail.com.
---
About Lisa:
Lisa likes to tell stories, mostly with hot guys and happily ever afters.
Lisa lives in tropical North Queensland, Australia. She doesn't know why, because she hates the heat, but she suspects she's too lazy to move. She spends half her time slaving away as a government minion, and the other half plotting her escape.
She attended university at sixteen, not because she was a child prodigy or anything, but because of a mix-up between international school systems early in life. She studied History and English, neither of them very thoroughly.
She shares her house with too many cats, a dog, a green tree frog that swims in the toilet, and as many possums as can break in every night. This is not how she imagined life as a grown-up.
Lisa has been published since 2012, and was a LAMBDA finalist for her quirky, awkward coming-of-age romance Adulting 101, and a Rainbow Awards finalist for 2019's Anhaga.
To connect with Lisa on social media, you can find her here:
She also has a Facebook group where you'll be kept in the loop with updates on releases, have a chance to win prizes, and probably see lots of lots of pictures of her dog and cats. You can find it here: Lisa Henry's Hangout.
---
---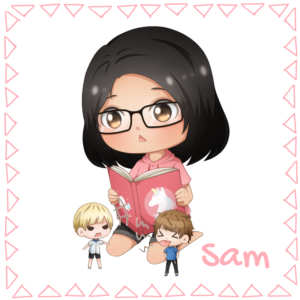 Fan de MM et plus particulièrement des single dads (ça marche aussi avec les oncles, les grands frères etc…) , des MMM et d'Urban Fantasy.