Release Blitz for:
Title: Home for a Cowboy
Author: Amy Aislin
Series: Windsor, Wyoming #1
Publisher: self-published
Release Date: June 9, 2020
Length: 62,000 words / 242 pages
Subgenre: m/m new adult romance
Tropes: friends to lovers, opposites attract, cowboy, small town
Cover by: Designs by Morningstar
All buy links:
Amazon: readerlinks.com/l/1114062
Apple: readerlinks.com/l/1114063
B&N: readerlinks.com/l/1114064
Kobo: readerlinks.com/l/1114065
Add it to your Goodreads shelf: https://www.goodreads.com/book/show/52917510-home-for-a-cowboy
Home for a Cowboy is a brand new novel from the author of the bestselling Stick Side series, Amy Aislin. This friends to lovers, new adult romance features:
An opposites attract romance
A small town in Wyoming
Stargazing
Sexy times in the hay
So much pining
A cowboy + a former college hockey player
Book blurb:
Las doesn't date seasonal workers. Marco's on a three-month contract.
Lassiter Windsor-March has been planning for his future for as long as he can remember and he knows exactly where that future lies: at his family's ranch in Wyoming. What doesn't lie in his future is a summer fling with one of the seasonal workers—they never stick around.
Even if one of those workers is the college crush he's invited to work a summer job at the ranch.
Marco Terlizzese is as laissez-faire as Las isn't. He might not know where he'll be once his contract with Windsor Ranch is up, but he knows three months is plenty of time to get his long-time crush to agree to go out with him.
Amid a starry summer sky, their chemistry ignites as feelings deepen, forcing Las and Marco to decide where they truly belong.
A note from Amy Aislin:
Home for a Cowboy is about giving love a chance and discovering where you belong.
Teaser:
If he was honest with himself, Las was seventy-five percent of the reason Marco was here. An invitation to work at the Windsor Ranch wasn't what he'd expected when he'd asked Las out on a date a couple of months ago on a cold April night. He wasn't sure what he'd expected exactly, so Las's rejection hadn't come as a surprise so much as taken the wind out of Marco's sails. But a firm no thank-you followed by a job offer? It was out of left field but so what? After all of thirty seconds of weighing the pros and cons—the cons consisting mostly of having no idea what he'd do on a ranch, the pros consisting entirely of Las . . . okay, almost entirely. The rest was made up of nonexistent plans for after graduation—he'd agreed.
Maybe it'd turn out to be the stupidest decision he'd ever made given he'd never been on a ranch. Or near horses. Or cows. Or any large mammal, really.
But spending the summer with Las? Getting to know him better than their quick encounters at the small, outdoor coffee shop—the Coffee Cart—that Marco had worked at on campus had permitted? Maybe becoming something more than friends?
Sign him up.
About Amy Aislin:
Amy's lived with her head in the clouds since she first picked up a book as a child, and being fluent in two languages means she's read a lot of books! She first picked up a pen on a rainy day in fourth grade when her class had to stay inside for recess. Tales of treasure hunts with her classmates eventually morphed into love stories between men, and she's been writing ever since. She writes evenings and weekends—or whenever she isn't at her full-time day job saving the planet at Canada's largest environmental non-profit.
An unapologetic introvert, Amy reads too much and socializes too little, with no regrets. She loves connecting with readers. Join her Facebook Group, Amy Aislin's Readers, to stay up-to-date on upcoming releases and for access to early teasers, find her on Instagram and Twitter, or sign up for her newsletter.
Website: http://amyaislin.com
Instagram: https://www.instagram.com/amyaislin/
Facebook: https://www.facebook.com/amy.aislin
Facebook Group: https://www.facebook.com/groups/amyaislin/
Twitter: https://twitter.com/amy_aislin
Bookbub: https://www.bookbub.com/profile/amy-aislin
Goodreads: https://www.goodreads.com/author/show/16693566.Amy_Aislin
Giveaway: Amy Aislin is celebrating the release of Home for a Cowboy with a fantastic giveaway! Win 1 of 2 paperback copies of Home for a Cowboy + a fabulous character art print and swag. Must be 18 to enter and win. Open internationally.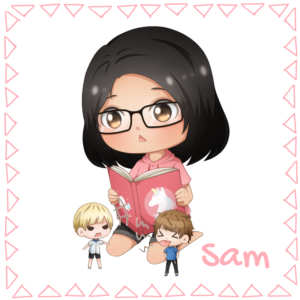 Fan de MM et plus particulièrement des single dads (ça marche aussi avec les oncles, les grands frères etc…) , des MMM et d'Urban Fantasy.