Book Title: Natural Disaster
Author: Erin McLellan
Publisher: Erin McLellan
Cover Artist: Brooke Albrecht
Release Date: October 11, 2019
Genre/s: Contemporary m/m romance, workplace romance, action/adventure romance
Trope/s: workplace romance, forced proximity, enemies-to-lovers
Themes: storm chasing, weather, trust, finding a home, partnership/friendship
Heat Rating: 4 flames
Length: 50 000 words/190 pages
It is a standalone story.
Buy Links
Universal Book Link | Amazon | B&N | Google Play
iBooks | Kobo | Smashwords
Blurb
When two tornado chasers form a reluctant team, the pressure between them builds…
Human-interest reporter—and son of a famous storm chaser—Guthrie Gale wants nothing to do with severe weather. But his station's director insists he join the storm chasing team, or else, and worse yet, she pairs him with hotshot rookie chaser Luke Masters.
All Luke wants is to be a part of the KTTY family, and he won't let prickly Guthrie Gale spoil his chance. Little does he realize Guthrie's anxiety around storms is more than justified.
As Oklahoma's unpredictable tornado season picks up, Guthrie and Luke strike up a turbulent working relationship that shifts between lust and bickering. But when they are forced to outrun a dangerous twister, their trust is tested and the desire between them flashes quick as lightning, threatening to burn more than just their careers.
Excerpt
Guthrie Gale hated spring in Oklahoma almost as much as he hated meetings right after lunch.
Rain spattered against the windows of the KTTY news station, the sky a deep and ominous blue. Clouds darkened the city skyline, casting a murkiness over the land.
Guthrie had read the forecast and weather maps this morning. They weren't expecting anything but rain, but he was still on edge.
He jumped as Debbie Debarr cleared her throat to bring the news team's attention back where it belonged—on her, the boss.
"We're expecting an active tornado season, as always, and we're short-staffed. That means some changes are coming down the pipeline. With Mack
out on maternity leave, we'd like someone to do double duty." She paused dramatically before dropping her bombshell. "Guthrie, guess what, bub? You're up."
Guthrie fought a frown. He glanced around the room at the anchors, reporters, writers, weather team, and storm chasers. No one was surprised he'd been picked. Most of them knew his history. His dad's history.
But he wasn't part of the weather team. He was a field reporter, for heaven's sake. Not a storm chaser.
"Me?"
"Yeah, you. You've got the experience we need out there. Plus your down-home country charm is evidently soothing to viewers." Debbie said that in a way that made it obvious she did not find his slight twang soothing at all. "At least that's what the focus groups say."
Being stuck in a truck in the middle of a tornado was the last thing Guthrie wanted. Maybe that charm would come in handy now.
Throwing on his best fake smile, he said, "But I'm a pretty face for the camera. I'm not a storm chaser."
He'd happily let Debbie believe his reticence stemmed from his own vanity at not being on-screen as opposed to the reality—tornadoes scared him shitless.
She rolled her eyes. "Your ego will live."
Not if a tornado got him, it wouldn't.
He'd figure out another way to fight this when he didn't have an audience.
"Whose truck will I be in? Johanna's?" Mack had been paired up with Johanna last year, spotting and filming while Johanna did the driving and reporting.
"No, I don't think that's a good idea," Debbie said, tapping a bright red fingernail on the table.
Guthrie heaved a discreet sigh of relief. Johanna was KTTY's veteran storm chaser and the most likely to be in the middle of the action, exactly where he never wanted to be again.
Debbie snapped her fingers. "I know. We'll put you with the rook. You can give him a big ol' Okie welcome, show him the ropes, help him settle in."
Crap on a cracker.
The rook was Luke Masters—KTTY's newest storm chaser. Guthrie had seen Luke around the station a few times since he'd been hired a month ago after an old-timer retired. Luke was from California of all places. Who'd ever heard of a Californian storm chaser? Guthrie disliked Luke on principle. He was a thrill-seeking newbie, for one. Worse, he was hot.
Luke had the type of face the KTTY brass would have loved to force in front of a camera, but the guy evidently wanted to chase giants, not smile and read from a teleprompter. Plus they'd probably make him cut off his man bun, which would be a right shame.
Guthrie had to force himself not to glance at the beautiful man in question. "Shouldn't Luke shadow one of the veteran teams for a while?" Guthrie asked. "He's pretty green."
Luke sat up abruptly from a sprawl and drew Guthrie's eyes like greedy little magnets. The muscles of Luke's arms bunched as he shifted, and his smile was ornery as a rattlesnake's.
"I spent three years with a team monitoring and chasing coastal tornadoes and hurricanes. And I even have my learner's permit." He winked at Guthrie, which incited a rumble of chuckles around the room.
That wink kicked Guthrie's heart rate up a notch. Made him angry and turned on in equal measures.
"Those coastal twisters ain't got nothin' on the ones here. It's different."
Debbie grinned and her gravity-defying blond hair ruffled in the draft from the air conditioner. "And that, Guthrie dear, is why I'm pairing you together. It is different here. Who better to teach Luke that difference than someone who knows firsthand what an Oklahoma tornado can do? You have more experience than anyone in the room. Now, let's talk editorial strategy…."
Guthrie tuned Debbie out as he got his thoughts in order. Luke was staring at him, an eyebrow raised, so Guthrie stared back. Such pretty brown eyes on such an infuriatingly arrogant man. Normally, Guthrie liked men with a bit of arrogance.
Not today.
The only thing worse than being in the field during a tornadic weather system would be babysitting an irresponsible, hotshot Californian while in the field during a tornadic weather system.
About the Author
Erin McLellan is the author of several contemporary romances, all of which have characters who are complex, goodhearted, and a little quirky. She likes her stories to have a sexy spark and a happily ever after. Originally from Oklahoma, she currently lives in Alaska and spends her time dreaming up love stories set in the Great Plains. She is a lover of chocolate, college sports, antiquing, Dr Pepper, and binge-worthy TV shows. Erin is a member of Romance Writers of America and its Alaska chapter.
Social Media Links
Blog/Website | Facebook Group | Facebook
Giveaway
Enter the Rafflecopter Giveaway for a chance to win your choice of ebook from Erin McLellan's backlist, plus a small paper swag pack (bookmarks, postcard, bookplate, etc.)
Follow the tour and check out the other blog posts and reviews here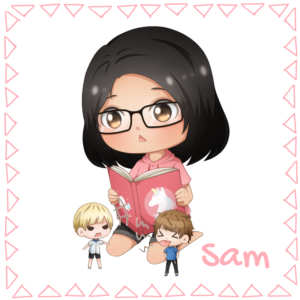 Fan de MM et plus particulièrement des single dads (ça marche aussi avec les oncles, les grands frères etc…) , des MMM et d'Urban Fantasy.