Book Title: Unpredictable Fate (D'Vaire, Book 17)
Author: Jessamyn Kingley
Cover Artist: LJ Anderson, Mayhem Cover Creations
Release Date: May 14, 2020
Genre/s: M/M Urban Fantasy Romance
Trope/s: Fated mates
Themes: Second chances, fate, love
Heat Rating: 3 flames
Buy Links – Available on Kindle Unlimited
Everyone deserves a second chance in life and love.
Blurb
Chieftain Kalthekor Valzadari is an elf with many regrets. Once a man concerned only with what would bring glory to his tribe at the expense of people he should've protected, everything changes when his son is born. Trapped in a loveless matebond, Kalthekor wants to leave his old life behind, but he is bound for eternity. Still, he can't help but wish for freedom and a relationship as rich in joy as those around him.
Although Aristos Centaurus is brother to the leader of the Centaurs, he is unable to forgive or forget that he once spent centuries committing inexcusable acts of war. With so much blood on his hands, he cannot ignore that he should have been sentenced to death. Aris might help the centaurs now, but he keeps his distance, knowing better than to befriend any of his brethren. He doesn't deserve happiness or love, but he yearns for it nonetheless.
A misunderstanding sends Aris from the isolation of his brother's house to Council Headquarters, where he finds himself staring into Kalthekor's
blue eyes. After an instant connection, both are ready to have a partner, and believe they can find what they need in each other. As the pair build a life and a home together, Kalthekor and Aristos realize that although they have created a wonderful foundation based on friendship and love, if they are to move forward as a family, they must find a way to face and reconcile their pasts. Only fate knows if it will tear them apart or if a blissful future awaits them.
Excerpt
With nimble fingers, Aristos logged into CouncilParlay and searched the list of assigned bills for the number that matched what he deemed as a stupid one. He was perplexed when he couldn't find it, so he looked at the drop-down box and found that it was only showing the uncompleted ones. Perhaps I set it to "In progress," Aristos thought, though he had no memory of doing so. He decided to make it show everything, so he could find it in the correct numerical order.
"There it is," he muttered aloud. But his glory was short-lived as next to it were the words "Notes available." Aristos's brows drew together as he wondered how that was fucking possible when he hadn't uploaded them, so he clicked on it. At the top of it, where it should have listed his name and his shifter community, he found that he'd been usurped by an elf. Since he had the entire advisory panel's contact information, Aristos quickly opened the file and found the number he was searching for.
"Chieftain Valzadari's office, this is Walker speaking, how can I help you?"
"What do you mean, 'Walker'? That's not an elven name," Aristos said without thought. Perhaps so much time without communicating beyond the men in a house who merely tolerate me isn't doing wonders for my manners.
"You are correct, sir. I am not an elf. May I ask who this is, and how I can assist you today?"
"I'm sorry. I don't get out much. I need to speak with Chieftain Valzadari. My name is Aristos Centaurus; I work for the archon. This is regarding the advisory panel. If he can't take my call, I can leave a message."
"Mr. Centaurus, if you don't mind holding, I'll see if the chieftain is available."
Aristos assured him that he could certainly stand by, and he drummed his fingers on his desk as he pondered his wasted afternoon. He barely had
time to ruminate when a cultured voice answered, and the easily detectable lilt of a man who'd likely spoken Elvish for centuries or more before learning English came through.
"This is Chieftain Valzadari, thank you for calling, Mr. Centaurus. How can I help you today?"
"Yeah, hi, Chieftain, I'm hoping you can help me by explaining why I'm on CouncilParlay and trying to upload this bill only to find that you've done my job for me."
"I don't understand, I only took care of the bills assigned to me by Their Majesties last Friday."
"Well, obviously you didn't, Chieftain, or I wouldn't be on the phone with you right now. I don't appreciate busting my ass all afternoon to read something and take the kind of intelligent, insightful notes our Council leaders require, only to find that I've been usurped. You need to stick with what numbers you get, and if you want to switch or something, you need to use this fancy software and communicate that. My time is valuable, and I don't appreciate wasting it."
"I understand the value of time, Mr. Centaurus. My own is limited, and I certainly did not take it upon myself to add to my workload by doing something assigned to the archon. I can offer you no explanation as to why you believe you were delegated something that clearly I was given on Friday, but I would suggest that you double-check with the archon or perhaps consult your own notes for a numerical or clerical error," Chieftain Valzadari responded, and though his tone wasn't angry like Aristos's, it was clear to him that the elf was not pleased.
"I certainly didn't make a mistake, Chieftain. We could go back and forth over this, but we both have shit to do. Just make sure you don't do my work next time," Aristos retorted.
"Mr. Centaurus, I have already explained that I did not. Since you refuse to consider that the error might not be my own, I see no point in continuing this conversation."
"Me either, Chieftain. I know how to do my damn job," Aristos snapped and didn't bother saying any kind of good-bye before he ended the conversation. "Damn elves are always fucking things up for me."
About the Author
Jessamyn Kingley lives in Nevada where she begs the men in her head to tell her their amazing stories which she dutifully writes it all down in what has become a small mountain of notebooks. She falls in love with each couple and swears whatever book she wrote last is her absolute favorite.
Jessamyn is married and working toward remembering to start the dishwasher without being distracted by the scent of the magical detergent. For personal enjoyment, she aids in cat rescue while slashing and gashing her way through mobs in various MMORPGs. Caffeine is her very best friend and is only cast aside briefly for the sin better known as BBQ potato chips.
Join her Facebook group, Jessamyn's Ruffian's
Social Media Links
Blog/Website | Facebook | Twitter | Pinterest | Facebook Group
Follow the tour and check out the other blog posts here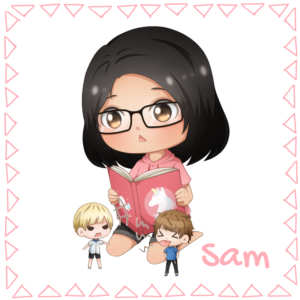 Fan de MM et plus particulièrement des single dads (ça marche aussi avec les oncles, les grands frères etc…) , des MMM et d'Urban Fantasy.