NOW LIVE!
Memphis
At thirty-four years old, ex-DEA agent Memphis Wheland has lived, loved and lost…everything. The ultimate betrayal by the man he gave everything to has left Memphis with no family, no career and a bone deep bitterness that refuses to release him from its icy grip. His work with an underground vigilante organization is the only light in his otherwise bleak existence. That and the occasional no-strings hookup with men whose only focus in that moment, and for as long as Memphis wants them, is him and only him. No clingy exes, no unrequited love, no relationship drama. Period.
Because Memphis has one rule that he won't break for anyone or anything. He doesn't share.
Ever.
Now if only someone had told that to the young man who would come into his life in the most unexpected way…
Brennan
With his entire life ahead of him, graduate student Brennan Devereaux wasn't expecting it to change in the blink of an eye. But when a case of mistaken identity nearly costs Brennan his life, it isn't just his future that's about to change, but his past too. Because for years he's been in love with a young man who only sees him as a friend and nothing more. And while he was content to love Tristan Barretti from afar, he hadn't expected to be drawn to the mysterious stranger who saved his life and changed it with a simple promise.
I'm not letting you go.
They were words spoken in the heat of the moment as the darkness of death had threatened to claim him, but even as Brennan's love for Tristan refuses to wane, his need for the intriguing Memphis Wheland continues to grow.
But any relationship with Memphis means he has to let go of the one thing in his life he's always valued above everything else…
Tristan
At nineteen, Tristan Barretti should have had the world at his feet. His musical gifts have garnered him prestige as well as admission to the famed Julliard School in New York and he has a family that most people would kill for. But the protective bubble his fathers have kept him in has burst and he's discovered that life outside his unconditionally loving family isn't as accepting of a kid born with HIV. A poor decision to find answers to questions better left unasked, along with the complications of living with his disease, have Tristan returning to Seattle and the solace of his family.
And to the young man he's wanted from the time he was barely old enough to even understand what that meant.
But with an uncertain future that leaves him nothing to offer the gorgeous and successful Brennan Devereaux, Tristan knows the best he can hope for is to keep building on the friendship they've shared for years and not get his hopes up that Brennan will be the one man who sees him and not his disease.
Except all bets are off when danger follows him home…
Choices
Even though a physical relationship with Brennan was supposed to be just that, Memphis finds himself unable to refuse his young lover's request to help put a stop to the threat against Tristan. Even knowing full well that Brennan's heart lies with the man he claims is nothing more than a friend, Memphis accepts the challenge of ensuring Tristan's safety.
But when the quiet music student stops being a "job" and starts being something much more, Memphis is torn between his growing feelings for both young men and the fear that he'll be facing an even greater betrayal that he'll never be able to come back from.
Except none of that matters when the threat that Memphis never saw coming puts Brennan and Tristan in the crosshairs.
And the cost of the vengeance he once craved suddenly comes at too high a price…
Excerpt from Vengeance by Sloane Kennedy
I watched as Brennan approached the piano bench and reached out to run his fingers over Tristan's hair. Tristan squeezed his eyes closed as more tears fell and I heard him suck in a harsh sob. Brennan lowered himself until he was straddling the bench next to Tristan and he put his arms around Tristan's shoulders. I barely heard his whispered apology above the music, but a moment later, Tristan stopped playing and brought his hand up to close around the arm that was resting against his collar bone. I watched the two young men press their heads together and I felt an invisible pull drawing me forward until I was straddling the bench on Tristan's opposite side.
Even though Tristan clung to Brennan's arm, his eyes opened and settled on me and I felt completely lost.
I wanted so much in that moment…too much.
I wanted to take Tristan's pain away. I wanted to beg Brennan not to choose Tristan over me. I wanted him not to choose me over Tristan.
Tristan was sucking in deep breaths as he tried to get control of himself and I could hear Brennan murmuring in his ear that everything was going to be okay. Part of me felt like an interloper as I watched them hold on to each other and part of me never wanted to stop. They were so beautiful together that it made me ache deep inside.
But I saw the moment the comforting shifted to something more intense and I felt a shiver of excitement run through me. The only place I was actually touching Tristan was where my knee was pressing against his leg, but I still felt everything that was happening between the two young men. And I wanted it…
I wanted it just as badly as I wanted to be touching them myself. So when Brennan's eyes shifted to me and I saw the unspoken question there, I didn't hesitate to give him my permission. His eyes clouded over with lust and I felt my cock harden in response.
I didn't even realize I'd shifted closer to Tristan on the small bench until I felt his outer thigh brushing my leg. I watched as Brennan pulled back from Tristan enough so that their eyes met and I sensed the instant Tristan realized things had changed from comforting to more. Tristan's right hand was resting on his leg, but just as Brennan leaned in to take a taste of him, his hand found its way to my thigh. I covered it with mine, careful not to put any pressure on his injured finger. I hadn't expected to be included in their first kiss, but it was almost like I felt what Tristan was feeling, because his fingertips pressed into my leg when Brennan's mouth brushed over his.
A startled whimper escaped Tristan's mouth when Brennan pulled back just a little bit. The next kiss was longer, sweeter, but still light. I knew exactly what Tristan was feeling because I'd been the recipient of plenty of those kisses. Tristan would be reveling in every touch of Brennan's mouth on his, but soon it wouldn't be enough. And sure enough, after a few more passes, Tristan began following Brennan as he pulled back. Brennan let Tristan take over the kiss for a few seconds before he finally teased Tristan with a quick lick across his lower lip. And then the teasing was over and Brennan took what he wanted.
I waited for the disappointment to surge through me at the sight of my lover so ferociously consuming another. But it never came and all the soft moans and broken whimpers only spiked up my own lust.
I let my left hand stroke up and down Tristan's back as I leaned in to skim my lips over the pulse point on his neck. My intent hadn't been to interrupt their kiss, but when a pair of firm, warm lips searched mine out, I gladly accepted the kiss and lost myself in it. I knew it was Tristan who was kissing me because there was still a hint of inexperience in the way his tongue played with mine. And his taste…just as sweet as Brennan's but so very different. I wrapped my hand around the back of Tristan's neck to hold him still as I took over the kiss. I pulled back just enough to look into his pretty gray eyes. They were clear and open and finally free of pain.
I kissed him again briefly and then kissed away the few tears that lingered on his skin. Brennan was doing the same on his other cheek and then our lips met just above Tristan's mouth. I kissed Brennan long and deep and hard. I heard Tristan moan and saw that he'd pulled back just enough so that he could watch us. My eyes met Brennan's for a moment and then I went for Tristan's lips. He opened his mouth automatically for me, but I didn't cover his lips with mine. I hovered on one side of his mouth as my tongue played with his and I let my eyes search out Brennan. My young lover quickly picked up on what I wanted and he leaned in to do the same to Tristan's mouth on the other side. And then we were both dipping inside of Tristan's mouth. His tongue met both of ours and while he startled at the newness of being kissed this way, he recovered quickly and soon it was just a blind mix of lips and tongues as we kissed each other.
I let my hand trail over Tristan's chest and met Brennan's hand. He'd worked Tristan's shirt up, so I skimmed my palm over Tristan's abdomen before settling it on his groin. He jumped at the contact and whispered a broken, "Please," before he lost himself in kissing us again. Brennan pulled back from the kiss and out of my peripheral vision I saw him urging Tristan to move. Before I even realized what was happening, Tristan was straddling the bench so that he was facing me. I glanced up at Brennan and saw his passion-filled eyes had gone dark with need. He nodded at me and then reached for the hem of Tristan's shirt. Tristan seemed to be in a daze as he sat between us so I leaned in to kiss him.
"Can I touch you, Tristan?" I asked.
Available on Kindle

Unlimited
http://getbook.at/SalvationTP2

http://getbook.at/ForsakenTheProtectors4
Although Sloane Kennedy always dreamed of being a writer as a teenager, she didn't take the plunge until March of 2015 when she released her first novel as an independent author. Since then, she has released more than a dozen books including the Amazon best-selling « Barretti Security » series, « Finding » series and « Protectors » series. While she initially began writing M/F romance, she found her true passion writing gay romance and all four of her most recent releases reached the #1 spot on Amazon's Gay Romance bestseller list and Freeing Zane, her final book in the Barretti Security series, made it to Amazon's overall bestseller list. Sloane was born in Germany and grew up in Virginia and Wisconsin. Although she currently lives in Wisconsin, the place where she has always felt most at home is Seattle and many of her books take place in the Emerald city. Although she is unmarried, a menagerie of 2 dogs and 3 cats keeps her busy enough and 3 young nieces take care of the rest of her free time. Sloane loves being able to share her passion for romance with readers and she is truly humbled by all the support she's received from fans and fellow authors alike.
Visit my website:
Follow me on Twitter:
Follow me on Amazon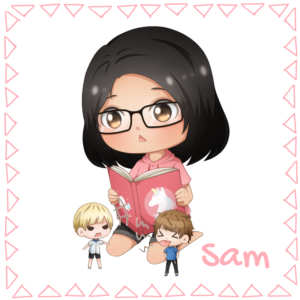 Fan de MM et plus particulièrement des single dads (ça marche aussi avec les oncles, les grands frères etc…) , des MMM et d'Urban Fantasy.