Release Tour, Excerpt & Giveaway: How To Live By Susan Hawke
LOVESTRONG, Book 7
Take one clueless, spoiled guy with notoriously bad luck…
When Derek Leigh is diagnosed with breast cancer at twenty-four, it's the final straw in a lifetime of bad luck. If he's going to die, it'll be on his terms… with one helluva party that packs a lifetime's worth of fun into whatever time he has left. To make this happen, Derek blows up his life: dumps the long-term boyfriend in the worst way possible, borrows money he can't repay from a loan shark, and heads to Atlantic City… where his luck unexpectedly changes, giving him fresh hope.
Add one easygoing tattoo artist with a big, open heart…
Asher Matthews has dealt with a lot in his thirty-five years: he and his twin were born addicted to heroin and abandoned at birth… until Mama Maisie added them to her brood of lost boys. ADHD and dyslexia didn't keep him from following his dream of opening his own tattoo shop, especially with his family's support. With all that he's been given in life, Asher makes a point of giving back where he can.
To equal two men who instantly connect in all the best ways.
Derek is shocked to not only survive his cancer treatment, but to come to the end of it in great health. Too bad he's blown through all his money, lost his car, and has nowhere to turn. On a whim, he goes for a free tattoo. Asher takes one look at the sexy twink who's down on his luck and offers him a room, a job, and even better, a friend. If they have a little no-strings fun along the way, it's fine. It's not like anyone is looking to fall in love, right?
This 55k novel is the seventh book in the LOVESTRONG series about finding love and being yourself in a small town. Watch out for ridiculous amounts of money won and lost, a butler who takes everything in stride, and a scruffy dog you'll want to cuddle. This is an mm romance full of all the fun, laughter, and sweet feels you'd want from a Susan Hawke book.
Possible trigger for anyone currently fighting cancer or closely related to a breast cancer patient. The book is low angst and the experience is gently handled, but the subject matter is present.
Excerpt:

Hunter used to tell me how cute my cluelessness was, but I never understood how truly out of it I had been until recently. Simply living at the cheap motel was eating up my money at an alarming rate, especially when I had a real need to eat every day and drove a gas-burning car. Simply thinking about it had me clenching my fists. I wasn't even meant to still be alive, dammit. And yes, breathing was preferable, but I wasn't supposed to have to worry about finances. All the money I'd won, and now I was afraid to tip the maids when they brought toilet paper and freshened the room because I might need it to buy a greasy burger from the value menu in another week or two. « I beg your pardon, Derek. I'm sensing a lot of anger in your demeanor. Would you like to talk about your feelings for a few minutes? » Ted's voice startled me, nearly making me jump. You could call me an asswipe because you wouldn't be wrong, but my first thought was maybe if I talked, then Ted would stop. For a few blissful seconds, the monotone would end. For that thought alone, I wanted to slap myself. Chagrined and blushing, I nodded. « You know what, Ted? You're right. I think I am angry. I should warn you, though. My self-talk is so bitchy I really can't even with my own damn self, so maybe it's best I don't share? » Ted shocked me by laughing. Actually fucking laughing. « Derek, anger is a healthy emotion, part of the grieving process I was discussing with you. In a couple weeks, you'll be finished with your cancer treatments, won't you? This is when real-world problems and emotions start taking over again as the fear of dying recedes. But part of your recovery is whole body, and that means your mind. You have to deal with your feelings, Derek, if you want to be completely healed. » He was so encouraging, I wanted to sink into the floor and bury myself on the spot. Seriously, could I have been a bigger jerk? « You might be right, Ted. But how will talking about my anger help my other problems? Problems I was apparently too clueless to even see coming in time to make wiser decisions. My ex-boyfriend was right. I might be cute and have a great personality, but I'm really not equipped to manage my own life. » « I feel like your ex-boyfriend might have had good intentions, but he was wrong. You mentioned having a bachelor's degree? Unless somebody earned it for you, its existence alone proves you're capable of being educated. If you don't know how to manage your life, maybe you were never taught? » Wow. His statement was… something to consider. « I mean, I definitely did the work. But my grandmother paid for my education. I never had to get a job. She wanted me to have the full college experience and not have to worry about anything. And growing up, the household staff took care of my needs. Any decisions were handled by my father. » « And how did your upbringing make you feel, Derek? » How did I feel? What kind of question was he asking? « I don't know, Ted. I will have to think about what I feel, I suppose. If you're asking if my upbringing is what I'm angry about, I don't know. Maybe? Please don't take this the wrong way, but I'd rather break something then talk about this more. » Ted's eyes lit up. He sat forward, rubbing his palms together with a surprisingly normal grin. « Then you should. Take something you don't care about or an item with negative memories and destroy it. Smash it, break it, burn it—do whatever it takes. I'll be interested to know if you feel better after it's gone. » Don't ask him, don't go there, don't you do it, Derek. No. Hard, unequivocal no. Annnd on my next breath, I found myself doing it, opening my mouth, and flapping my yap, and yes—arranging a follow-up visit. It was patently obvious I not only had problems saying no, but I was also a martyr. There was no other explanation why I would voluntarily put myself through another grueling session with Monotone Ted. Although he had made a good suggestion, and I had to admit the man deserved to hear the story later after I purged my anger in an epic way. First, I needed to figure out what I would destroy.
Enter the Giveaway:
To celebrate Susan's new release, we are giving away 3 e-copies of How To Live!
Enter the Rafflecopter giveaway for your chance to win!
Direct Link:http://www.rafflecopter.com/rafl/display/cc0f2a57146/
---
About the Author
As an avid reader and big romance fan myself, I love sharing the stories of the different people who live in my imagination. My stories are filled with
humor, a few tears, and the underlying message to not give up hope, even in the darkest of times, because life can change on a dime when you least expect it. This theme comes from a lifetime of lessons learned on my own hard journey through the pains of poverty, the loss of more loved ones than I'd care to count, and the struggles of living through chronic illnesses. Life can be hard, but it can also be good! Through it all I've found that love, laughter, and family can make all the difference, and that's what I try to bring to every tale I tell.
I'm a happily married mom with one snarky teenage boy, and three grown « kids of my heart. » I'm more widely known for my mpreg writings as Susi Hawke; this new name is a departure from that. Whether written by Susan or Susi, the books are filled with that all-important love, laughter, and family I mentioned; the only difference is that this name has no male pregnancy. I look forward to sharing my stories with you, and to bringing more romance and laughter into this world that needs it so very badly.
Connect with Susan: IG: https://www.instagram.com/authorsusanhawke
FB: https://www.facebook.com/AuthorSusanHawke
Bookbub: https://www.bookbub.com/authors/susan-hawke
Newsletter: http://bit.ly/SusanHawkeNewsletter
Audio: http://bit.ly/SusanHawkeAudio
Reader Group: www.facebook.com/groups/TheHawkesNest
Website: http://www.susihawke.com
---
---
---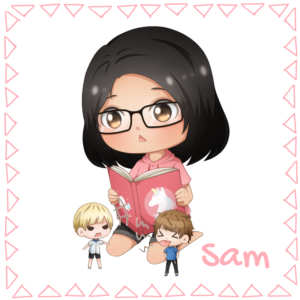 Fan de MM et plus particulièrement des single dads (ça marche aussi avec les oncles, les grands frères etc…) , des MMM et d'Urban Fantasy.