Quinn didn't move across the country expecting to fall for the local, grumpy woodworker who won't even smile at him…or find out his entire life is a lie.
The Heights by Amy Aislin
Series: Lakeshore #1
Publisher: self-published
Release Date (Print & Ebook): September 20, 2018
Length (Print & Ebook): approx. 75,000 words, or 320 pages
Subgenre: m/m contemporary romance
Reader warnings: one of the main characters suffers from panic attacks
Cover artist: Stacey Blake @ Champagne Book Design
Order here:
Amazon (this is the universal Amazon link): http://geni.us/TheHeights
iBooks (universal iTunes link): http://geni.us/TheHeightsApple Kobo: http://bit.ly/TheHeightsKobo B&N: http://bit.ly/TheHeightsBN
Book blurb:
Twenty-one years ago, a four-year old child was kidnapped from his front yard. He was never found. Until now.
All Nat Walker wants is to make his late father's dream of running a father/son woodworking shop come true. And he had the perfect building in mind—until the new guy in town came in and
bought the place right out from under him. The fact that the new guy is adorable means nothing. For all Nat cares, he can take his new dance studio and waltz back to New York City.
Professional dancer Quinn Carroll couldn't be happier that he made the move to the small town of Lakeshore, Oregon. Sure, it's not New York, but now he'll be living closer to his adoptive brother. And since his studio will be the only one in the area, he should get enough business to keep him busy. Besides, there's something about this place that seems familiar…
He doesn't expect to fall hard for the local, grumpy woodworker who won't even smile at him.
Or find out that his entire life is a lie.
Teaser:
Quinn didn't particularly give a shit about good idea versus bad. Only that this was happening, it was happening now, and the only way he'd put a stop to it was if a bomb went off.
And maybe not even then.
Pity fuck or not, he was all in.
—
Turned out he may not need that wet, rainy day fantasy after all. Because here Nat stood. In his kitchen. Shirtless.
Shirtless. In his kitchen.
No matter which way he put it, Nat was still shirtless.
In his kitchen.
Why that last part was important, Quinn didn't know. Likely because his brain had shorted out and he no longer had any higher reasoning.
—
"Fuck, you're ripped," Quinn blurted, as though he'd never seen Nat naked before. Damn, his brain was dead.
Nat chuckled. "Thanks." Was his voice huskier than usual? "I work out."
And of course, that stupid LMFAO song popped into his head.
Yeah. Nat was sexy, and he knew it.
—
Quinn was rock solid in his jeans. Not only because of Nat's nakedness, but also because Nat's confidence in his own skin was hot as hell. He didn't bother hiding the fact that he was staring. Shamelessly.
Jesus.
Had someone sucked the air out of the cabin?
About Amy Aislin:
Amy started writing on a rainy day in fourth grade when her class was forced to stay inside for recess. Tales of adventures with her classmates quickly morphed into tales of adventures with the characters in her head. Based in the suburbs of Toronto, Amy is a marketer/fundraiser at a large environmental non-profit in Toronto by day, and a writer by night. Book enthusiast, animal lover and (very) amateur photographer, her interests are many and varied, including travelling, astronomy, ecology, and baking. She binge watches too much anime, and loves musical theater, Julie Andrews, the Backstreet Boys, and her hometown of Oakville, Ontario.
Connect with Amy Aislin:
Website: https://amyaislin.com/ Instagram: https://www.instagram.com/amyaislin/ Twitter: https://www.tumblr.com/blog/amyaislin Facebook: https://www.facebook.com/amy.aislin Facebook Page: https://www.facebook.com/AmyAislinAuthor Newsletter: http://eepurl.com/ddvWFv Pinterest: https://www.pinterest.com/amyaislinauthor/ Tumblr: https://www.tumblr.com/blog/amyaislin Goodreads: https://www.goodreads.com/author/show/16693566.Amy_Aislin Amazon: http://amazon.com/author/amyaislin QueeRomance Ink: https://www.queeromanceink.com/mbm-book-author/amy-aislin/ LoveRomanceReads: https://www.loveromancereads.com/amyaislin.html Bookbub: https://www.bookbub.com/profile/amy-aislin
Win a fantastic The Heights prize pack: signed paperback, one of a kind art print, and a set of wooden star ornaments.
Direct link: http://www.rafflecopter.com/rafl/display/c8c1c6415/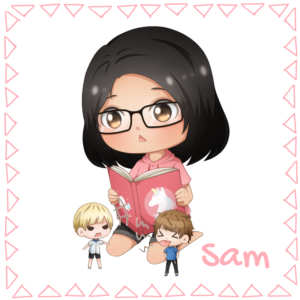 Fan de MM et plus particulièrement des single dads (ça marche aussi avec les oncles, les grands frères etc…) , des MMM et d'Urban Fantasy.