Book Title: The Rescuer (2nd Edition)
Author: Eric Huffbind
Publisher: Self Published
Cover Artist: Jennifer Craig
Genre/s: Contemporary Gay Male Romance.
Length: 59,000 words/212 paperback pages
Blurb
Christopher's striking green eyes and handsome good looks didn't buy him happiness, but he learned to survive off of them to maintain his expensive lifestyle. Now, after he has nearly destroyed himself, he's in the fight for his life…
A Contemporary Gay Male Romance – Newly Released 2nd Edition
When Christopher Parker checks himself into the Watermeadow Rehabilitation Center, he was frightened for his future and what was to become of him. Haunted from his past, he knows that he has to take this step in his recovery or face his likely death as the alternative. He never expected to find his social worker, Jason Calhoun, incredibly attractive. Christopher dreams of finding a man to love and who will treat him with decency. Although Jason does fit the bill, he knows that this relationship is strictly professional. Completely out of reach for a failure like himself.
Jason, who is a hopeless romantic, is in the endless pursuit of Prince Charming. Always unlucky in love but finds solace in the care of his patients. He loves being needed and having patients that depend on him. Jason comes to realize that the guys he dates always need to be rescued, much like his patients. A strategy that he's learning is a poor choice.
Jason discovers that Christopher has become tangled up with a famed billionaire. As a billionaire, he can afford anything he wants, which seems to
include even the ability to buy true love. Suddenly, he fears that everything he has worked so hard for, both romance and career, is being threatened by his new nemesis.
If you enjoy stories that pull you in and have you caring about the characters and what happens to them, then this is the book for you. It promises to have you laughing, crying, & smiling!
Buy Links
Excerpt
Feeling a set of lips gently pressing on his forehead, Christopher woke up to someone kissing him. He found a strange man gazing down on him; his eyes weren't quite in focus yet.
"How are you feeling?" asked the stranger.
Christopher suddenly sprang up from the bed recognizing in a split second whose voice it was. "Sam! What the fuck are you doing here?" Eyes now focusing at one-hundred percent.
"I was just checking in on you. I wanted to know how you were feeling? Can't a friend pay a visit?"
It was Samuel Barron or "Sam" as his cohorts called him. He was a powerful CEO of one of the nation's top five-hundred corporations, namely Viatone. They were makers of pharmaceuticals. In the years Christopher had known Sam, Viatone had grown to a five-hundred-billion-dollar company.
Sam was a bit more than just a CEO of a huge corporation. At one time, he was one of the nation's most eligible bachelors—a gorgeous hunk of a man to feast your eyes upon, despite his advancing years. His looks held up like a fine bottle of wine. Women all over the country would swoon over every magazine photo, television news spot, and social media post. And it wasn't just the women. Every gay man's dick would jump into action each time they saw an image of this man; Christopher had been among that crowd.
Mr. Barron exuded pure charisma everywhere he went and in everything he touched. He'd been one of the nation's most eligible bachelors. However, that status changed five years ago, when he married Patsy Rossmiller.
"You're no friend!" Christopher shouted back in his most snide and angry voice. "And you're not welcome here, you motherfucking son-of-a-bitch! Get the fuck out of my room! Better yet, get the hell out of my life!" He made no attempt to hide his feelings. Clearly, he was overwhelmed with upset; downright hostile and belligerent.
"Sweetheart, I've been worried sick about you," Sam said.
"I'm not your sweetheart. Not now—not ever," Christopher shouted with increasing volume. "You're not worried about me—you selfish asshole. You're concerned about your reputation. What would this country think of you if they knew the truth? The country—hell, what would the world think if they found out. That's all you care about. That's all you ever cared about."
"Look, you're not the only one who's in a position of power, and you know it!" The bastard CEO snarled back.
That was one comment Christopher did not want to hear, and it was the last straw. He couldn't take the presence of this man, not a single second more. He burst into tears yet again all the while he screamed as loud as he could.
"Get out! Get out! Get out! Get out!" Over and over, he yelled with increasing intensity. In no time at all, the third-floor staff came racing into Christopher's room; including Jason. Nurse Judy immediately saw the presence of Sam Barron, as did everyone else. She didn't have the slightest idea what was upsetting her patient to result in such a tumultuous reaction. Looking directly at the unwanted visitor, she calmly said, "Mr. Barron, I think you had better leave."
It wasn't as if she or anyone needed to be introduced to this man. Who wouldn't recognize him? Sam Barron's notoriety spread everywhere, particularly in the healthcare community. But what the fuck is this man doing in Christopher Parker's room at Watermeadow of
all places was crawling through Jason's head. He just couldn't understand what their connection would be.
Mr. Barron knew he was outnumbered, so he nodded graciously and left as instructed. Christopher shouted after him, "And don't come back—ever! I never want to see you again!"
He now dissolved into a puddle of tears. Eying Jason from across the room, Christopher ran over and flung his arms around the man, weeping uncontrollably; desperately needing to be in the arms of a friend. And although his new case manager wasn't precisely a friend, he somehow knew he wouldn't be rejected. His weight, having grabbed Jason so suddenly, pulled them both tumbling to the floor.
Trying to calm him down with a soft, "shhhhhh, listen to me, if you don't want Mr. Barron coming back again, I can have him barred from the facility, at least while you're staying with us." The loud sobbing continued on Jason's shoulder. "Would you like that?"
Christopher replied in a faint whisper, "Yes, please."
Holding onto him tightly, he delivered a telling nod over to Judy. It was evident Christopher was overpowered with anger and anxiety that even the Ativan couldn't assist with. In a complete state of bewilderment, she indicated she would call security at once, preventing the return of this apparent nemesis. Jason was also just as bewildered as he looked over towards her. Despite Sam Barron's status in this world, he'd be damned if the man would interfere with a patient's recovery. He was a tremendous advocate where his patients were concerned. "You just cry as much as you need to."
Christopher tightened his grip around him even more while continuing to soak Jason's dress shirt with tears. But Jason didn't mind being clutched so tightly. It made him feel whole inside; that his life had meaning and purpose. It's what he was good at—being there for others when they needed him. He treasured being needed; he always did.
After ten minutes of constant sobbing, Christopher finally calmed down. The ongoing sniveling had quelled. Jason eased him off the floor and back into bed. "Lie down and rest for a while. Are you feeling better now?" He received a nod back that indicated a positive answer. So, Jason brought Christopher's feet up onto the bed and pulled the blanket across him. In his experience, a huge crying jag was exhausting.
Jason shut off the lights in the room and closed the door as he exited. He had a stack of paperwork sitting in his office, which needed his attention. One thing was certain in his mind, there weren't going to be any elves coming around to take care of it for him.
About the Author
Eric Huffbind is a man of many talents. He is a hopeless romantic, licensed registered nurse, has been a travel agent, and the eternal social butterfly. Among his passionate interests are history, genealogy, romance, and travel. Like so many
other individuals, he has a long bucket list. On the list, to no surprise, was writing a novel. So this, his debut novel, is a lifetime of raw emotions: be it love, happiness, sadness, tears, joy, anxiety, fear, disappointment, or achievement.
Although, the story in The Rescuer, focuses on the romantic relationship of two gay men, regardless of your sexual orientation, this novel is meant to rekindle the true spirit of romance and love in your heart. If Mr. Huffbind's story moves you through an array of emotions, and it touches your romantic spirit, please share the book with a friend.
Mr. Huffbind was born in Cincinnati, Ohio and has remained in southwest Ohio for his entire life. His current residence is in West Chester Township, Ohio. He shares his life with his husband, an autistic son, and his beautiful Pomeranian.
Social Media Links
Giveaway
Enter Eric's Rafflecopter Giveaway for a chance to win one of the following prizes:
$25 Amazon Gift Card
$15 Amazon Gift Card
$10 Amazon Gift Card
One of 5 FREE Ebook Copies of THE RESCUER
https://widget-prime.rafflecopter.com/launch.js
BLOG TOUR SCHEDULE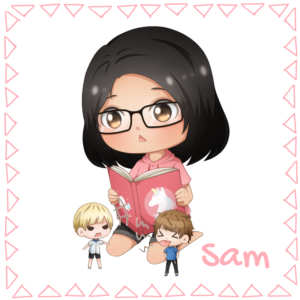 Fan de MM et plus particulièrement des single dads (ça marche aussi avec les oncles, les grands frères etc…) , des MMM et d'Urban Fantasy.